Found January 07, 2013 on NorthWest Sports Beat:
PLAYERS:
Roberto Luongo
,
Jake Gardiner
,
Nazem Kadri
,
Keith Ballard
,
Mason Raymond
,
Ryan Kesler
,
Cody Franson
,
Carl Gunnarsson
,
Jordan Schroeder
,
Zack Kassian
,
Alexander Edler
TEAMS:
Vancouver Canucks
,
Toronto Maple Leafs
,
Los Angeles Kings
The Lockout is over! Saturday night after a marathon 16 hour bargaining session, the NHL and the NHLPA came to an agreement on a new 10 year collective bargaining agreement.  I can't imagine it was easy. I don't like being around my own friends or family for 16 hours. Can you imagine being around people you hate for that long? Either way, the end of the lockout spells good news for all involved. Sure, the fans got dragged through the mud in what was unquestionably the worst and most embarrassing negotiation in pro sports, but hey, at least it's over right? Once a CBA is reached it's been speculated that the NHL has plans for both a 50 and 48 game season, according to TSN's Pierre LeBrun. The 50 game season would have a start date of January 15th, the 48 game season a start date of January 19th. Even after all the bull I can say I'm really excited for the season to start, albeit a truncated season, it's a hockey season that I can get behind. Lots to look forward to, so here's my five 'fearless' predictions for the 2013 Canucks. Roberto Luongo Trade While I really don't wish to write about that, it seems all but certain that Roberto Luongo will be traded. There was a lot of speculation from the time the Canucks were eliminated in the first round by the eventual Stanley Cup winning Los Angeles Kings that he would be moved. With training camp potentially days away, one can only conclude it's just a matter of time before the Canucks franchise leader in goaltending will be moved. My prediction Roberto Luongo will be traded to the Toronto Maple Leafs. Maybe that's not a prediction, but more so the obvious destination. I know who I would like to see come back in the deal, but I can't see Brian Burke sending Jake Gardiner, Nazem Kadri AND a pick to Vancouver for Luongo. Unless, you know the Gillis is able to put together the fan favorite package of Keith Ballard, Mason Raymond and a 3rd round pick. That might grease Burke's wheels. Ryan Kesler is nowhere close to ready to resume playing hockey Should that not happen I think coming back I would be ok with Kadri and a defenseman, either Cody Franson or Carl Gunnarsson. If Kesler is still knee deep in recovering, who fills the second line centre spot? Throughout the lockout fans were constantly reminded via Twitter or the radio that Ryan Kesler is nowhere close to ready to resume playing hockey. While he's worked his way through more off-season surgery, it was expected that Kesler would be ready around Christmas time, or into January. Well, here we are now in January and there still isn't a definitive time frame for Kesler to return to action. If the season is to start on the 15th or 19th who do the Canucks get to fill the void at centre? My prediction Jordan Schroeder is on pace to eclipse his goal and points totals with the Canucks AHL affiliate Chicago Wolves is the prime candidate, in my opinion, to be given a shot as the second line centre. While he may be undersized I feel like he'll have a good camp and be able to make the team. Zack Kassian Zack Kassian is a player that many felt would benefit from time spent in the AHL. He's posted good numbers with 20 points ( 7g, 13a) in 28 games. He has the potential to play more minutes in Vancouver if he can stay consistent and play his game effectively. My prediction Kassian will impress in training camp, make the team and if his play his consistent will be given the opportunity at more minutes on the Canucks second line. If my previous prediction is correct than perhaps him and Schroeder will carry over their AHL success to the NHL together. Alexander Edler's Last Season as a Canuck? Alright, before you panic and want to punch me in the face (more than you did prior to reading that) take into account that Alex Edler is a UFA at the end of the shortened season. He's currently on the books for a $3.25 million dollar cap hit. He's coming off his best statistical season to date and is likely to be the most coveted free agent defenseman. If this season doesn't go the way the Canucks expect it to and they find themselves in an unfamiliar spot at the (make shift) trade deadline, I can't say I would be surprised to see the Canucks move Edler if they feel like they can't sign him to a long term deal with a palatable cap hit. This of course could be tricky considering the cap is rumoured to come down in 2013-2014 to around $64.3 million. Of course there are amnesty buyouts to be applied, if they are. So who knows. My prediction If Edler wasn't able to be re-signed before the expiration of the previous CBA, what are the chances he's signed when he's a UFA? I'm not so sure they can do it. I would be surprised if Edler was a Canuck after the 2013 season. Though, as I'm usually wrong about most things, this is one of those things I would be glad to be wrong about. The reign is over, the Canucks won't capture a third straight President's Trophy. Why do I feel like I'll take more crap for this than saying Edler won't be a Canuck after this season? Either way, I think the Canucks reign as President's Trophy Champions is over. I don't have any data to back this up, nothing from player performance while playing overseas or the minors during the lockout. I just think that all good things must come to an end, and while it was nice to see them capture the title two years straight, I can't help but feel like they'll fall short of the title this season. My prediction The Canucks won't drop off into Edmonton Oiler like standings, but I think they'll likely finish either 2nd or 3rd in the Western Conference. There you have it folks. Those are my five fearless, bold, ball-busting, hair pulling, face slapping predictions for the truncated 2013 NHL season. Glad to be back. CLICK HERE TO CHECK OUT THE CANUCKS CLUBHOUSE TODAY AT NWSPORTSBEAT!
Original Story:
http://www.nwsportsbeat.com/canucks/v...
THE BACKYARD
BEST OF MAXIM
RELATED ARTICLES
Let's drop the puck, finally The NHL and NHLPA have reached a tentative deal on a new collective bargaining agreement and the race to get home for training camp is already underway. As the NHL and its players snap back to business as usual the major aspects of a new deal have already begun to surface, and many of those changes have specific implications for the Canucks. The Cap...
I Feel Like Gary Cheevers (Stitch Marks on my Heart) …And we're back. After staring into the abyss of a long cold winter with no hockey, we finally have something to live for again. Canucks Hockey is here again, a mere eight months after the Los Angeles Kings lifted the Stanley Cup. And now it gets interesting. Rosters that were configured a lifetime ago now have under two weeks...
ESPN's Pierre LeBrun has released a second set of nuts-and-bolts information about the new collective bargaining agreement, and there's a strange twist to what he's calling the "Luongo Rule"--a.k.a. punitive penalties retroactively imposed upon teams that issued "lifetime" contracts to retain their own players, especially if said players are eventually...
CBC's Elliott Freidman says the new CBA doesn't hurt Roberto Luongo James Mirtle explains the NHL's salary cap could hit $90-million CapGeek.com tells us Rostislav Olesz would have a $2.25M cap hit if buried in Rockford this year. They also … Continue reading →
NHL News

Delivered to your inbox

You'll also receive Yardbarker's daily Top 10, featuring the best sports stories from around the web. Customize your newsletter to get articles on your favorite sports and teams. And the best part? It's free!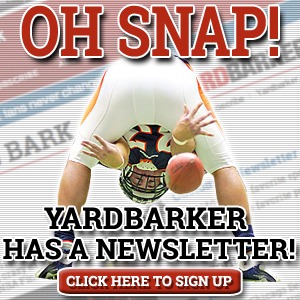 Latest Rumors
Best of Yardbarker

Today's Best Stuff

For Bloggers

Join the Yardbarker Network for more promotion, traffic, and money.

Company Info

Help

What is Yardbarker?

Yardbarker is the largest network of sports blogs and pro athlete blogs on the web. This site is the hub of the Yardbarker Network, where our editors and algorithms curate the best sports content from our network and beyond.