Found June 22, 2012 on NorthWest Sports Beat:
PLAYERS:
Tim Thomas
,
Cory Schneider
,
Eddie Lack
,
Roberto Luongo
,
Dan Cloutier
,
Don Cherry
,
Kevin Bieksa
,
Daniel Sedin
,
Ashley Olsen
,
Alain Vigneault
TEAMS:
Vancouver Canucks
,
Boston Bruins
,
Detroit Red Wings
,
Toronto Maple Leafs
I love you…not…
I have a love/hate relationship with the NHL schedule makers. Every NHL hockey season has its perceived positives and negatives even before the puck drops.
Today, I take a look at the upcoming season.
Love 'Em
Rematches
I have to tell you, nothing gets me more primed for a game than when the Canucks play a team that ousted them from the playoffs in recent history.  There are two such games that fit that bill this year.
First is the Boston Bruins return to the scene of the crime.  That crime?  Stealing the cup from us on our home ice in game 7 of the 2011 Stanley Cup Finals.
In their first trip back to Vancouver on Dec. 29, we will have to figure out a way to make a sarcastic chant of "RA-AASK!" sound as good as "THO-MAAS!", while Bruins Goaltender Tim Thomas takes a year-long sabbatical from the game (insert obligatory wise-crack about joining the ticket as V.P. with Mitt Romney to help try to take down President Obama here).
The other such game pits a more recent foe against Vancouver.  The Canucks go to L.A. to face the Kings on Nov.8, and while winning that one won't make up for the 1st Round loss in the playoffs this year, these games always get our collective blood boiling.
Road Trippin'
The November 5-game road trip is their longest of the season, (there is a second one just as long, but we'll touch upon that one in the HATE 'EM section), and the schedule makers have made the travel on that one more manageable.
It's time you became as hated as Thomas Mr. Rask.
Playing 5 games in 8 nights, and only having to travel from Ottawa, Montreal, New York (twice: as they play both the Rangers and Islanders on back-to-back nights), and Buffalo, will allow the team to acclimate to that Eastern Time Zone without say, having to go down to Florida, or into Dallas, or some other wacky cross-country trek the league likes to throw at us.
They will surely be rotating goalies in those games, but will it be Cory Schneider/Eddie Lack?
Will Roberto Luongo still be around?
Is Dan Cloutier still available?  Ok, scratch that last one.
Divisional games abound, as always
Okay, let's be honest, the Northwest Division sucks and the Canucks will be able to capitalize on these games as they normally do.
The front and back-end of the season provides a good opportunity to start and finish strong.  They play two bad teams to kick things off on Oct.11 & 13, in Calgary and at home to Edmonton, and then play those two teams again in 2 of their last 3 to wrap things up.
Of course, Edmonton could be better since they have the first pick in the NHL Entry Draft.  Oh wait, how has that worked out for them so far?
Hate 'Em 
Man up Toronto!
My friends and I complain about this every year it happens, and it's happening again on Dec.15.  That's the day the Canucks face the hated Toronto Maple Leafs, AT HOME, and the game is at 4:00pm PST.  4pm!
AT OUR HOUSE!
Look, I know they want the Leafs (Leaves, if we're being grammatically correct here), fans to watch at 7:00pm EST, but stay up!  It's a Saturday night!
Would you rather take your defeat in the early evening so you can drink away your sorrows and be in bed before midnight?
Montreal plays in Vancouver on Nov.3rd, and guess what!?!?  The game is at 7:00pm PST!!!!  That's right, those Montreal fans can handle kicking off their drinking at 1:00am.
Man up Toronto!
Hockey Night in Canada
There are 15 Saturday games on the schedule, and that means 15 possible Hockey Night in Canada games.  CBC has an excellent crew, and I always love watching their top-notch HD presentation.
"AV" having a good laugh at the Canucks 2012-2013 schedule…
In the games against East Coast teams at a "reasonable hour" (see above), we can even hope to see Don Cherry butcher Kevin Bieksa's name as "Bieshka".  It's almost worth having Roberto Luongo stick around so we can also hear Cherry say, "Lelongo".
Almost.
Okay, no it's not worth it at all.
Slow Octobers, worse?
Everyone knows the Canucks have slow Octobers.
While it's likely something to do with Henrik and Daniel Sedin planning their Halloween costumes (this year I believe they are going as Mary-Kate and Ashley Olsen), things could be even slower this year.

Remember I mentioned there was another 5 game road trip on the schedule?  Well, it falls in October, and they have to go from Pittsburgh to Dallas at one point, a relatively long trip.
If they can just split these games, we'll be laughing…or giggling like a school-girl if you're Alain Vigneault.
More Schedule articles.
CLICK HERE TO CHECK OUT THE CANUCKS CLUBHOUSE TODAY AT NWSPORTSBEAT!
© Reggie Gill for North West Sports Beat, 2012. | Permalink | No comment |
Follow NWSB on Twitter or join US on Facebook for real-time updates OR... | Share This on Twitter | Share NWSportsBeat.com on Facebook
Post tags:
#NHLDraft
,
2012 Canucks NHL Schedule
,
2012 NHL Schedule
,
Alain Vigneault
,
Boston Bruins
,
Canucks
,
Canucks Predictions
,
Cory Schneider
,
Dan Cloutier
,
Daniel Sedin
,
Don Cherry
,
Eddie Lack
,
HNIC
,
Hockey Night in Canada
,
Kevin Bieksa
,
Love Em
,
Love Em Hate Em
,
NHL
,
NHL Entry Draft
,
NHL Opponents
,
NHL Schedule
,
NHL schedule analysis 2012
,
Roberto Luongo
,
Rogers Arena
,
strength of schedule
,
Tim Thomas
,
Toronto Maple Leafs
,
Vancouver Canucks
Original Story:
http://www.nwsportsbeat.com/canucks/v...
THE BACKYARD
BEST OF MAXIM
RELATED ARTICLES
2012-2013 Canucks Opponents The 2012 NHL offseason is underway. We just had the (yawn) NHL awards. Did you hear a Sedin finished 9th in the running for a trophy? Ya. me too! Friday night the 2012 NHL draft gets underway, we'll be your source for all Vancouver Canucks analysis on Friday night during the first round. So check back often. Onto present matters. The 2012/13 National...
Vancouver Canucks 1st round selection (26) Welcome to…the city where you better not be a goalie… It's always nice to bear witness to someone's dream coming true. It's even better to see that exact event 30 times in 4 hours. Yet, there's still the arduous and lingering sense of fatigue one gets when watching the NHL Entry Draft when your own team doesn't pick until the...
Yesterday Mike Gillis went after the OHL with Brendan Gaunce. Today he went after the QMJHL. Two Canadian kids drafted in the first 57 picks of the 2012 NHL Draft. The Vancouver Canucks selected Alexandre Mallet. Here are his digits. DOB: May 22, 1992 Shoots: Right Born: Amqui, Quebec Height: 6'1″ Weight: 195 lbs Position: Centre Current Team: Rimouski Oceanic (QMJHL) Mallet...
When the 2012 NHL Draft dust settled the Vancouver Canucks organization had themselves five fresh new bodies to plug into their organizational depth chart. Here's a quick look at the Class of 2012, picked by the GM himself Mike Gillis. 1st Pick - 26th Overall - Brendan Gaunce CENTRE TEAM: BELLEVILLE (OHL) FINAL RANK: 13 MIDTERM RANK: 11 SHOOTS: LEFT HEIGHT: 6'2 WEIGHT...
Remembering the Season We'd All Like to Forget… Before we start I trust you read Part 1 of my Canucks Moments In Time right? It features moments 10 -> 6. As we move towards the top five of our 2011/2012 moments in time countdown, we leave the goofy and get to the weighter moments of the year i.e. those brief glimpses when we as Vancouver Canucks fans felt something instead...
Mike Gillis stayed true to his word and drafted the best overall athlete available to him with the 26th pick today in the 2012 NHL entry draft. Mike Gillis said "This is the guy we wanted. Size and character. We had some opportunities to move this pick. We weren't moving if he was available." The Vancouver Canucks selected Brendan Gaunce. TSN had him ranked #20 prospect...
NWSB Insider and Vancouver Canucks blogger Richard Hodges weighs in with his top 5 matchups to watch out for this NHL season for the Canucks. The 2012 NHL schedule came out today. The NHL draft is tomorrow. It won't be long now till October is here right?! Richard predicts the Canucks will be back as Stanley Cup contenders once again, games versus Boston and Milan Lucic will be fun.
NWSB Insider and Vancouver Canucks writers Kevin Vanstone - AKA The Flying V tells us with their first pick in the 2012 NHL Draft the Canucks chose Brendan Gaunce. Another Social Media Report with analysis of the 2012 NHL first round pick by the Nucks from the great fans on Twitter. We Tweet after me! Brendan comes from a hockey family, following in the footsteps of older brother Cameron Gaunce.
Here are some fight vids of new Canucks draft pick Alexandre Mallet. Enjoy.
Tonight the Canucks used pick No. 26 pick on Brendan Gaunce, a centerman (possible left winger) from the Belleville Bulls of the OHL. Gaunce represented Canada at the 2011 Under-18 Ivan Hlinka Tournament, and represented Team Ontario at the 2011 World Under-17 Challenge. Here's some video's on him PRE-DRAFT.
Swiiiing Batter Batter… Based off the Vancouver Canadians first five games of the season where they outscored the Spokane Indians 38-14, one may have considered just conceding the NW League Championship to the boys in red and white. Unfortunately for Manager Clayton McCullough, that's not how it works. They will have to do it the hard way but that means with the help of 11 returning...
from Kevin McGran of the Toronto Star, The draft, after all, is often the time for franchise-changing trades, the Leafs need a goalie and the Canucks are actively shopping Luongo around. The Vancouver Canucks, however, sounded Thursday like they wanted to kibosh that notion. Canucks assistant GM Laurence Gilman floated a few new ideas: that the Canucks might well hang on to Luongo...
NHL News

Delivered to your inbox

You'll also receive Yardbarker's daily Top 10, featuring the best sports stories from around the web. Customize your newsletter to get articles on your favorite sports and teams. And the best part? It's free!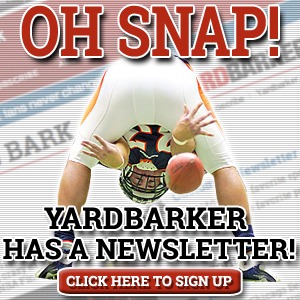 Latest Rumors
Best of Yardbarker

Today's Best Stuff

For Bloggers

Join the Yardbarker Network for more promotion, traffic, and money.

Company Info

Help

What is Yardbarker?

Yardbarker is the largest network of sports blogs and pro athlete blogs on the web. This site is the hub of the Yardbarker Network, where our editors and algorithms curate the best sports content from our network and beyond.