Found July 06, 2013 on Sports Blog Net:
PLAYERS:
Garth Snow
,
Pierre-Marc Bouchard
,
Peter Regin
,
Evgeni Nabokov
,
Travis Hamonic
,
Cal Clutterbuck
,
Josh Bailey
,
Thomas Hickey
,
Kevin Poulin
,
John Tavares
,
Matt Moulson
,
Keith Aucoin
,
Brock Nelson
,
Ray Emery
,
Anton Khudobin
,
Thomas Greiss
,
Anders Nilsson
,
David Clarkson
TEAMS:
New York Islanders
,
Philadelphia Flyers
,
Phoenix Coyotes
,
New Jersey Devils
,
St. Louis Blues
[caption id="attachment_78" align="alignleft" width="227"] image provided by bigstory.ap.org[/caption] Day one in the NHL's free agency period proved to be a busy day for the Islanders. General Manager Garth Snow filled some holes by signing forwards Pierre-Marc Bouchard and Peter Regin, re-signing goaltender Evgeni Nabokov, and re-signing defenseman Travis Hamonic to a multi-year deal. Yesterday's additions, plus Cal Clutterbuck at the draft improves this Islander team going into next year. Now that Snow filled most of the holes on this team, he will likely focus on re-signing the Isles remaining restricted free agents: Josh Bailey, Thomas Hickey, and Kevin Poulin. Yesterday was only the first day of free agency so it's possible Snow could sign another player or make a trade, but with the way the market has gone, I would not expect any big moves. A depth signing or signing some players to two-way contracts for depth at Bridgeport is about all I would expect at this point. Once Bailey, Hickey, and Poulin are re-signed, the roster now is likely to be the opening night lineup for the Isles. Let's take a look at the new additions by the Islanders yesterday. Pierre Marc-Bouchard 8-12-20 8 PIM (43 games) Snow signed Bouchard to a 1-year 2-million dollar contract. Bouchard is your typical signing by Garth Snow, which is a smart, under the radar, low risk/high reward move. Bouchard has dealt with injuries (mainly concussions) from 2009-2010 through 2011-2012. Bouchard was finally healthy this year, playing 43 of the 48 game lockout shortened season, but struggled offensively. Bouchard only scored eight goals and 20 points in 43 games. Bouchard is a low risk/high reward signing because the Isles are giving him a chance to get his career back on track. Bouchard is a highly skilled offensive player who could fit in very nicely on the top line with John Tavares and Matt Moulson. Bouchard is also a versatile player who can play all three forward positions, so the Isles could use him anywhere in their lineup. Before the concussion problems, Bouchard averaged 56 points a season. If Bouchard can stay healthy, he could be one of the steals in free agency at a 1-year 2-mil. [caption id="attachment_79" align="alignleft" width="230"] image provided by eliteprospects.com[/caption] Peter Regin 0-3-3 8 PIM (27 games) Shortly after 12 PM when teams were allowed to officially sign free agents, Garth Snow inked Peter Regin to a 1-year 750k contract. Regin was signed to replace Keith Aucoin (signed with the St. Louis Blues) for depth on the third and fourth lines. Regin, like Bouchard is an under the radar signing by Snow. Regin is a versatile forward with speed who can play all three forward positions. He is also a responsible player who plays well in his own end and can kill penalties. Regin can chip in some offense as well, in his one full season in 2009-2010, Regin scored 13 goals and 29 points in 75 games. Regin has never been given a chance to be a regular in the Senators' lineup, but he will get his chance now with the Isles. Regin likely will compete with Brock Nelson to be the center on the third line. If Nelson beats out Regin, he still will be on the team as the extra forward. With so much versatility in his game, Regin could prove to be another solid under the radar signing by Snow. Now let's take a look at the two returning players Garth Snow re-signed yesterday. Evgeni Nabokov 23-11-7 2.50 GAA .910 save pct. (41 games). Right as 12 PM hit, Arthur Staple reported that Snow had re-signed goaltender Evgeni Nabokov to a 1-year 3.25-million dollar deal. The Isles had interest in Ray Emery, but he signed with the Flyers. With the goaltending market quickly thinning, Snow acted quick to bring back Nabokov for next season. Nabokov had an up and down season, but with limited options, he was probably the best available option. With Kevin Poulin slated to be the back-up goalie, the Isles were only bringing in one goalie. It would have been much too risky to sign a unknown like Anton Khudobin or a Thomas Greiss, and pair them with Poulin. I do have concerns the goaltending situation may hold this team back next year, but if the Isles get Nabokov more rest during the season and Poulin can play 20-25 games (and be effective) a Nabokov/Poulin tandem should be good enough to get the Isles back to the playoffs. If Poulin falters, Anders Nilsson could be called up if he plays well in Bridgeport now that he is healthy. Travis Hamonic 3-7-10 28 PIM (48 games) Later in the afternoon, Garth Snow locked up one of his restricted free agents to a long-term deal, coming to terms with defenseman Travis Hamonic on a 7-year 27-million dollar contract. This was announced to the delight of Isles fans everywhere, as Hamonic has been the backbone of the defense the last two seasons. Snow did very well to lock up Hamonic for seven years at under 4-mil per season. Hamonic has been rock solid on defense for the Isles since his call-up from Bridgeport during the 2010-2011 season. At the young age of 22, Hamonic has some offense to his game that will continue to develop at the NHL level and make him more of a two-way defenseman. Hamonic will be one of the top defenseman on this team for years to come, and having him here long-term will be key for the Isles going forward. Overall, I thought yesterday was a good day for the Isles. I love the Bouchard signing, and Regin could be a solid under the radar signing too. Nabokov should be adequate for another year in goal, and having Hamonic locked up long-term is great. As we saw again yesterday too, Garth Snow will not break the Isles pay structure. I like that in Snow. If he were to sign a David Clarkson for example to the contract Clarkson got from Toronto (7-years just under 37mil), it would make Clarkson one of the highest paid forwards on the team. How do you justify that to Matt Moulson, who has been one of the Isles top goal scorers? Not only that, but with Moulson only having one year left on his deal, he would want big money then. This is what would get the Isles in trouble with the salary cap down the road. What do you guys think? Are you happy with this team going forward? Are you concerned about the goaltending? Comments are welcome! Follow me on twitter: @ed_omalley
Original Story:
http://islandercountry.sportsblognet....
THE BACKYARD
BEST OF MAXIM
RELATED ARTICLES
Follow @BBSuns // Per Arthur Staple, Travis Hamonic and the New York Islanders have agreed on a 7 year deal worth $27 million dollars ($3.8 per year). Hamonic 7-year deal worth $27 million total. #Isles — Arthur Staple (@StapeNewsday) July 5, 2013 Here are Hamonic's career stats courtesy of espn.com: More Hamonic: "There's all sorts of talk out there, but [...]
The New York Islanders have agreed to re-sign goalie Evgeni Nabokov, and have added two more players in the first hour of the NHL's free-agency period. The team announced Friday that it had also agreed to sign forwards Pierre-Marc Bouchard and Peter Regin to one-year deals. Nabokov was the key move for the Islanders. The 37-year-old had a 23-11-7 record and three shutouts in...
Hope everyone had a great Fourth of July! 11:45AM: The free agent market opens in about 15 minutes. It will be very interesting to see what the Islanders do today. We all know that they are in desperate need of goaltending. If the Isles do not get a goalie today, relax, it is not the end of the world. The goalies are the market are underwhelming, and a trade might be a better route...
The Blues have signed Keith Aucoin to a one-year, $625,000 contract. The 34-year-old center joins the Blues after spending the 2012-13 season skating with the New York Islanders. Aucoin has been in the NHL since 2005-06, spending time with the Carolina Hurricanes, Washington Capitals and the previously mentioned Islanders.  Aucoin isn't the flashiest signing on the first...
#Isles have re-signed G Evgeni Nabokov to a 1-year, $3.25 million deal. — Arthur Staple (@StapeNewsday) July 5, 2013
Follow @BBSuns // As per Arthur Staple, the New York Islanders, after having lost out on the Ray Emery sweeps, have re-signed goaltender Evgeni Nabokov to a 1 year, $3.25 million dollar deal. #Isles have re-signed G Evgeni Nabokov to a 1-year, $3.25 million deal. — Arthur Staple (@StapeNewsday) July 5, 2013 Here are Nabakov's career stats courtesy of espn.com: [...]
ST. LOUIS - The Blues made numerous offensive moves on Friday afternoon, announcing deals with four new forwards. Keith Aucoin signed a one-year deal, Mark Mancari and Alexandre Bolduc each drew one-year, two-way contracts while Maxim Lapierre landed a two-year commitment. Aucoin, 34, dressed in 41 games with the New York Islanders last season posting 12 points including six goals...
Travis Hamonic 7 years with New York Islanders at 27M total #TSN — Aaron Ward (@aaronward_nhl) July 5, 2013
PM Bouchard 1 yr @2 M to New York Islanders #TSN — Aaron Ward (@aaronward_nhl) July 5, 2013
The St. Louis Blues have signed center Keith Aucoin to a one year, 625K contract. Aucoin played last year with the New York Islanders and posted six goals and six assists in 41 games last season. This has to be a depth signing and Aucoin will be spending most of the season in the American Hockey League. Aucoin isn't an [...]
The New York Islanders announced today that Pierre-Marc Bouchard and Peter Regin have agreed to terms on one-year deals. Bouchard was selected eighth overall by Minnesota in the 2002 NHL Entry Draft. On July 25, 2008, Bouchard signed a five-year, $20.4 million deal with the Wild. After suffering a hit to the head late in the 2008-09 season, Bouchard missed the rest of that season [...]
ST. PAUL, Minn. -- The full picture of the Minnesota Wild's buyout of Tom Gilbert came into focus Friday. Minnesota re-signed restricted free agent Jared Spurgeon to a three-year contract and officially signed defenseman Keith Ballard on Friday, using the salary-cap space it gained by buying out defenseman Tom Gilbert this week. With Spurgeon and Ballard, the Wild also have...
NHL News

Delivered to your inbox

You'll also receive Yardbarker's daily Top 10, featuring the best sports stories from around the web. Customize your newsletter to get articles on your favorite sports and teams. And the best part? It's free!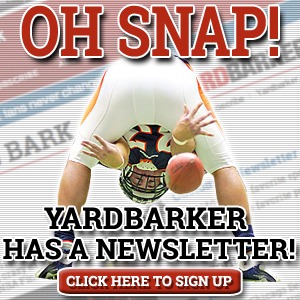 Latest Rumors
The Backyard

Today's Best Stuff

For Bloggers

Join the Yardbarker Network for more promotion, traffic, and money.

Company Info

Help

What is Yardbarker?

Yardbarker is the largest network of sports blogs and pro athlete blogs on the web. This site is the hub of the Yardbarker Network, where our editors and algorithms curate the best sports content from our network and beyond.