Found September 08, 2012 on The Rangers Tribune:
It is inevitable, at this point, that the 2012-13 NHL season will at the very least be temporarily locked out on September 15 (exactly a week from today) due to the inability of the NHL and the NHLPA to come up with a newly written collective bargaining agreement prior to the deadline previously set by team owners. But, as it's been made very clear, there are more than just a few checkmarks remaining on the list of issues that the two sides must sort out before the season is launched under a new contract. In fact, the checklist is so dense, not only in length but in importance and value as well, that it may not be totally out of the question for the entire 2012-13 campaign to be completely wiped instead of just temporarily locked out.  According to TSN, this has been on the minds of both ends of the table quite frequently as of late, especially since prior to Friday's "informal meeting" (whatever that may mean), the NHL and Players' Association refused to even touch base with each other until someone blinked.  And remember, just one of the major issues left to be negotiated is player contracts, which breaks down into a variety of subcategories such as entry-level deals, length restrictions, averaged yearly salaries and so on. None of which, by the way, the players would like to give up on and allow the league to limit in any way. Plus, you factor in the whole revenue-sharing issue, and now you have a difference in opinion on how much the players should be making to make matters worse.  For once, however, the players are not standing down, but at the same time, that's not something you can hold against them. They want more money while the league would like to pay them less, but the players make a good point when stating that restricting money from the actual athletes of the sport will not be solving many, in any at all, future problems within the CBA. In other words, it will only increase the greed amongst the league and team owners.  I touched base on that in an article on Thursday, but I received feedback that I was whining and that certain people even stopped reading at a certain point for whatever reason I do not know, so I will not delve too much into the greed argument much more. Because, you know, I'm not allowed to take time out of my college schedule to write about something that is on the minds of every hockey fan at the moment. Whatever, life goes on. In regard to the entire season being wiped out, don't stress just yet. There is plenty of time before matters will come to such an extreme, and hopefully that time will never come. But if things continue at this pace, that, too, will then be an inevitability.  SHANE DOAN STAYS IN PHOENIX Well, that was a waste of time. For nearly two and a half months now, we've waited at the edge of our seats for the day that veteran winger Shane Doan would announce that he was signing somewhere other than the Phoenix Coyotes organization (preferably with the New York Rangers), only to be led to disappointment. It was announced yesterday that Doan has agreed to terms with the Coyotes on a new deal and is now just waiting on Greg Jamison to officially purchase the team before September 15.  I guess we should've saw that one coming.  DYLAN MCILRATH NOT READY FOR TRAINING CAMP In prospect news, rugged defenseman Dylan McIlrath told a Moose Jaw website this week that he will not be ready for training camp (which won't even be occurring at the NHL level anyway) due to a knee injury suffered several months ago. He's currently rehabbing and will only be hitting the ice on his own in a few weeks.  When he does return, though, he will be welcomed by the Connecticut Whale's newest assistant coach and former Ranger, Jeff Beukeboom. Yeah, the guy he's been compared to from the second the Rangers drafted him in 2010. Can you say match made in Heaven? INTERVIEWS: Brian Boyle and Henrik Lundqvist Brian Boyle and Henrik Lundqvist, among others, hit up the training facility for the first time this week to get informal skates started up and sat down to talk with Blueshirts United while there...       Speaking of which, John Tortorella's dog walk fundraiser will take place this Sunday in Riverside Park. For more information and to purchase tickets, click here. 
Original Story:
http://www.rangerstribune.com/the-ran...
THE BACKYARD
BEST OF MAXIM
RELATED ARTICLES
2010 first-round pick Dylan McIlrath suffered a dislocated knee cap in the Rangers prospect camp over the summer at the hands of Kyle Jean, putting his attempt at making the Rangers on ice for this season. Jean and McIlrath are likely to be teammates with the Connecticut Whale this seasonBruce Berlet of Howlings.net spoke to McIlrath recently about his rehab and his thoughts on the...
John Tortorella and the New York Rangers held a dog walk for charity, and as part of the event fans had a Q&A with Torts. Per Rangers beat writer Jim Cerny, John Tortorella commented on the possibility of playing Rick Nash and Brad Richards on the same line. In Q&A Torts says he plans on trying Rick Nash and Brad Richards on same line "I think it'll work...I&...
John Buccigross at ESPN.com discusses the good and the bad of Chris Kreider..."Chris Kreider is still a work in progress for the Rangers. The upside is huge but the Rangers are still concerned about his skating and play without the puck in all three zones. It would be nice to chart his progress. He no doubt will be good, but the jury is out on whether he can be great. (I for...
Back in July, I posted about Chris Kreider taking time to fulfill every autograph request during the The Big Assist IV charity hockey game. And apparently he hasn't stopped signing...Photo from YSMS private signing with @nhl_rangers @chriskreider! #ChrisKreider #NYR #nyrangers #newyorkrangers twitter.com/yoursportsstor…— Your Sports Store (@yoursportsstore) September 6, 2012...
When you are in the National Hockey League, it is not enough to have just one good season.  This is the kind of attitude that New York Rangers' defenseman Michael Del Zotto must have when the puck drops on the upcoming season, whenever that may be. In fact, for Del Zotto, it is the only way that he will survive under team head coach John Tortorella. When the 22-year-old...
To watch on Blueshirts United, click here.Also talking after yesterday's second day of informal practices was Chris Kreider, who spoke to Andrew Gross at the Bergen Record about his game right now..."I think I feel stronger, faster."...from the pictures and video I've seen of Kreider this off-season it looks like he hit the gym hard, which should allow him to compete...
The sale of the Phoenix Coyotes has finally become complete, with Greg Jamison taking over full control from the National Hockey League after three years. It took longer than many had expected, but Jamison was finally able to secure the finances necessary to purchase the Coyotes from the league for $170 million. It is also good news for the team and the fans that the...
With the news that Greg Jamison has finally arranged financing that would allow him to purchase the Phoenix Coyotes from the National Hockey League for $170 million, you assumed it was nothing more than formality that Shane Doan re-signed with the Yotes.And now James O'Brien at Pro Hockey Talk confirms those suspicions by reporting that Doan has a deal in place with the Coyotes...
According to Katie Strang over at ESPNNY.com, Rangers owner James Dolan was asked for comment surrounding the on and off CBA talks during the New York Rangers dog walk today. "The only thing I can say is that I want us to play hockey."Ms. Strang went on to say that Glen Sather when reached for comment, is "optimistic" the two sides can work something out in time...
Per Arizona Sports, the Shane Doan saga is over. The veteran winger will remain in Phoenix on a four year, $21.5 million contract ($5.375 million per year). This ends the two month debate over where Doan would wind up, which included two missed deadlines and an ownership drama that rivaled most soap operas. Doan is remaining where he belongs. Unfortunately for the Rangers, they miss...
Steven Stamkos recently spoke with Cabral 'Cabbie' Richards of TSN on a myraid of issues, including who is the most difficult goaltender to score on..."Probably, Henrik Lundqvist. The King. King Lundqvist. I was actually in Atlantic City, this is how cool the guy is, we were playing black jack and he split Kings on a six because he's the King. I think he got two...
Its time for a Shane Doan edition of the Videos Before Bedtime. Informally, we talked about it and it seemed like a great idea. Doan has agreed to a deal pending Greg Jamison finally getting the keys to the castle so to speak.           Have a great night everyone!
NHL News

Delivered to your inbox

You'll also receive Yardbarker's daily Top 10, featuring the best sports stories from around the web. Customize your newsletter to get articles on your favorite sports and teams. And the best part? It's free!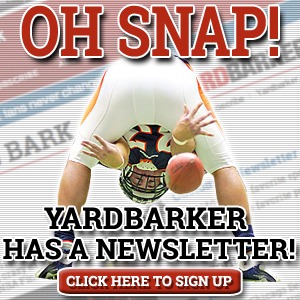 Latest Rumors
Best of Yardbarker

Today's Best Stuff

For Bloggers

Join the Yardbarker Network for more promotion, traffic, and money.

Company Info

Help

What is Yardbarker?

Yardbarker is the largest network of sports blogs and pro athlete blogs on the web. This site is the hub of the Yardbarker Network, where our editors and algorithms curate the best sports content from our network and beyond.