Found November 20, 2012 on Larry Brown Sports:
This just in: NHL players are generally unhappy with commissioner Gary Bettman. As with any labor dispute, there is ongoing animosity between the NHL and the NHL Players Association. As you can see from the photo above that TVA Sports passed along, some players in Montreal have decided to go elementary school with the whole thing and make hats bashing the perceived bad guy. For those of you who can't make it out, that says "Puck Gary" in fancy lettering above "2012-2013 NHL Lockout." According to Dave Stubbs of the Montreal Gazette, Canadiens star Erik Cole says the hats could soon be available to the public with all proceeds benefitting charity. If grown men are going to act like children, they might as well do it for a good cause. We all want hockey to return, but I think most of us can agree that hats that say "Puck Gary" do absolutely nothing in terms of working toward a resolution. From what we hear, most fans would probably rather spend their money on sex toys while the lockou...
Original Story:
http://larrybrownsports.com/hockey/nh...
THE BACKYARD
BEST OF MAXIM
RELATED ARTICLES
Hockey fans are getting angry, and they're not afraid to let NHL commissioner Gary Bettman know it. On Wednesday, the league and the Players' Association met for another round of negotiations, reportedly making an insubstantial amount of progress. NHL deputy commissioner Bill Daly was originally scheduled to address the media after the session, but instead Bettman himself came...
Image: Getty Images Gary Bettman became NHL commissioner on February 1, 1993, and has been in this position for almost 20 years. Under Bettman, the league has seen three work stoppages, but also unparalleled growth. While many believe the league over expanded in the Bettman era, it's worth evaluating each move/relocation to see where the faults/successes were. There were six new...
After commissioner Gary Bettman suggested that the NHL and NHLPA take a two-week break from CBA negotiations, the players wanted nothing to do with that. Four days after Bettman's idea was shot down, the two sides met on Monday in New York to rekindle talks in hope of salvaging some part of the 2012 season. The meeting lasted roughly two hours, and the two sides plan to meet again...
Bettman says business is losing $18-20 mil per day. Says players are losing between $8-10 mil per day. — Darren Dreger (@DarrenDreger) November 21, 2012   Bettman says PA "expects our best offer to get better" despite lockout $ losses. Commish is trying to be positive though — Pat Leonard (@NYDNRangers) November 21, 2012   Bettman --...
The NHL lockout isn't quite past the point of no return, but it became more than insufferable a long time ago. The players and owners continue trading places as the dinks, and it's Erik Cole and members of the Motnreal Canadiens who is now wearing the "dink" hat. Well, actually, he's wearing a different kind of hat, but is no less of a dink. TVA Sports (via LFPress.com...
While the calendar continues to turn month by month, one thing has been consistent: a lack of NHL hockey.  Since the second lockout of Commissioner Gary Bettman's tenure in the 2004-2005 season, hockey's popularity in North America has grown exponentially.  The average attendance in the NHL last year was 17,455, higher than the rival NBA, and up 1.8% from two seasons ago, while...
English: NHL Commisioner Gary Bettman in 2007. (Photo credit: Wikipedia) I am sure that my buddy Redwing77 will be happy to see than one of the players from his favorite team called Gary Bettman an idiot. Personally I agree with White, when I see Bettman's face it reminds of all of the bad things that have happened to the NHL.  Lets think about this for a minute. Bettman...
NEW YORK (AP) Jaymes Hall had a question for NHL Commissioner Gary Bettman about the lockout, which already has wiped out more than a quarter of the regular season: Why not put aside the money in dispute and get back on the ice. Hall tried to get in his question while Bettman was responding to media members outside the league's Manhattan office. When the commissioner was done...
NEW YORK — NHL labor talks broke off soon after they resumed Wednesday, with players maintaining their new proposal was a huge economic concession and commissioner Gary Bettman pretty much saying the only deal he will agree to is the one management proposed last month. On the 67th day of a lockout that already has wiped out more than a quarter of the regular season, the sides headed...
Any optimism that a deal between the NHL and the Players Assn. might be imminent following the unions presentation of a comprehensive collective bargaining proposal Wednesday morning lasted only a few hours. Thats all it took for the sides to meet and for the NHL to reject the proposal, in which players said they had made moves toward the NHLs stance in several areas. We are still...
NEW YORK (AP) -- For the first time in eight days, the NHL and the players' association are back at the bargaining table to try again to reach a deal that will end the two-month old lockout. Talks resumed on Monday, the 65th day of the lockout that has already wiped out 327 games and threatens the entire season if a settlement isn't reached soon. After turning down a suggestion...
Canadiens News

Delivered to your inbox

You'll also receive Yardbarker's daily Top 10, featuring the best sports stories from around the web. Customize your newsletter to get articles on your favorite sports and teams. And the best part? It's free!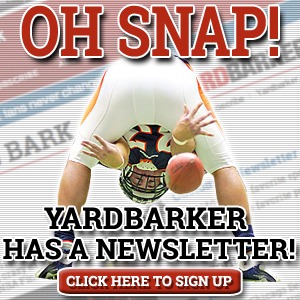 Latest Rumors
Best of Yardbarker

Today's Best Stuff

For Bloggers

Join the Yardbarker Network for more promotion, traffic, and money.

Company Info

Help

What is Yardbarker?

Yardbarker is the largest network of sports blogs and pro athlete blogs on the web. This site is the hub of the Yardbarker Network, where our editors and algorithms curate the best sports content from our network and beyond.