Found December 04, 2012 on Fox Sports North:
PLAYERS:
Gary Bettman
,
Donald Fehr
,
Jeremy Jacobs
,
Sidney Crosby
,
Ryan Miller
,
Jonathan Toews
,
Bill Daly
TEAMS:
Pittsburgh Penguins
,
Winnipeg Jets
,
Calgary Flames
,
Boston Bruins
,
Toronto Maple Leafs
,
Buffalo Sabres
,
Chicago Blackhawks
,
Tampa Bay Lightning
NEW YORK (AP) -- NHL owners and players were meeting Tuesday afternoon at a Times Square hotel in an unusual session aimed at kick-starting stalled labor talks. A group of about a half-dozen owners and 18 players got together without two key figures -- Commissioner Gary Bettman and NHLPA executive director Donald Fehr. The hope is some candid, face-to-face talks will result in a breakthrough. If the hockey season is going to be saved, a deal needs to be struck soon. Tuesday is the 80th day of the lockout. All games through Dec. 14 have already been wiped off the schedule, along with the outdoor Winter Classic on New Year's Day and All-Star Weekend that was slated for January in Columbus, Ohio. THIS IS A BREAKING NEWS UPDATE. Check back soon for further information. AP's earlier story is below. NHL owners and players have met in big groups. They've held smaller sessions. They're tried federal mediators. Nothing has worked, so they're going to try something different. With the lockout lingering into another week, the NHL labor talks are set to resume Tuesday with six owners and six players scheduled to meet while a couple of key figures remain on the sidelines of the negotiations. Seeking a breakthrough on the financial issues and player contracting disputes that have stymied the talks at every turn, the league and union completed the details for the unusual bargaining session over the weekend. The meeting will include the small group of owners and players, staff members and counsel on each side, but Commissioner Gary Bettman and NHLPA executive director Donald Fehr will not be present. The NHL announced Sunday that owners Ron Burkle (Pittsburgh Penguins), Mark Chipman (Winnipeg Jets), Murray Edwards (Calgary Flames), Jeremy Jacobs (Boston Bruins), Larry Tanenbaum (Toronto Maple Leafs) and Jeff Vinik (Tampa Bay Lightning) will take part in the talks for the league. The union will announce its representatives on Tuesday. The Canadian Press News Agency reported Monday that Penguins star Sidney Crosby, Sabres goalie Ryan Miller and Blackhawks captain Jonathan Toews are among the players expected to be in New York and could be selected for the meeting. After a few days of wrangling, following the conclusion of talks between the sides and a pair of federal mediators, the NHL and the union agreed on parameters for talks that will keep the respective leaders on the outside. Bettman proposed such a meeting on Wednesday when talks broke down and the mediators left the process. Originally, the thought was that only owners and players would get together for the next round of discussions, but the roster was expanded Sunday to include staff members and counsel on each side. "Ultimately, we are just trying to find some meeting format that can gain some traction," deputy commissioner Bill Daly said. All games through Dec. 14 have already been wiped off the schedule, along with the outdoor Winter Classic on New Year's Day and All-Star Weekend that was slated for January in Columbus, Ohio. The lockout reached its 79th day on Monday, and at best, there will only be a shortened season if there is any hockey at all. The union has allowed any players who wanted to attend previous bargaining sessions to come, but the NHL has limited the owners who could take part. "The NHLPA has agreed to a meeting on Tuesday in New York that should facilitate dialogue between players and owners," Fehr said Sunday in a statement. "There will be owners attending this meeting who have not previously done so, which is encouraging and which we welcome. We hope that this meeting will be constructive and lead to a dialogue that will help us find a way to reach an agreement." Jacobs, considered one of the hardline owners, and Edwards are the only members of the NHL's group of six to have taken part in previous negotiations.
Original Story:
http://www.foxsportsnorth.com/12/04/1...
THE BACKYARD
BEST OF MAXIM
RELATED ARTICLES
Will we have an NHL season after all? While all indications are that there are still some hurdles to clear, reports indicate that there is suddenly a sense of cautious optimism after the league's Board of Governors meeting Wednesday afternoon in Manhattan. NHL commissioner Gary Bettman wasn't willing to address any of what took place on Wednesday, though. Instead, he appeared...
There is hope Gary Bettman will give an update after the BOG meeting. I've searched the web for an embed but could not find one, but Sportsnet is video streaming right now and it is working for those of us in the US too. Hopefully the streaming remains if Bettman does talk.
Be optimistic or else. If you aren't on Twitter, then you missed a very exciting day yesterday. First, Gary Bettman held a press conference that was so short even John Tortorella blushed. After proclaiming that he was happy with the way negotiations were going, the owners and the players got back into the room to continue talking. This of course, came after a full night of intense...
Yesterday was a whirwind for the NHL, so lets get a quick recap of everything that went down. To do this, I'm going to quote some paragraphs from this ABC News article on yesterday's meeting. We all know that Gary Bettman spent about 20-30 seconds on a statement he was an hour late for so there's really no need to dig into any of that stuff.  Negotiations resumed...
NEW YORK (AP) The NHL and the players' association have agreed to a meeting with selective owners and players, but without NHL Commissioner Gary Bettman or union chief Donald Fehr. Bettman proposed the unique meeting on Wednesday when talks broke off following two days of negotiations with federal mediators, and it wasn't agreed to until Sunday. The meeting is expected...
Categories: BREAKING NEWS Flyers News NHLOn Sunday, I referred to the meetings that were being scheduled starting Tuesday between the NHL and the NHLPA as "gimmicky."  The idea of putting a handful of professional athletes in a room with six billionaires and without NHL commissioner Gary Bettman or NHLPA Executive Director Don Fehr present seemed like a PR stunt more [...](Read more...)
I hold no responsibility if the CBA talks fall apart... from Kevin McGran of the Toronto Star, While optimism rose that a deal to save the NHL season was in sight, there are some questions regarding the logistics of getting 720 players scattered across the world to return to work. Q. Can the two sides make a deal without Donald Fehr or Gary Bettman in the room? A...
It's a pleasant change to discuss a validity of a trade rumor rather than the makeup of the player's group or the six packs of owners meeting in New York tomorrow afternoon. The face to face meeting is the brainchild of Commissioner Gary Bettman and was done to get around the animosity being directed at him by numerous players and to avoid the owner's suspicions that...
I can tell you there's a hugely negative vibe emanating from both sides right now. Keeping this process on rails today will be challenging. — Bob McKenzie (@TSNBobMcKenzie) December 6, 2012 In related news, Gary Bettman and Donald Fehr are back in the negotiations this morning. ...are these guys really willing to flush the whole season down the drain? I don'...
from Larry Brooks of the NY Post, A sense of what had been described by one source as "cautious optimism" during the midpoint of yesterday's lengthy NHL owners-players meeting was markedly tempered when the session concluded around midnight. As such, even after 7 1/2 hours of interaction between six owners and 18 players, the 2012-13 season remains in jeopardy. ...
NEW YORK (AP) -- Traditional labor talks have made little progress in the ongoing NHL lockout, so the league and the players' association are going to try something different in an attempt to save the season that is slipping away. A crew of six owners will meet with a handful of players on Tuesday in New York -- one day before the league's board of governors meeting -- without...
Make sure to follow Travis on Twitter! -- After an entire weekend was spent hammering out the details and formatting, the NHL and NHLPA finally agreed to ditch part of their representation and renew discussions on Tuesday in the hope of reaching a new collective bargaining agreement. The plan? Temporarily remove Gary Bettman and Donald Fehr from the equation, and hope that a...
NHL News

Delivered to your inbox

You'll also receive Yardbarker's daily Top 10, featuring the best sports stories from around the web. Customize your newsletter to get articles on your favorite sports and teams. And the best part? It's free!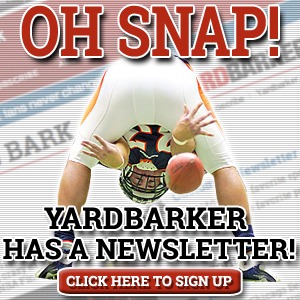 Latest Rumors
The Backyard

Today's Best Stuff

For Bloggers

Join the Yardbarker Network for more promotion, traffic, and money.

Company Info

Help

What is Yardbarker?

Yardbarker is the largest network of sports blogs and pro athlete blogs on the web. This site is the hub of the Yardbarker Network, where our editors and algorithms curate the best sports content from our network and beyond.