Found April 19, 2012 on Goon's World:
Check out this sneaky elbow by Penguins forward Evgeni Malking on the Flyers defenseman Nicklas Grossman was injured in this collision with Evgeni Malkin. Don't count on Penguins forward Evgeni Malkin getting any form of supplemental discipline from the NHL. It's not going to happen, NHL Commissioner Gary Bettman is a big fan of the Penguins and there is no way that the NHL is going to suspend the Penguins bread and butter winner.
Per Flyers CSN Reporter Tim Pannacio, it appears that Grossman is out with a concussion.
Nicklas Grossmann, who took two shots to the head in Game 4 -- one from Tyler Kennedy and a sneaky elbow from Evgeni Malkin -- did not practice on Thursday. He has a suspected concussion, though the Flyers won't confirm the injury.

"I'm not sure whether he's in or out of the lineup," Matt Carle said. "I'm not sure what his injury is. Gross is a good stay at home defenseman. It's no secret he is back there for us and brings a physical presence."
So much for cleaning up the head shots in the NHL eh? If this had been Matt Cooke or Raffi Torres we would be ready to throw them out of the NHL for the rest of their lives but since a star players performed this questionable sneaky elbow, nothing is going to happen to Malkin. 
Related articles
Going Down Fighting or Quitting?
Pittsburgh Staves Off Elimination with Emphatic, 10-3 Win
Penguins Hammer Flyers In Game 4, 10-3
Flyers Push Penguins to the Brink
Penguins Hammer Flyers In Game 4, 10-3
Original Story:
http://feedproxy.google.com/~r/blogsp...
THE BACKYARD
BEST OF MAXIM
RELATED ARTICLES
After the mayhem that was game 3 the Penguins will be without 3 forwards tonight for a critical game 4. James Neal will be suspended for one game after two consecutive hits he placed on Flyers players in the third period on Sunday. Craig Adams will be suspended also for one game for instigating a fight in the third period on Sunday. Aaron Asham will be suspended for 4 games after...
The Penguins' Marc-Andre Fleury had a career-best season with 42 wins, just one shy of most in the NHL. He's the owner of a Stanley Cup ring, robbing the Detroit Red Wings in the final seconds of Game 7 in 2009 to preserve his team's place in hockey history. Outside of Pittsburgh, however, the 27-year-old who is nicknamed "Flower" doesn't often get mentioned...
from Gene Collier of the Pittsburgh Post-Gazette, On the day it started, exactly one week ago, I thought the Penguins-Flyers series would be lengthy, nasty, and as likely to be won by Philadelphia as not. I still think all those things, for what it's worth, and take no satisfaction from the Meatloafian two-out-of-three already established. I expect the Penguins will get to their...
Pushed to the brink of a sweep, Pittsburgh's Sidney Crosby, Evgeni Malkin and Jordan Staal pushed back with a vengeance, helping the Penguins score nine goals in the first two periods in a 10-3 win over the Philadelphia Flyers on Wednesday in their opening-round playoff series. Staal had a hat trick, Malkin scored his first two goals of the series and Crosby added one to help...
Over the past couple days we've heard a lot of people get really upset about how other fans have "turned on the Pittsburgh Penguins." We've heard Sidney Crosby say that "this is when you lean on your fans the most." We've seen people throw around the "you're not a real fan" card far too often. We've been attacked for not giving...
It took forever, but Brendan Shanahan, the NHL's czar of discipline handed out two additional suspensions to the Pittsburgh Penguins late on Tuesday night. James Neal was suspended for 1 game by the NHL for leaving his skates to hit two separate Flyers. James Neal, the 40-goal scorer who took two separate runs at Flyers Sean Couturier and Claude Giroux 42 seconds apart in Game...
from Nicholas J. Cotsonika of Yahoo, Can they do it? Yeah, they can do it. The Pittsburgh Penguins are good enough, the Philadelphia Flyers are vulnerable enough and this series has been crazy enough, that's for sure. It's been the highest-scoring series through four games in NHL history, featuring 45 goals, one more than the Chicago Blackhawks and Edmonton Oilers produced back...
Mike Colligan is one of the most rational human beings we know. And he nailed it with this: With the Penguins facing elimination on Wednesday, reporters who boldly insisted the Penguins would waltz through the playoffs are now scrambling to justify how their predictions ended up so wrong. Colligan then takes his balls from the mouths of several media members and goes...
Steve Sullivan, Jordan Staal and Tyler Kennedy scored and the Pittsburgh Penguins fended off elimination with a 3-2 comeback victory over the Philadelphia Flyers on Friday night in Game 5 of the Eastern Conference quarterfinal series. Marc-Andre Fleury made 24 saves - including a series of big stops in the third period - to help Pittsburgh cut Philadelphia's lead to 3-2 in the...
Tyler Kennedy brok a 2-2 tie midway through the 2nd period and that was the only goal the rest of the way. Flyers still lead the series 3-2. Watch the Kennedy goal…
Here are some stats for you heading into tonight's Game 4 matchup between the Flyers and Penguins (courtesy of Sam Carchidi, @BroadStBull): -In a total of 90 playoff series since 2006, there have only been 13 sweeps (14%) -The Flyers are 3-6 all-time in games where they have an opportunity to sweep. -James Neal and Sidney Crosby lead the Penguins with 5 points a piece in this...
NHL News

Delivered to your inbox

You'll also receive Yardbarker's daily Top 10, featuring the best sports stories from around the web. Customize your newsletter to get articles on your favorite sports and teams. And the best part? It's free!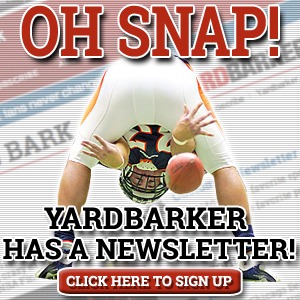 Latest Rumors
Best of Yardbarker

Today's Best Stuff

For Bloggers

Join the Yardbarker Network for more promotion, traffic, and money.

Company Info

Help

What is Yardbarker?

Yardbarker is the largest network of sports blogs and pro athlete blogs on the web. This site is the hub of the Yardbarker Network, where our editors and algorithms curate the best sports content from our network and beyond.