Found October 03, 2012 on Blue Seat Blogs:
The Rangers benefited from being patient and allowing Brad Richards to hit free agency. Think back to the 2011 trade deadline.  The New York Rangers were not yet regarded as an elite team; in fact, they were fighting for a playoff berth, a fight that lasted until the final day of the regular season. Glen Sather had engaged in trade talks with Dallas GM Joe Nieuwendyk regarding soon-to-be free agent Brad Richards.  Sather could have had the coveted center, provided he was willing to part with Marc Staal, Derek Stepan and Brandon Dubinsky, the ransom demanded by Nieuwendyk according to Larry Brooks.* Sather showed restraint, kept his young pieces and watched as the Blueshirts were dispatched by the Washington Capitals in five games.  Richards quickly signed with the Blueshirts on July 2nd. While it can be argued that Sather's patience was aided by a common belief that Richards would end up in New York sooner or later anyway, the decision did help shape the direction of the franchise. Obviously Staal and Stepan both play critical roles for the club and Sather's ability to retain those building blocks was wise.  But holding onto Dubinsky also enabled Sather to acquire Rick Nash – another instance of Sather's patience. Dubinsky was part of the package for Nash and although the Rangers may have been able to appease Columbus with a different piece in the eventual Nash deal, including Dubinsky's salary was a necessary component to the trade from Sather's point of view. It's also true that the Rangers may have had the assets to deal for both Richards and Nash in trades, but it wouldn't have happened without decimating the depth of the organization. The simple lesson: sometimes the best moves are the ones you don't make. *The Post appears to have taken the story down, so this copied version is the best I could recover. Tweet
Original Story:
http://www.blueseatblogs.com/2012/10/...
THE BACKYARD
BEST OF MAXIM
RELATED ARTICLES
Carl Hagelin returning to Sweden to play with his hometown team helps him stay in hockey shape. Carl Hagelin signing in his homeland for Södertälje of the Swedish Elite League (second tier) is some of the best news to have happened in recent weeks for the Rangers. With the end of the lockout not to be seen on the NHL horizon the key thing for the Rangers future right now is likely...
Despite the 3-1 loss to Albany in Connecticut's 2012-2013 preseason opener, there were many positives coming from the game. Per Jim Cerny, top prospect J.T. Miller was one player that stood out the most during the loss. Miller recorded the Whale's lone goal and was a physical and dominating presence on the ice. Miller, playing on a line with Michael Haley and Chad Kolarik, was...
Pat Leonard at the Daily News caught up with numerous Rangers players at Brad Richards' charity fundraiser Tuesday night to discuss their plans if the lockout continues to drag on... "Ryan McDonagh said he is 'openly exploring' options abroad but only would go 'if this lockout keeps stretching longer and longer and the light at the end of the tunnel looks...
The New York Rangers report these lines for the CT Whale's first preseason game vs. the Albany Devils tonight at the Whale's practice rink in Connecticut... Kolarik-Miller-Haley Yogan-Jean-Thomas Tanski-Tessier-Verrault-Paul Flanigan-Tremblay-Wiebe Collins-Henley Piche-Delisle Pyett-Haines Missiaen Hince Chris Kreider, Marek Hrivik, Ryan Bourque...
Blueshirts United reports these lines for the CT Whale's second preseason game in Worcester against the Sharks... Thomas-Miller-Grant Yogan-Jean-Segal Bourque-Haley-Johnston Courtney-Hobbs-Pitt Piche-Vernace Niemi-Klassen Parlett-Hayes Stajcer Rank Chris Kreider and Marek Hrivik will sit for the second straight game. ...great, the two guys I want...
Mike Morreale of NHL.com gives us the inside scoop on the U.S. National Junior team selection camp coming to Greenburgh, NY—the New York Rangers practice facility—from December 16-18. The U.S.. will play in Group B at the 2013 WJC, along with Russia, Canada, Slovakia and Germany, with preliminary-round games being played at the 7,950-seat Ufa Arena. Defending gold medalist...
Andrew Gross at the Bergen Record reports that Dylan McIlrath's knee has progressed this summer and he will learn a lot more after his next exam, including when he might be cleared for skating, in a couple of weeks... "It's a slow process, I wanted to do it right," McIlrath said. "I've had no setbacks all summer. I know it's looking as good as it can be right...
In an interview with Jim Cerny at Blueshirts United, CT Whale head coach Ken Gernander discusses the synergy between him and John Tortorella... "You have an overall idea of how the New York Rangers want to play and we try to mirror that as best we can...Everyone knows how John Tortorella wants his players to play and what kind of team he's looking for. And we try to...
It's hard to get excited about this... Andrew Yogan nets shootout winner in @ctwhale scrimmage today...@chriskreider scores breakaway goal, Marek Hrivik pots tying goal... — New York Rangers (@thenyrangers) October 2, 2012 ...when NHL Deputy Comissioner says there was "no progress" during today's meeting between the NHL and NHLPA on the definition...
After last night's 3-1 loss to Albany, Ct Whale head coach Ken Gernander discussed Rangers 2011 first round pick JT Miller, who scored the Whale's lone goal... "Physically he's a strong kid...a powerful, explosive kid. On ice when he makes plays, he's very poised like a mature older player would be. But there are still some things in his game, as far as learning...
Last night the CT Whale lost their preseason opener to the Albany Devils 3-1 at at Champions Skating Center in Cromwell, CT. Rangers 2011 first round pick JT Miller scored the Whale's lone goal during a 5-on-3 power play. Paul Doyle at the Hartford Courant said Miller was all over the ice and probably the Whale's best player. Here's Miller on his performance...
from Damien Cox of The Spin at the Toronto Star,  If the NHLPA really wants to open a PR offensive, it should have individual players openly questioning the motives of individual owners. Just slamming Gary Bettman will never work. He's paid to take the crap. But if Brad Richards starts questioning why James Dolan needs to have a lockout, or if Claude Giroux takes some verbal...
NHL News

Delivered to your inbox

You'll also receive Yardbarker's daily Top 10, featuring the best sports stories from around the web. Customize your newsletter to get articles on your favorite sports and teams. And the best part? It's free!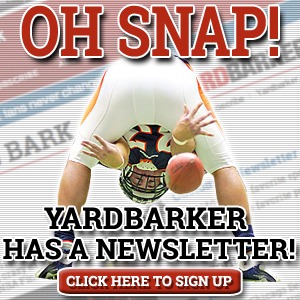 Latest Rumors
Best of Yardbarker

Today's Best Stuff

For Bloggers

Join the Yardbarker Network for more promotion, traffic, and money.

Company Info

Help

What is Yardbarker?

Yardbarker is the largest network of sports blogs and pro athlete blogs on the web. This site is the hub of the Yardbarker Network, where our editors and algorithms curate the best sports content from our network and beyond.