Found January 13, 2013 on NorthWest Sports Beat:
Here we go! Looking for a website with different opinions on how the Vancouver Canucks are going to do in 2013? We've got your back. NWSB Senior Editor "Q" polled asked us Canucks bloggers to get some predictions to him this week, he sent us a nice little questionnaire. Below, I'll provide you with their Canucks projections and picks. With this being the second season of Canucks coverage for us at NWSportsBeat.com, we thought this was only the proper thing to do. Hope you're enjoying this nice crisp cold Sunday. We're one week away from the start of the season, but for some reason it feels like an eternity. Amidst all the speculation on player movement and which lozenge the coaching staff will back 100% this season, it's predictions time. The best thing about predictions is that no one takes them serious, well, that's not true, I should say that no one takes my predictions serious. That's a more accurate statement. Like a shotgun blast to the face, here are my predictions for the Vancouver Canucks in 2013. Canucks MVP in 2013: I'm not quite sure on this one. It would be easy to go with the obvious choices. Henrik Sedin or Daniel Sedin, possibly Alex Burrows or even newly minted starting goalie Cory Schneider. But I think I'm going to go the opposite way and say Chris Higgins. He is without a doubt one of the most underrated players on the Canucks. He does a lot at both ends of the rinks, so I think for MVP I'll select the man with the abs of steel. Canucks Goalie with the best GAA: Who wins a one horse race? Well, the guy with one horse and since it's inevitable that the Canucks trade Roberto Luongo, I'll say that Cory Schneider walks away with the best GAA on the team. Best +/- in 2013: This one's an easy one. While there are a number of quality candidates to chose from, I think I'll stick with the pride of Smithers, BC, Dan Hamhuis. He finished +29 in both 2010-11 and 2011-12. Leading Goal Scorer: I think this could depend on who the Canucks get in return for Roberto Luongo once he's traded, however with the roster the way it is right now I think it's likely to be Daniel Sedin or Alex Burrows. Both safe bets and both likely to be in the top 3 in goals scored. Leading in Points: Again with this I'm not going to far off the beaten bath. It will be one of the twins, inclined to go with Henrik Sedin. Leading in Assists: Once again, I know it's the safe bet, but it's also the most likely. Henrik Sedin. Best defenceman: For me I think this is a no brainer. Dan Hamhuis will be the best on the back-end this year. He may not pile up the points, but I think he'll be the most rock solid and dependable. Three-peat? Unlikely, I think. I think the Presidents Trophy heads East this season and finds a home in downtown Manhattan with the New York Rangers. Overall points for the Canucks in 2013: I know I said the Canucks wouldn't win the President's Trophy again, and while I stand by that I think that they won't finish to far away from it. I think they finish at the top of the West with a rercord of 24-14-10. Will the Canucks win the Northwest Division? Yes, but they might have some competition in a year or two…maybe. It's theirs to lose. Dan Hamhuis will be the best on the back-end this year. Will the Canucks have winning records against: Chicago: No, I think they will split the season series if they play an even amount of games. If they don't, I think Chicago gets 2 out of 3. Calgary: Yes. In fact, I think Vancouver may sweep the season series. Edmonton: I think they split the season series. Edmonton has a lot of fire power this season and if they catch the Canucks on an off night they could get away with a couple of wins. Will Ryan Kesler play before the playoffs? Yes, but I don't think it will be soon. Probably after the first half of the season. Depending on who you talk to. Will Roberto Luongo be with the Canucks on Opening Night? No. I don't think there's a chance of that. Will Alain Vigneault be the Coach come playoffs? I would imagine so. He may be a milt but I can't see him getting 'Burke'd'. Sedin Twin with more points? Henrik Sedin, and he'll lead the team in points. How many games will Cory Schneider play? Depending on who backs him up this year I would say that somewhere around 32-36 may be a realistic number. Who will Mike Gillis trade before the season starts? Roberto Luongo Will the Canucks make a splash at the trade deadline? That all depends on where they sit at that point in the season. We'll see, but I wouldn't think so. Who plays the most games on the wing w/ the Sedins in 2013 Reg. Season? Alex Burrows What seed in the Western Conference will the Canucks get for playoffs? 1st overall. It'll be on the internet, so hold me to these predictions all you want! CLICK HERE NOW TO CHECK OUT THE VANCOUVER CANUCKS CLUBHOUSE AT NWSPORTSBEAT!
Original Story:
http://www.nwsportsbeat.com/canucks/v...
THE BACKYARD
BEST OF MAXIM
RELATED ARTICLES
Canucks Projections Chances are that like the Regular Season of the NHL season, you are scrambling to get your Hockey Pools together before puck drop on January 19. If this is the case, there is not much time to strategize, to predict and to realize which players will help you gain bragging rights in your pool. I recommend looking at which teams will score a ton, which teams have...
The Vancouver Canucks are once again find themselves on the short list of Stanley Cup contenders, and a shortened season may favor a highly skilled, battle-tested team like the reigning Presidents' Trophy winners. The Canucks also continue to have one of the most outspoken fan bases, which is fun because it often leads to some entertaining hijinks thanks to the wonder of the Internet...
How's the shap today? We're days away from the start of the NHL & our Vancouver Canucks regular season and I can already smell the throw up on the sky train, that strange looking guy who has one eye on you and one on the door, the many other commuters warm breath on my neck; and most importantly the anticipation to get this damn thing going. While it's been fun to talk...
Start Your Engines VanCity Vancouver is known as a rather laid-back typically West Coast city, where often the biggest concern is whether the coffee shop clerk remembered to properly decorate the top of your mocha latte. Things move at a ponderous pace here much of the time, and life is not to be rushed. This dedication to the lethargic lifestyle is unfortunately often mirrored as...
Cory Schneider has waited much longer than a 113-day lockout for this chance. For the first time in his pro career, the goaltender entered a Vancouver Canucks training camp as the go-to guy in goal, a role he has coveted since he entered the organization. ''It's the culmination of my development,'' the 26-year-old Schneider said Sunday. ''This is where...
Sweet Glorious Hockey It hasn't fully sunken in yet that Canucks hockey is coming back, and is soon to consume this country in what promises to be a very entertaining 48 game dash to the playoffs. It's going to be a silly season. After going so long without the game, it's returning at double time with a very short training camp and no exhibition games. We've seen the playoff...
(Eds: Updates. With AP Photos.) Cory Schneider has waited much longer than a 113-day lockout for this chance. For the first time in his pro career, the goaltender entered a Vancouver Canucks training camp as the go-to guy in goal, a role he has coveted since he entered the organization. ''It's the culmination of my development,'' the 26-year-old Schneider said...
In Vancouver's Way on March to Cup Finally the ridiculous lockout is over and now we can start talking about battles on the ice and not battles that took place in board rooms! The Vancouver Canucks will enter the 2013 season as one of the legitimate favorites to win it all… again. They are stacked in all aspects of the game – anything less than a Cup would be a disappointment...
The Vancouver Canucks have signed defenseman Cam Barker to a one-year deal. Barker was originally selected by the Chicago Blackhawks third overall in the 2004 draft, behind Washington's Alex Ovechkin and Pittsburgh's Evgeni Malkin. Barker missed most of last season with an ankle injury that required surgery. ''I had a tough year last year,'' Barker said...
Vancouver, B.C. - Vancouver Canucks President & General Manager Mike Gillis announced today that the Canucks have signed defenceman Jim Vandermeer. Vandermeer, 32, has played in 461 NHL games, recording 105 points (25-80-105) and 664 penalty minutes. The 6'1", 208 lbs. defenceman split the 2011.12 season with the Edmonton Oilers (2-12-14 in 62 games played) and San Jose...
"I have the same 'mindset' that at the Vancouver Olympics. I was number two behind Martin Brodeur at the start of the tournament and I wanted to have fun. This is the same approach now. There are 5 or 6 years, I would not have approached things the same way. But it's no use sulking. " It's no use sulking is true, but is willing to reconsider its...
NHL News

Delivered to your inbox

You'll also receive Yardbarker's daily Top 10, featuring the best sports stories from around the web. Customize your newsletter to get articles on your favorite sports and teams. And the best part? It's free!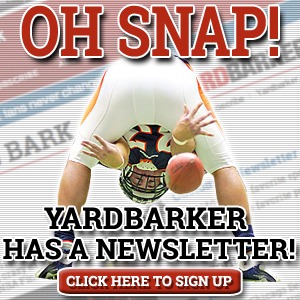 Latest Rumors
Best of Yardbarker

Today's Best Stuff

For Bloggers

Join the Yardbarker Network for more promotion, traffic, and money.

Company Info

Help

What is Yardbarker?

Yardbarker is the largest network of sports blogs and pro athlete blogs on the web. This site is the hub of the Yardbarker Network, where our editors and algorithms curate the best sports content from our network and beyond.