Found January 31, 2013 on NorthWest Sports Beat:
PLAYERS:
Zack Kassian
,
Mason Raymond
,
Keith Ballard
,
Jordan Schroeder
,
Roberto Luongo
,
Cory Schneider
,
Kevin Bieksa
,
Dan Hamhuis
,
Chris Higgins
,
Jason Garrison
,
Daniel Sedin
,
Henrik Sedin
TEAMS:
Vancouver Canucks
The Nucks +/- Well, we're all done the month of January and I thought it would be alright to go through which Canucks players have stuck out and which have maybe stunk out. This is the first and certainly not the last, the Plus/Minus of the month. The Plus Zack Kassian: Whodda thunk it? Zack Kassian in seven games is leading the team in goals with five. One could attribute his production to who his two line mates are, maybe you're right, but Kass has shown a ton of improvement in all areas of his game. Zack Kassian in seven games is leading the team in goals with five. More importantly: he's been consistent. Mason Raymond: Don't bleach your eyes. I put down Mason Raymond. Not only has he scored three times in seven games, but he's looked solid in a offensive/checking role. I know it's early, but it looks like Raymond has really turned things around. I know I could be eating a big helping of crow on this, but that's something I'm alright with. Chris Tanev/Keith Ballard: There may only be one point between the two of them, but you have to look past their contributions (or lack thereof) on the score sheet. They have probably been the most consistent D pairing so far this season. I know, young game, seven games in and they play less minutes, but it's been refreshing to see Keith Ballard playing well. Jordan Schroeder: What a pleasant surprise Jordan Schroeder has been. He hasn't been lighting it up, in fact he only has one point, but he's been a solid player when called upon to play. He's had scoring chances, and why wouldn't he? He's seen power play time and in part I think has helped Mason Raymond get going. Roberto Luongo/Cory Schneider: Cory Schneider hasn't had a great start, I mean his first was a dud, but he made up for it with a 5-0 shutout against the same Ducks that ran him out of the net on opening night. I don't fault him for his game against the Sharks so much because there were some bad defensive errors and giveaways that lead to goals. So, I think Schneider gets a plus from me. Luongo most certainly does, not simply because of his play this season but because of his attitude and how he's handled every thing. A+, for both goalies. Controversy? What Controversy… The Minus Kevin Bieksa: Kevin Bieksa has been the least impressive player, or at least on defense. He's made too many bad reads that lead to odd-man rushes and goals. He hasn't seemed like himself and to an extent I think it rubbed off on Dan Hamhuis a little. While I'm not worried about Hamhuis bouncing back (which he will), but I'm worried about Bieksa. Chris Higgins: Chris Higgins has been the biggest dud for me so far. I know, he's not just there to score goals, I'm not one of those "he isn't scoring, so trade him!" guys. This is more than his offensive output, or again lack thereof. It's about the play in the other two zones which has me a little down on Higgins so far. His play in his own zone hasn't been top notch, he has shown flashes though. His reads and coverage in the D-zone has been very "meh", in my opinion, he isn't winning puck battles or first on loose pucks like we're accustomed to seeing from Higgins. But, I think he'll rebound, it's seven games in and I think he'll make out OK once he gets going. For now though, he's a minus. Jason Garrison: I'm not going to trash Jason Garrison, maybe my expectations were a little lofty but I think I expected a little more. Him and Alex Edler haven't been the best pairing and at times Garrison has looked really weak on D. He's also had a few costly turnovers that resulted in pucks going into the back of the Canucks net. However, it's still early and I think, or I hope at least, he can turn it around and not be a minus when we do this again in February. Special Teams: Perhaps the most inconsistent part of the team this year has been their special teams. The power play gets hot in Anaheim, lays eggs the next night. I know all teams have bad nights with their special teams, but when you're gifted chances with the man advantage you need to capitalize on those chances. The same goes for the penalty kill: it needs to be better, it needs to find a rhythm and stay with it. Last night was a great night for both units. The Nucks killed off all their penalties and were able to score one with a man up. Hoping it turns around once some bodies come back, or sooner. Even Alex Edler: I'm going to give Alex Edler an "even". While his play in his own zone hasn't been top notch, he has shown flashes that it's there with big hits, some solid plays and of course having six points in seven games. Edler gets an even this month, lets hope he makes it into the plus column next month. Henrik and Daniel Sedin: The twins haven't been in typical Sedin form, but they haven't stunk either. Maybe they need to get warmed up so we can see some consistent offensive zone cycles, beautiful no look passes and goals that make you want to slap your momma. I'm not down on them at this point, I think they're going to come out of it, that's why they're even. They'll get going. After all Henrik Sedin + Daniel Sedin = Sedinery…right? CLICK HERE TO CHECK OUT THE CANUCKS BLOG IN THE CLUBHOUSE TODAY!
Original Story:
http://www.nwsportsbeat.com/canucks/v...
THE BACKYARD
BEST OF MAXIM
RELATED ARTICLES
That Can't Be Good Vancouver Canucks goalie in the wings, Eddie Lack, has had successful hip surgery and will miss the remainder of the season. Lack, who signed a two-year, two-way deal this summer with the Canucks, has been out since November with hip related issues. Mike Gillis said in a statement on the Canucks website today: "After consultation with our team physicians, it...
A look at the rook Just thought I would check in and take a quick look at Canucks rookie Jordan Schroeder. Schroeder was called up to the Canucks almost as fast as he was sent down. After two disappointing games with Andrew Ebbett as the second line center, master juggler and lozenge enthusiast, Alain Vigneault did a little line juggling. Included in that juggling was the call up...
Here we go again… Really? Do you want to talk about something else around the water cooler today? The Canucks won, so you have most, if not all of your hair; and it was only a Wednesday, so you're probably not droopy eyed and clinging to that fifth cup of coffee. I just wanted to take a second to touch on the goalie issues the Canucks are currently having, or not currently having...
Best & Worst Nucks It may be an unusual season in terms of length in this post-lockout world, but aside from that it's yet another year and yet another slow start for the Vancouver Canucks. However, unless the uncertain tangle the team is in gets unravelled mighty quick this year could be done and dusted. The middling start for the team matches the indifferent performance of...
Roberto Luongo made 24 saves for his first win of the season and the Vancouver Canucks beat the Colorado Avalanche 3-0 on Wednesday night. Luongo, who has been on the trading block since Cory Schneider replaced him as Vancouver's No. 1 goaltender, was rarely tested but still made some big saves in his 61st career shutout. With the Canucks leading 2-0 in the third, Luongo stopped...
Here we go… time to renew hostilities The Vancouver Canucks are back in action tonight. They close out this two game home stand against their bitter rivals from the Central division, the Chicago Blackhawks. Tonight has a little something else going for it than most Canucks and Blackhawks games do. It will be the first time the two teams have played since Duncan Keith ended Daniel...
By Bill Kellett Getty Images No one in the city of Vancouver thought they would ever see Roberto Luongo in net again for the Vancouver Canucks. Yet, there he was between the pipes in the first game of the season. He took over in relief of the newly anointed No. 1 Cory Schneider after possibly his worst game in professional hockey. One game later, there he was again drawing the starting...
Jordan Schroeder scored in a shootout to give the Vancouver Canucks a 2-1 victory over the Chicago Blackhawks on Friday night. Schroeder, who hasn't scored a traditional goal in the regular season, fired a low, hard shot that squeaked through the pads of goalie Corey Crawford. Alex Edler scored in regulation for the Canucks (4-2-2). Patrick Kane had the lone goal for the Blackhawks...
For The NHL Gamblers! Headline: Heated and Hated Rivalry Continues – Canucks Host Blackhawks Friday Night One of the best rivalry's in the NHL writes another chapter Friday night when the Chicago Blackhawks, fresh of their first loss of the season (albeit a shootout loss) pays visit to the Vancouver Canucks who climbed over .500 with a 3-0 win over Colorado on Wednesday night...
It seemed a near certainty Roberto Luongo had played his final game in a Vancouver Canucks sweater after Cory Schneider supplanted him as the team's No. 1 goaltender during last season's playoffs. Now, he's proving to be an asset. Luongo will make his third straight start Friday night as Vancouver hosts the rival Chicago Blackhawks, who have earned 13 of a possible...
Roberto Luongo turned in a 24-save shutout over the Colorado Avalanche last night as the Canucks improved to 3-2-2 this season. Zack Kassian had his fifth goal of the year in the win. Let's take a look at the rest of a short night on ice. Chicago lost its first game of the season in a shootout 3-2 to the Minnesota Wild. The notable happening in that game was that goaltender Nicklas...
Canucks News

Delivered to your inbox

You'll also receive Yardbarker's daily Top 10, featuring the best sports stories from around the web. Customize your newsletter to get articles on your favorite sports and teams. And the best part? It's free!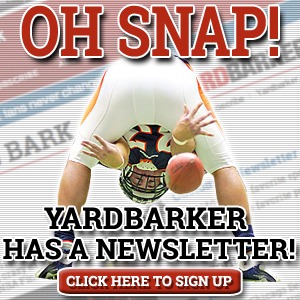 Latest Rumors
Best of Yardbarker

Today's Best Stuff

For Bloggers

Join the Yardbarker Network for more promotion, traffic, and money.

Company Info

Help

What is Yardbarker?

Yardbarker is the largest network of sports blogs and pro athlete blogs on the web. This site is the hub of the Yardbarker Network, where our editors and algorithms curate the best sports content from our network and beyond.