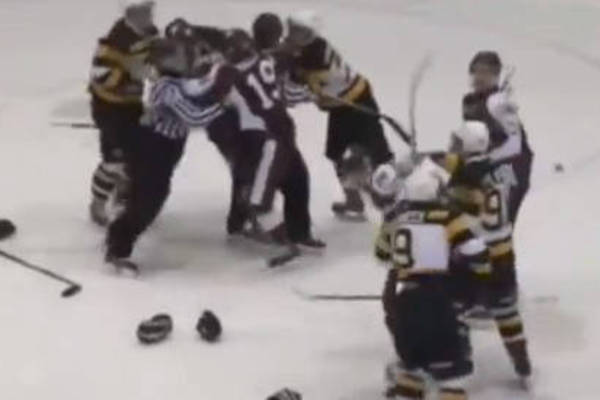 YouTube With 30 seconds left in Game 3 of the first round of the OHL playoffs, the Peterborough Petes weren't having the Kingston Frontenacs taking a 3-0 series lead on them.  Buzzing the Net gave us the video and details. After an empty-netter by Kingston sealed the game, Petes center Michael Clarke (not shown on camera) cross-checked Kingston's Henri Ikonen after the puck went in the net. And then, it was mayhem.  And after the mayhem ended, it was pandemonium.  There were two line fights in the last 30 seconds.  After the first fight, former NHLers turned coaches, the Petes' Jody Hull and the Fronts' Todd Gill, put their tough guys on the ice for more action. Here's video: Clarke, the initiator of the first brawl, got a five-minute match penalty which should assure a suspension. Kingston's Slater Doggett and Mack Lemmon, along with Lizotte and Petes captain Connor Boland, were all thrown out for engaging in fights after an altercation had already begun. As Buzzing the Net points out, OHL teams can pay a fine during the playoffs rather than have a player serve a suspension. Because that serves a great example. Please Mr. Hockey Gods, never take fighting out of hockey.
Read the rest of this story...
MORE FROM YARDBARKER
NHL News

Delivered to your inbox

You'll also receive Yardbarker's daily Top 10, featuring the best sports stories from around the web. Customize your newsletter to get articles on your favorite sports and teams. And the best part? It's free!