Found January 08, 2012 on PredsOnTheGlass:
Somewhere in Nashville, there sits a dark, climate-controlled warehouse that contains 17,113 Goo-Goo Clusters that are awaiting the day when they find their way into the mouths of anxious Nashville Predator fans that have now suffered through 22 games over a three-month period when the Preds have failed to score a Goo-Goo goal.
For the uninitiated, a
new promotion was started this year
where if the Nashville Predators score a goal in the last minute of play in the second period every fan in attendance will receive a delicious, made in Nashville,
Goo-Goo Cluster
.
Goo-Goo Clusters have been a product of the Standard Candy Company since 1912 and are described as being made with "real milk chocolate, caramel, peanuts and marshmallow nougat." Over the years, Goo-Goo has been a regional treat that is probably most associated with their sponsorship of "The Grand Ole Opry."
Some of us on "Bloggers Row" have been dreaming of the day when every fan in Bridgestone Arena will learn to chant "Goo-Goo, Goo-Goo, Goo-Goo, Goo-Goo, etc." for a full minute at every game,
similar to the way the crowd chants "Ru-dy, Ru-dy, Ru-dy, Ru-dy, etc."
at the end of the 1994 classic 
movie "Rudy
."
On Saturday, against the Carolina Hurricanes, the best shot of the year at a Goo-Goo goal came with 34 seconds left in the middle period when Patric Hornqvist fired a wrister from six feel that Carolina goalie Justin Peters amazingly kept out of the net.
After the game, Hornqvist was asked about the near Goo-Goo goal and we were crushed with his response. "Oh, I don't know what that is."
After an explanation Hornqvist said, "Oh, OK, I didn't know. They (the fans) want everything. I was there in front and we tried to score but I didn't know they got some extra stuff if we score in the last minute. They got Frosties, at least! It was a good night for them (the fans) too."
For the record, in 22 games, the Predators have mustered 12 shots and picked up six penalties during the Goo-Goo minute but have yest to reward the fans with the desired delicacy.
Fans have made out better on the "
Frosty Score for Four
" promotion, where in addition to Saturday's game, they have picked up the frozen desert from Wendy's on four other occasions.
Another promotion from Dunkin Donuts, where everyone gets a free donut when the Predators get a shutout,
got good play from Barry Trotz in the postgame
on October 29 when after Pekka Rinne shut out Anaheim 3-0 he said, ""Tomorrow morning I'm going to enjoy my Dunkin Donuts coffee and donut with all the 17,113 people that are going to be there tomorrow!"
So as we await the next home game on Thursday against Colorado, those of us on Blogger's Row that are fixated on the Goo-Goo goal await hopefully for the day when the fans are rewarded with the charming Southern delicacy. 
While there are firm rules and traditions about "no cheering in the press box," don't be surprised if things get a little noisy when (and if) the Goo-Goo Goal finally finds the opponent net as we have become overly obsessed with wanting to celebrate our favorite promotion.
Finally, the following chart outlines the results through 22 home games for the Goo-Goo Goal, Frosties four goals, as well as the Dunkin Donut freebies.

Game - Date Opponent   Goo-Goo Shots/Shooters Frosty/Donut ?
1.   10-13-11 Phoenix     1  Smith (PP)   No (2-5) No2.   10-15-11 New Jersey     1  Weber   No (2-3) No3.   10-25-11 San Jose            0   No (1-3) No4.   10-27-11 Tampa Bay            0   No (1-3) No5.   10-29-11 Anaheim            0   No (3-0) Yes6.   11-12-11 Montreal            0   No (1-2) No7.   11-15-11 Washington            0   No (3-1) No8.   11-17-11 Toronto            0   Yes (4-1) No9.   11-19-11 Columbus     1  Legwand   No (3-4) No10. 11-22-11 Edmonton     3  Fisher (2) Tootoo   No (2-6) No11. 12-3-11 Buffalo     3  Suter (2) Blum   No (2-3) No12. 12-6-11 Phoenix            0   No (2-3) No13. 12-10-11 Anaheim            0   No (3-2) No14. 12-13-11 Calgary            0   No (2-1) No15. 12-15-11 Detroit            0   Yes (4-3) No16. 12-17-11 St. Louis            0   No (2-1) No17. 12-22-11 Columbus            0   Yes (6-5) No18. 12-26-11 Detroit            0   No (1-4) No19. 12-28-11 Minnesota     1  Josi   No (2-1) No20.  1-1-12 Calgary            0   Yes (5-3) No21.  1-5-12 Dallas            0   No (1-4) No22.  1-7-12 Carolina     2  Erat, Hornqvist    Yes (5-2) No
Goo-Goo Penalties
Game 2 - Hornqvist High Sticking (:37) and Weber Cross-Checking (:14)
Game 3 - Suter Slashing (:47)
Game 6 - Tootoo Cross-checking (:00)
Game 14 - Josi Holding (:57)
Game 21 - Fisher Tripping (:57)
More Later...
Buddy Oakes for PredsOnTheGlass
Original Story:
http://www.predsontheglass.com/2012/0...
THE BACKYARD
BEST OF MAXIM
RELATED ARTICLES
Coming into tonight's game against the Carolina Hurricanes, the Predators power play was in the midst of a season-long five-game scoreless streak. The Preds made sure they righted the ship in a 5-2 victory, as the unit scored four times with the man advantage on five opportunities."It was nice to get four on the power play," said Patric Hornqvist, who scored twice with the...
NASHVILLE, Tenn. (AP) -- Patric Hornqvist scored two power-play goals to lead the Nashville Predators to a 5-2 win over the Carolina Hurricanes on Saturday night. Shea Weber, Craig Smith and Ryan Ellis also scored as Nashville won for the fourth time in five games. Jay Harrison scored twice for Carolina, which is 1-2-1 in its last four. Hornqvist's second goal of the game...
As expected, after playing games on Friday and Saturday night in Milwaukee, Anders Lindback returned to the Nashville Predators and Jeremy Smith, who suited up for his first NHL game was sent back to Milwaukee.Lindback had not played in a game with the Predators since he relived Pekka Rinne on December 23 in Dallas and was understandably rusty  in his stint in Milwaukee.The Preds...
PREDATORS AND ADMIRALS SWITCH GOALIES - Lindback recalled; Smith reassigned to Milwaukee - Nashville, Tenn. (January 8, 2012) – Nashville Predators President of Hockey Operations/General Manager David Poile announced today that the club has reassigned goaltender Jeremy Smith to Milwaukee (AHL) and recalled goaltender Anders Lindback (AHN-dehrs LIND-bahck) from the Admirals...
Forty-one games are in the books for the Nashville Predators. It's been an up-and-down first half to say the least, but the team has to like where they sit at the season's midway point. Though they are two points off last year's pace, Barry Trotz's crew will hold a playoff spot going into the start of the second half on Tuesday night.The Preds' power play is abnormally...
When Captain Shea Weber was out of the lineup with a concussion, the Nashville Predators went 0 for 13 on the man advantage.  With just one game under Weber's belt since returning, the Predators went 4 for 5 with the man advantage to beat the Carolina Hurricanes 5-4 in front of a sold out crowd at Bridgestone Arena on Saturday night. It was the fourth win in five games for Nashville...
Patric Hornqvist scored two power-play goals to lead the Nashville Predators to a 5-2 win over the Carolina Hurricanes on Saturday night.
Nashville Predators 5, Carolina Hurricanes 2 Bridgestone Arena, Nashville, TN Saturday, January 7, 2012 * Jack Hillen was the odd-defensemen out on Saturday night. It was his first healthy scratch since Mattias Ekholm was assigned to Sweden. * The Predators are now 1-2-0 with Hillen out of the lineup. * It took only 0:15 for Carolina to get the first shot on goal. * Craig Smith's...
The Nashville Predators have faced every team in the Western Conference except for the Colorado Avalanche. They've likely been eager to get this season series underway. Coming off an encouraging victory, the Predators look to win their sixth in a row over the Avalanche in the opener of a home-and-home set Tuesday night at the Pepsi Center. Nashville (22-15-4) has outscored...
Photo Caption: John Russell/NHLI via Getty Images 41 games into the 2011-2012 Nashville Predators season, there have been some definite ups and downs in the lengthy 8 months that makes up a regulation NHL year. Yet, as Predators fans go, there are more positives to look at then there are negatives. So, without further ado, let's explain how we're going to break things down here...
Every off-season, NHL general managers search for the best possible head coaching candidates to fill their voids behind the bench. The hottest name on the market this past summer was Kirk Muller, who interviewed for three vacancies. When nothing came to fruition, Muller decided to give the AHL a shot.Following a cup of coffee in Milwaukee, Muller was called up to the NHL, so to...
NHL News

Delivered to your inbox

You'll also receive Yardbarker's daily Top 10, featuring the best sports stories from around the web. Customize your newsletter to get articles on your favorite sports and teams. And the best part? It's free!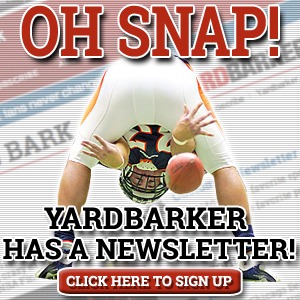 Latest Rumors
Best of Yardbarker

Today's Best Stuff

For Bloggers

Join the Yardbarker Network for more promotion, traffic, and money.

Company Info

Help

What is Yardbarker?

Yardbarker is the largest network of sports blogs and pro athlete blogs on the web. This site is the hub of the Yardbarker Network, where our editors and algorithms curate the best sports content from our network and beyond.