Found November 13, 2012 on NorthWest Sports Beat:
Pavel Bure Inducted into the Hockey Hall of Fame Perhaps the most electrifying and vilified player to ever wear a Canucks jersey, Pavel Bure is one of four hockey players now in the the Hockey Hall of Fame. Along with Bure, Joe Sakic, Mats Sundin and Adam Oates were all inducted into the Hockey Hall of Fame. The four players were presented their Hall of Fame rings at a press conference Monday morning. The mere mention of Bure's name can bring out the best in Vancouver fans, gushing about he is the greatest Canuck of all time; or you get the fans who complain about his acrimonious split with the team. Either way you look at it, Pavel Bure was one helluva hockey player. Here is my top five Pavel Bure moments. #5. Penalty Shot vs. Mike Richter Alright, this may seem like a weird selection for the top five, especially since he doesn't score, but like my other top fives, this is mine…and it's memorable for me because I remember exactly where I was, who I was with and what I was doing. http://www.youtube.com/watch?v=ulUFtK2xLnY&NR=1&feature=fvwp #4. The Mother of All Elbows The 1994 Stanley Cup run could probably have a top five of it's own, however, this is one of those ones that nowadays you'd wonder: "How many games would Bure have gotten for that hit?" I'm not condoning this type of play, I just remember everything about where I was when it happened. http://www.youtube.com/watch?v=5oYABjkWiJc #3. Stick to Skate In a preseason game against Boston (Preseason, Boston? What the crap?) Pavel Bure does something spectacular and out skates the snot out of Ray Bourque and buries one of the prettiest goals I've ever seen. http://www.youtube.com/watch?v=WVNIxAZsqhA #2. 1998 Nagano Games. Five Goal Game A dominant performance from the Russian Rocket in the semifinal against Finland in the 1998 Winter Olympics. Not only does Bure score five goals, he also records the first three Russian goals. These are the game highlights, so bare in mind you have to listen to the announcer annoyingly pronounce Bure's name for a good five minutes. http://www.youtube.com/watch?v=jL_p_kMMc5E&feature=related #1. Brown to Bure Game 7 Overtime Goal I left this play off of my top five Canucks moments because I don't feel like it's one of my moments. Top 10 for sure, but not in my top five. However, this being a Pavel Bure top five it is most certainly deserving of being in here and in my number one spot. Enjoy. http://www.youtube.com/watch?v=dHB_XpMXg-A CLICK HERE TO CHECK OUT THE CANUCKS CLUBHOUSE TODAY AT NWSPORTSBEAT!
Original Story:
http://www.nwsportsbeat.com/canucks/t...
THE BACKYARD
BEST OF MAXIM
RELATED ARTICLES
The Hockey Hall of Fame inducted four more players today, including two former Canucks, Pavel Bure and Mats Sundin. Bure, Sundin and the other two inductees, Sakic and Oates are all full marks for their induction, but does anyone else find it odd that the Hall of Fame ignores the most important position in hockey, the goaltender? Unless you're the among the elite of the elite,...
By Tony Ambrogio (@SNTonyAmbrogio) As Mats Sundin wrapped up his Hall of Fame induction speech, he looked up into the crowd and said to Maple Leafs fans everywhere, "I will never forget what you have given me." It was typical Sundin. In his first year of eligibility, Mats Sundin joined Pavel Bure, Adam Oates and Joe Sakic into the NHL Hall of Fame. "I dedicate my induction...
The Hockey Hall of Fame is welcoming four new members. Mats Sundin, Joe Sakic, Pavel Bure and Adam Oates are being inducted in the player category. The former star NHL forwards were presented with their Hall of Fame member rings at a news conference Monday morning. A formal induction ceremony will be held in the evening. Buffalo Sabres play-by-play voice Rick Jeanneret and Globe...
On Monday Adam Oates capped a wonderful career by being inducted into the Hockey Hall of Fame in Toronto. During his acceptance speech Oates continued to do exactly what he did best during his career: flip the glory unto others. Just like a perfect pass for yet another assist, Oates spent much of his speech thanking teammates, singling out Cam Neely and Ray Borque from his time in...
NHL HOF 2012 Inductees: Mats Sundin, Joe Sakic, Adam Oates and Pavel Bure The Hockey Hall of Fame Induction ceremony went off swimmingly, except for the time maybe when Mats Sundin pronounced Elmer Lach's name "Latch," and Patrick Roy took a swipe at the Canadiens, saying they decided to trade him, which only sort of happened after Roy told Ronald Corey he'd never play another...
ST. LOUIS Former St. Louis Blues center Adam Oates will been inducted into the Hockey Hall of Fame tonight along with Joe Sakic, Mats Sundin and Pavel Bure as the class of 2012. The induction ceremony can be seen live on the NHL Network at 6:30 p.m. Oates retired in 2004 after tallying 1,420 points in 1,337 games with Detroit, St. Louis, Boston, Washington, Philadelphia, Anaheim...
The only bright spot this fall in relation to hockey was the induction of four new Hall of Fame members. I had the privilege to grow up watching these great players play the game I love to play and watch. Adam Oates, Mats Sundin, Pavel Bure and Joe Sakic are the NHL Hall of Fame…
from Adrian Dater of the Denver Post, In Monday's Denver Post, we have a story that polled 10 of the most experienced hockey writers in North America to name the top 10 centers in NHL history. Joe Sakic came in eighth, just behind Bryan Trottier and just ahead of Stan Mikita. Steve Yzerman, the former Detroit Red Wings Hall of Famer, came in sixth. Do we have a...
from Jesse Spector of The Sporting News, With negotiations on hold—Fehr said on Sunday he did not know when talks would resume—Chris Johnston of the Canadian Press reported that Bettman and Daly "are still expected to attend the Hockey Hall of Fame induction." Sure, why not? Bettman and Daly already have teamed up with their NHLPA counterparts to bring down...
NHL News

Delivered to your inbox

You'll also receive Yardbarker's daily Top 10, featuring the best sports stories from around the web. Customize your newsletter to get articles on your favorite sports and teams. And the best part? It's free!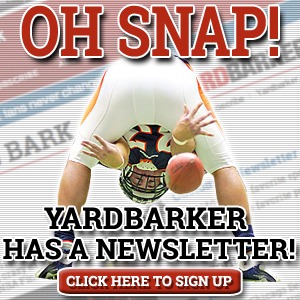 Latest Rumors
Best of Yardbarker

Today's Best Stuff

For Bloggers

Join the Yardbarker Network for more promotion, traffic, and money.

Company Info

Help

What is Yardbarker?

Yardbarker is the largest network of sports blogs and pro athlete blogs on the web. This site is the hub of the Yardbarker Network, where our editors and algorithms curate the best sports content from our network and beyond.