Posted December 11, 2012 on AP on Fox
Brooks Orpik had a good reason to head back to Pittsburgh after spending the first three months of the NHL lockout in Massachusetts, and the Penguins defenseman insists it had nothing to do with optimism he and the rest of his teammates are closer to getting back to work. ''I didn't have snow tires on my car, so I was like, 'If I wait this out any longer I'm going to get stuck here and not have a car down in Pittsburgh,''' Orpik said. ''It was really just a change of scenery.'' Orpik wasn't alone. He carpooled down to Pittsburgh with Tyler Kennedy, and a little bit of peer pressure convinced forward James Neal to join the handful of Penguins who have been working out regularly at the regional ice rink that serves as the team's practice facility. ''It's just something different to stimulate you,'' Orpik said. Orpik had been working out with players in the Boston area, monitoring negotiations and attempting to stay sharp. Things felt a little different, however, while skating alongside his teammates for the first time since Pittsburgh lost to Philadelphia in the first round of the 2012 Stanley Cup playoffs. Having Sidney Crosby around may something to do with it. The captain has been a fixture at the workouts and having 15 players in all - including a couple of non-Penguins - allowed Crosby and company to pick up the pace a little bit. Crosby has served as the de facto organizer for the drills and is eager to get his career back underway after struggling with concussion-like symptoms for most of the last two years. He attended three days of marathon negotiations between owners and players in New York last week, though he has no plans to be around when talks resume. While Crosby has long since stopped guessing when the NHL's third labor dispute under Commissioner Gary Bettman's watch will end, he remains hopeful hockey will return at some point. ''The fact that they're talking is good and I think we've all said that throughout this process, it's better than sitting around and not knowing what everyone is thinking,'' Crosby said. Spending three days at the bargaining table, however, tempered any sense a deal was imminent. The league has cancelled games through Dec. 30 and there are still a myriad of concerns that need to be addressed. ''There's a lot of details, a lot of things that go into a CBA and those haven't even been starting to be talked about,'' Crosby said. ''We definitely have some work to do there but I'm sure once all the major things get taken care of, hopefully the process gets a little easier.'' Crosby estimated the league would need a couple of weeks to get through a brief training camp while cramming in a couple of exhibitions. The long layoff has left him refreshed and while he's crisscrossed the country over the last couple months - he's attended player camps in Colorado and Arizona - there's nothing quite like lacing up the skates alongside the players who know you better than most. ''I think the one thing that's the same all the way through is that guys are trying to do their best to stay ready and they're trying to make the best of the situation,'' Crosby said. ''That says a lot about guys and their care level. Guys want to make sure that when and if this does get settled, we're ready to go.'' So Crosby will keep showing up at the practice rink four days a week. He will keep trying to make things fresh. Tuesday's turnout was encouraging, sure, but it's also part of an ebb and flow that's been typical since the lockout began. There have been days when only a handful of players show up. While that can make it difficult at times to get motivated, it hasn't stopped Crosby from showing up, even if instead of a packed house at Consol Energy Center it's a sprinkling of fans, folks working at a gym located over one end of the ice and facility employees. Asked if there's a scenario when Crosby decided it's time to call his teammates and tell them to skip it, and the game's biggest star just shakes his head. ''That's not going to happen,'' Crosby said. ''If nobody's here, then either everyone has taken a day off right before camp starts or we're not playing.''
Original Story:
http://msn.foxsports.com/nhl/story/pi...
THE BACKYARD
BEST OF MAXIM
RELATED ARTICLES
Orpik, Bennett, Maatta: Penguins News From Around The Three Rivers Dave Molinari ‏@MolinariPG Orpik joins Southpointe workout. Crosby, Fleury, Lovejoy, Vitale, Engelland, Niskanen, Cooke, Kennedy, Adams, Kunitz + Dupuis also there. Brooks Orpik is the Heath Miller of the Pittsburgh Penguins. He's steady, he's dependable, teammates can count on him...
Sidney Crosby says he's not reading anything into the fact the ice rink at the team's practice facility has gotten a little more crowded over the last couple days. Crosby and nearly a dozen of his Pittsburgh Penguins teammates worked out Tuesday. It's a routine Crosby has kept to since the NHL lockout started in September and he says the recent uptick in attendance doesn...
Prior to this year only two 15-year-olds had been drafted into the Ontario Hockey League. And only one Canadian Junior Hockey player had ever signed an endorsement deal, Sidney Crosby.  On Wednesday, Connor McDavid continued his magical year by becoming the second player ever to sign an endorsement deal while playing junior hockey; and like Crosby, McDavid signed with Reebok/CCM...
Pens practice Thursday despite rollercoaster talks For all the off-ice angst Sidney Crosby talks about on a seemingly daily basis, make no mistake that the ice is still his office. Thursday morning I attended the Pens' informal practice at Southpointe. Crosby twisted a couple highlight-reel goals. Watching the practice with my college roommate from...
With last week's debacle potentially behind them, time is of the essence for the NHL.  If there is to be any sort of season, an agreement needs to be reached before Christmas.  Today the NHL will formally announce the cancellation of all games through December 30th. Now that all of December is axed, it is obvious that if a deal is signed, the season would start in January....
from Liz Mullen of SportsBusiness Journal at The Sporting News, Reebok's CCM Hockey brand is close to signing a multiyear head-to-toe apparel and equipment endorsement deal with 15-year-old hockey phenom Connor McDavid, the No. 1 pick of the Ontario Hockey League. If the deal is completed, as expected, it would be the most significant deal Reebok has signed with a young...
Last week's negotiations between the NHL and NHLPA gave us a glimmer of hope before quickly and embarrassingly falling off course, leaving North American hockey fans even more frustrated and angry with the lockout. Monday didn't bring any good news either, as the NHL reportedly has announced the cancellation of all games through December 30th. If you're a desperate hockey fan...
Penguins News

Delivered to your inbox

You'll also receive Yardbarker's daily Top 10, featuring the best sports stories from around the web. Customize your newsletter to get articles on your favorite sports and teams. And the best part? It's free!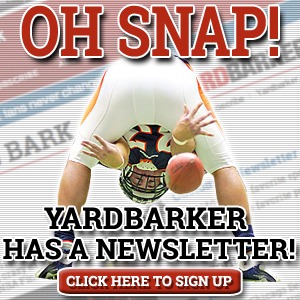 Latest Rumors
The Backyard

Today's Best Stuff

For Bloggers

Join the Yardbarker Network for more promotion, traffic, and money.

Company Info

Help

What is Yardbarker?

Yardbarker is the largest network of sports blogs and pro athlete blogs on the web. This site is the hub of the Yardbarker Network, where our editors and algorithms curate the best sports content from our network and beyond.