Found January 14, 2012 on PredsOnTheGlass:
TV-Radio...
7:00 CST - TV: Fox Sports TN, TCN Philadelphia. Preds Radio Network (102.5-FM The Game)
Stage Setter...
After surviving an ongoing dog fight in the Western Conference and winning 12 of their last 16 games, the Predators beginning a three game set in four days against Eastern teams starting with tonight's contest with the Flyers.
Make the jump for everything else...
Western Conference Standings...
        Team        GP Pts
1. * Vancouver 45 59
2. * Chicago      44 57
3. * San Jose  40 53
4. St Louis 43 56
5. Detroit            43 55
6. Nashville 43 52
7. Los Angeles    44 50
8. Minnesota       44 50
9. Dallas              42 49
10. Colorado       45 48
11. Phoenix         45 47
12. Calgary          45 47
Prior Meetings...
This is the first meeting between the Predators and Flyers this year. They will play again in Philadelphia on February 2. Last season, they met in Philadelphia and the Flyers scored with less than four minutes left to beat the Preds 3-2. Nashville is 5-6-(3)-0 all time against the Flyers and 2-2-2 on home ice.
Last Time Out...
Nashville beat Colorado 3-2 in overtime at the Bridgestone on Thursday night.
Philadelphia won at the Islanders 3-2 also on Thursday.
Top Scorers (G-A-Pts)...
Nashville - S. Weber (9-22-31), D. Legwand (12-15-27), M. Erat (9-18-27), C.Smith (9-17-26),  R. Suter (5-20-25) and C. Wilson (8-15-23)
Philadelphia - C. Giroux (18-31-49), S. Hartnell (19-19-38), J. Jagr (12-20-32), D. Briere (13-16-29), M. Read (13-13-26), J. Voracek (6-20-26), K. Timonen (1-25-26)
In Goal (W-L-O, GAA, save %)...
Nashville - P. Rinne (probable start) (22-11-4, 2.55, .919) and A. Lindback (2-4-0, 2.75, .893)
Philadelphia - S. Bobrovsky (probable start) (10-3-1, 2.42,.921) and I. Bryzgalov (16-9-3, 3.07,.891)
Other Comparisons...Teams       Predators    Flyers        
Record24-15-4 (52) 26-12-4 (56) Last 107-3-06-4-0Home Record 13-7-310-6-2Road Record11-8-116-6-2Power Play (rank)21.3 (2)19.2 (7)Penalty Kill (rank)81.9 (20)82.6 (13)Goals For (rank)2.67 (14)3.38 (2)Goals Allowed (rank)   2.70 (13)2.90 (23)Shots For (rank)27.6 (27)32.1 (6)Shots Allowed (rank)31.0 (21)29.2 (8)Penalty Mins (rank)10.3 (8)15.7 (29)Faceoff % (rank)49.5 (20)47.4 (27)
Injuries...
Nashville - Jerred Smithson (lower body)
Philadelphia - James van Riemsdyk (concussion), Erik Gustafsson (wrist), Chris Pronger (concussion), Blair Betts (lower body) and Ian LaPerriere (concussion).
Notes...
The Preds have comeback from a 2 or 3 goal deficits 6 times this season
Thursday's comeback was the fifth since December 1 on a Thursday
The Predators are 19-2-2 when scoring more than two goals.
The Preds have a .294 win % when trailing after two periods (5-12-0), Second only to Ottawa in the NHL
Rinne is (1-1-0, 3.26, .901) in his career against the Flyers.
The Predators are 12-0-1 when Nick Spaling scores.
The Preds are 0-23 during the Goo-Goo minute.
Other Predator Previews...
Predators.com
PredsOnThewGlass
The Tennessean
Ryan Porth  Preview - Audio Marty Erat Previews Game
SmashvilleOnTheGlass w/ Sarah Baicker from CSN Philly
Amanda DiPaolo
Robby Stanley
Patten Fuqua
Dirk Hoag
Predatorial
Fang Finger
Philadelphia Media...
Flyers.com
Russ Cohen
Broad Street Hockey
Philly.com
Philly Burbs
Courrier Post
CSN Philly
Game Notes from NHL Media Services
A Look Ahead for the Preds...
Tonight                    Philadelphia 7 p.m.
Sunday                    Flight to Long Island
Monday                  @ NY Islanders (noon start)
Tuesday                  @ NY Rangers 6:30 p.m.
Thursday (1-19)      @Columbus 6 p.m.
Saturday (1-21)      Chicago Blackhawks 7 p.m.
Monday (1-23)       Columbus Blue Jackets 7 p.m.
Tuesday (1-24)       @ Chicago Blackhawks
1-25 to 1-30           All-Star Break
More Later...
Buddy Oakes for PredsOnTheGlass
Original Story:
http://www.predsontheglass.com/2012/0...
THE BACKYARD
BEST OF MAXIM
RELATED ARTICLES
Pierre LeBrun at ESPN.com reports that the Rangers are looking to trade for either a top-six forward and/or a power-play defenseman with a good shot.LeBrun adds the Blueshirts are keeping a close eye on what the Predators are going to do with either Ryan Suter (UFA July 1, $3.5 million this year) or Shea Weber (RFA July 1, $7.5 million this year), who are two players they would covet...
One of the highlights of Saturday night's 4-2 victory by the Nashville Predators over the Philadelphia Flyers came early in the second period when the Flyer's Wayne Simmonds tried to make a move past Predators rookie, Ryan Ellis and Ellis delivered one of the more dramatic hip checks ever seen in Bridgestone Arena.After the game, Ellis described the play. "It was kind...
NASHVILLE, Tenn. -- One streak came to an end for the Nashville Predators on Thursday -- but just barely -- while another one continued. Both are connected. The Predators missed their ninth consecutive sellout at Bridgestone Arena by only 208 fans and that came on a night when snow was in the forecast and numerous local schools were canceled the next day because of snow and ice...
Early in the third period with the Nashville Predators leading 2-1, Pekka Rinne made a double save on a two on one breakaway that could have been a turning point in the game had the Philadelphia Flyers been able to convert and tie the contest.The play began when Shea Weber lost the puck in the neutral zone to Claude Giroux who took off on a breakaway with Max Talbot with Ryan Suter...
Can these two teams be in a Stanley Cup Final series? Sheesh. That was a lot of fun. In front of yet another sold out Bridgestone Arena crowd, the rare match-up between the Nashville Predators and the visiting Philadelphia Flyers provided an entertaining night of hockey, resulting in a 4-2 Preds win. Pekka Rinne made 36 saves while his counterpart at the other end of the ice, Ilya...
When Flyers' head coach Peter Laviolette chose to stick with "back-up" goaltender Sergei Bobrovsky by giving him the start on Thursday against the New York Islanders, a goalie controversy seemed immanent. However, if you look at the decision more in depth, it makes much more sense. Bobrovsky has very good numbers against the Islanders and was coming off an impressive...
It was mid-November when I picked Shea Weber of the Nashville Predators as the top defenceman so far this year.  He played so well that about a month later he became my pick for MVP.  Then he missed a few games with a concussion and lost his momentum.  I am now picking Zdeno Chara of the Boston Bruins as the top defenceman so far this year. Chara won the 2009 Norris Trophy...
Sarah Baicker from CSN Philly joined Ryan and Buddy on this weeks Smashville on the Glass radio show to preview Saturday's game between the Predators and the Flyers. She also gave plenty on inside insight to all things Winter Classic, HBO's 24/7, as well as looking in to the psyche of Flyers goalie, Ilya Bryzgalov.The show also includes a discussion of the Predators recent...
Photo by Paul Bereswill/Getty Images North America In a rare meeting of amicable trade partners, the Philadelphia Flyers and the Nashville Predators take the ice at Bridgestone Arena tonight. The Predator faithful were frightened a touch by the onset of wintry weather and only 16,900+ (about 200 shy of a sellout) came out for Thursday night's comeback win against the Colorado...
ANDY LEFKOWITZ STATS Writer The Nashville Predators keep winning, but gaining ground in a tightly packed Central Division is proving to be a tougher challenge. Looking to win its fourth straight game Saturday night, Nashville will face a Philadelphia Flyers team trying to draw closer to the top of the Atlantic. Nashville (24-15-4) comes into this contest having won six of seven...
NHL News

Delivered to your inbox

You'll also receive Yardbarker's daily Top 10, featuring the best sports stories from around the web. Customize your newsletter to get articles on your favorite sports and teams. And the best part? It's free!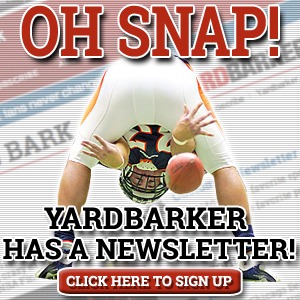 Latest Rumors
Best of Yardbarker

Today's Best Stuff

For Bloggers

Join the Yardbarker Network for more promotion, traffic, and money.

Company Info

Help

What is Yardbarker?

Yardbarker is the largest network of sports blogs and pro athlete blogs on the web. This site is the hub of the Yardbarker Network, where our editors and algorithms curate the best sports content from our network and beyond.