Found June 14, 2012 on The Rangers Tribune:
Yesterday we reviewed rookie Carl Hagelin on the blog, so it was only appropriate that we followed that up with Chris Kreider (more like their names coincidentally come right after each other on the roster). But anyway, Kreider was signed by the Rangers just before the playoffs in the NHL kicked off, and immediately after his Boston College Eagles won the Frozen Four NCAA tournament. It was obviously all a whirlwind for Chris at the time, but despite doubt placed against him and the tough circumstances he was entering into, he came out and wasted no time stealing the spotlight on Broadway, becoming a major story League-wide during the postseason. 
The Good: Much like Hagelin, speed is the key ingredient to Kreider's success. This enables him to get to loose pucks first, lead the rush, backcheck extremely well and even break away from the defense for scoring opportunities a la the highlight below. At some point throughout the Rangers' playoff run, we saw Kreider do all of this and much more. He's a slippery player although quite large at 6-foot-3, 230 pounds. He played well with almost every line he was placed on, but especially with friend and center Derek Stepan. These two had a chemistry that the Rangers hope will continue to build next season as well. 
Not to mention Kreider racked up five goals and 2 assists in 18 playoff games, which had him tied for eighth on the team in scoring, as a rookie remember. I doubted the kid coming out of college and jumping right into NHL playoff action as that is a difficult task for anyone to swallow. However, as he started to build up the points and create opportunities on the ice, he rapidly began to prove me wrong. 
And the great thing about Kreider is that he is already one of the players you anticipate to come out onto the ice and immediately make something happen, at only the age of 21 mind you. The confidence that he played with was truly amazing considering his young age and his inexperience, and that speaks to how well he could possibly perform in his official rookie season next year with the Rangers. I think there's little doubt that if not at first, somewhere along the road he will work himself into the top six on offense. 
The Bad: This one is tough. The only thing I could say here is that Kreider must learn when it is right to use his bursts of speed and when it is not. This is something he sort of tested with during the postseason, but again, he was a kid coming straight out of college in the Stanley Cup Playoffs. It's not something that was unexpected. 
Plus, he did turn the puck over a bit in the early going and wasn't thinking shot as often as he should have. Both of those changed by the end of the postseason, however. 
Highlight of the Year:
Overall Assessment: In just 18 playoff games, Chris Kreider displayed loads of promise for the future. Night in and night out the kid was one of the better forwards on the team, in the Stanley Cup Playoffs, as a rookie. That right there speaks for itself, and if he was capable of doing that in the playoffs, imagine just how high he could set the bar during the regular season. You can pretty much pencil Chris in as 2012-13 Calder Trophy winner. 
Report Card Grade: A
Original Story:
http://www.rangerstribune.com/the-ran...
THE BACKYARD
BEST OF MAXIM
RELATED ARTICLES
Glen Sather is renowned for his usually small circle of trading partners. That circle often includes clubs where a connection to either former staff (Maloney, Phoenix) or teams where Sather has history such as Edmonton. Perhaps there is an opportunity for Sather to revisit his former club once again. The Oilers are crying out for defensive help while the Rangers need an injection...
The hype surrounding Swedish-born forward Carl Hagelin began last year when the then-Michigan State Wolverine was tearing it up in the NCAA. Hagelin's powerful strides were a clear indicator as to how his speed was going to set himself apart from the competition upon making it to the NHL level. After about a month in the American Hockey League playing with the Connecticut Whale...
Time for our final grades here at Ranger Nation. We are now going to look at the New York Rangers goaltenders, coaches and GM Glen Sather. Yes, we expect some heat this round as we did with our grades on the centers. Drum roll please…………..   Henrik Lundqvist: Grade – A+ Decker: Lundqvist is, no doubt, the [...]
Are You Kidding? The longest time of the year has to be from the moment that the New York Rangers finish their season until about the middle of July. Between now and then either people have lost their minds or their imaginations have just gone where no man has gone before. There are some pretty scary ideas floating around the Ranger universe and I have to admit I'm no...
Zach Parise will not be signing with the Rangers. Parise went on record today to openly express the fact he will not be signing with the Rangers nor will he consider it. 'Don't make a headline out of it' was his final response to beat reporters when pressed on the matter. Parise removing himself from the Rangers' future plans narrows the obvious options the Rangers are linked...
(NY Rangers) So Zach Parise does not want to become a New York Ranger; okay let's move on. Where is it written that the New York Rangers can only add high-priced players to address their needs? I can play general manager just like the rest of you and I'm thinking that there a lot of options sitting out there for Glen Sather and some of them aren't going to cost...
I wear #9 Okay people can we back away from the ledge now that Zach Parise says he won't consider the New York Rangers if on July 1st he becomes a free agent? What exactly did you expect him to say, considering the circumstances of where and when he was asked about the Rangers? Man, I got to quote John Tortorella here and say one word "idiots" because that entire...
Interesting debate on Twitter the other night:  who would you rather have: Gabriel Landeskog, Adam Henrique or Chris Kreider?  I think I'd take Henrique, but the Twitterverse seemed split between Landeskog and Kreider.  I may have a slightly biased audience… This offseason was wacky even before it officially began.  Prior to the Kings victory on Monday: Nicklas Lidstrom retired...
Rangers News

Delivered to your inbox

You'll also receive Yardbarker's daily Top 10, featuring the best sports stories from around the web. Customize your newsletter to get articles on your favorite sports and teams. And the best part? It's free!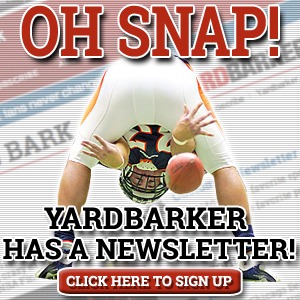 Latest Rumors
The Backyard

Today's Best Stuff

For Bloggers

Join the Yardbarker Network for more promotion, traffic, and money.

Company Info

Help

What is Yardbarker?

Yardbarker is the largest network of sports blogs and pro athlete blogs on the web. This site is the hub of the Yardbarker Network, where our editors and algorithms curate the best sports content from our network and beyond.