Found June 11, 2012 on The Rangers Tribune:
Is Ruslan Fedotenko worth re-signing? That's the question the New York Rangers and their front office will be asking themselves this summer, as the 33-year-old veteran forward hits the unrestricted free agency market come July 1. He's a proven winner and someone that head coach John Tortorella has a very trustworthy and tight bond with, so the decision may not be as easy as it appears to be on the surface. There is a lot that must go into analyzing Fedotenko's contributions and whether it is best to move on without his attributes or to keep them around for another go. 
The Good: Ruslan Fedotenko is a very dependable player. He's not going to surprise you at any time or do something abstract out on the ice - he's a straightforward predictable hockey player who has been a fantastic role model and mentor for some of the younger guys on the team. As I've said before, there are few players in this League as committed to winning as Feds is, and it shows in the way he presents himself. Between the shot blocking and the physical sacrifices we see from this guy each night, it is quite evident that he will give everything for his club to win a hockey game. That's what the current New York Rangers are all about. 
Fedotenko was especially key down the stretch and in the postseason, when nerves usually kick in for the younger guys and it is up to the veterans to the lead the way. Ruslan may not have worn a letter on his chest, but he was a leader nonetheless. His fearless play goes a long way on that bench and in the locker room - trust me - and the coaching staff and the squad give him loads of respect for it. It's well deserved. 
The Bad: At the same time, however, Fedotenko isn't exactly a big offensive contributor, which is what the Rangers lacked as the regular season and postseason went on. He had just nine goals and eleven assists in 73 games played this season, along with 7 points in the playoffs. On a team that is getting younger, faster and looking to improve scoring, those numbers don't stand out in a good way, that's for sure. Fedotenko can bring you the intangibles but he won't necessarily bring offense. This sometimes makes him tough to place in the lineup. 
One other thing I've noticed is that Feds often takes untimely penalties, which sort of goes against the veteran leader thing a bit. It became more of a pattern in the playoffs than it did during the regular season, but it is something that I picked up on and felt was worth noting. 
Highlight of the Year:
Overall Assessment: So let's go back to the question presented at the beginning of this article: Is Ruslan Fedotenko worth re-signing? I'm going to cut right to the chase here and say no, he is not. Don't get me wrong, I am a big fan of Fedotenko and what he contributes to the lineup, but I also do not feel he perfectly fits the mold for the direction that the New York Rangers are moving in. The more roster spots open for impactful offensive players the better, so it is best the Blueshirts let Feds walk on July 1. Best wishes to him, because honestly, he is a world-class guy. 
Report Card Grade: B (out of A-D scale)
Original Story:
http://www.rangerstribune.com/the-ran...
THE BACKYARD
BEST OF MAXIM
RELATED ARTICLES
In a season full of surprises, none was bigger than 22-year-old defenseman Ryan McDonagh. The former Wisconsin Badger was stolen from Montreal in the laughable Scott Gomez salary dump, arguably Glen Sather's greatest transaction as general manager of the New York Rangers. McDonagh spent the first half of the 2010-2011 season quietly honing his game in Connecticut before being called...
One of the biggest parts of the New York Rangers great season was their defense. So far we have graded all of the forwards but now it's time to look at the likes of Dan Girardi, Ryan McDonagh and company.   Stu Bickel: Grade – B- Schoeller: Bickel started off hott (yes, it warrants 2 T's), [...]
We had a blast grading the center and left wingers. Nothing was better than the haters coming out to rip a part our grade for John Mitchell. Keep those comments coming! Now it's time to grade the Rangers right wingers. So let's start with the Captain…..   Ryan Callahan: Grade – A Decker: The grade I gave [...]
Brandon Dubinsky was often one of the most commonly debated names on the New York Rangers, at least this season, here on the blog. The fan base is split fifty-fifty on number 17 and whether or not he should be playing as a Broadway Blueshirt in a few months from now or not. He was nearly traded to the Columbus Blue Jackets for Rick Nash just prior to the 2012 trade deadline during...
The Rangers bottom six forwards are likely to go through a bit of turnover this summer with Ruslan Fedotenko, Brandon Prust, and John Mitchell all being unrestricted free agents and Mats Zuccarello seemingly headed to the KHL. Although discussion about signing third and fourth line players isn't the most enthralling topic in the world, these transactions are still critical when...
In terms of regular season play, 2011-12 was the second best of Marian Gaborik's three seasons with the New York Rangers to date. His offensive prowess coming off not only a rough year in 2010-11 on the ice, but off the ice as well when he lost two dear friends in Derek Boogaard and Pavol Demitra, carried the Blueshirts very far. Without Marian, there's not doubt that this...
Now it's time to grade the left wingers of the New York Rangers. We loved the heat our grade for John Mitchell brought to our comments section, it was great. But then again, hater's who consistently hate on one name will always go after guys like Mitchell, especially in New York. And yes, for the [...]
I wrote about this for another blog a few days ago but figured I would post it here as well. Lundqvist Changed The Rangers For The Better When it comes to the National Hockey League, there have been a lot of great netminders that have graced our game. Hockey fans will always mention the likes of Patrick Roy, Terry Sawchuk, Martin Brodeur, Glenn Hall, Jacques Plante, Dominik Hasek...
The New York Rangers are scheduled to select 28th overall in the June draft (barring a trade for Rick Nash) meaning they will make their first pick later than they have since 2002, when New York selected center Lee Falardeau 33rd overall out of Michigan State. By pick number 28, all of the "can't miss" prospects will be long gone and there won't be a whole lot of top talent...
Don't laugh, don't get angry, don't ignore the rest of the post. I'm serious on this one. Michael Rozsival could be a good temporary solution to the defensive depth issues we saw during the Rangers playoff run this year. His name brings out the boo birds at MSG, and to be honest, it's easy to see why. Many looked at his contract, that $5 million per year contract, and saw...
Rangers News

Delivered to your inbox

You'll also receive Yardbarker's daily Top 10, featuring the best sports stories from around the web. Customize your newsletter to get articles on your favorite sports and teams. And the best part? It's free!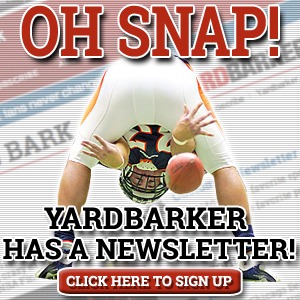 Latest Rumors
Best of Yardbarker

Today's Best Stuff

For Bloggers

Join the Yardbarker Network for more promotion, traffic, and money.

Company Info

Help

What is Yardbarker?

Yardbarker is the largest network of sports blogs and pro athlete blogs on the web. This site is the hub of the Yardbarker Network, where our editors and algorithms curate the best sports content from our network and beyond.