Found March 09, 2013 on Fox Sports Tennessee:
NASHVILLE, Tenn. Some professional sports organizations buy players. Some organizations nurture players. The Nashville Predators are the latter. Since the franchise entered the NHL in 1998, it has had the same general manager and the same coach and the organization's philosophy has been one of drafting or signing young players, developing them through their minor-league and coaching system and allowing them to flourish at the pro level. It's almost like a farmer who carefully prepares his soil, plants the seed, waters it, weeds it and harvests it. It's a painstaking process but one that ultimately bears fruit if one is patient and diligent enough. All of this is what made defenseman Ryan Suter's departure from the Nashville Predators so painful. Suter left as a free agent a right he had earned under the NHL's collective bargaining agreement and signed with the Minnesota Wild on July 4 of last year. The deal is 13 years long and worth 98 million. On Saturday, he returned to Nashville for the first time. Although the Wild and Preds have met two times this season, it's the first time Suter's played at Bridgestone Arena wearing a different jersey. In June, it will be 10 years since the Predators drafted Suter, a proud moment in the organization's history. Suter was the seventh overall pick in that 2003 NHL Draft, which was held in Nashville. A high-profile American, he ended up playing his college hockey at Wisconsin, something nascent Predators fans could relate to in their nontraditional market better than they might the idea of major junior hockey, where all of the Predators' prior first-round picks had come from. In addition, Suter's father Bob was a member of the 1980 US Olympic 'Miracle on Ice' hockey team, which achieved mythic status by beating the Soviets and eventually winning gold. Goalie Chris Mason played his first season for the Predators in their inaugural season. He played six more years for the team and has rejoined them this year for his seventh. He understands how a player like Suter could be so linked to the organization's identity and culture, along with being such an important piece on the ice as a counterpart to captain Shea Weber as a defensive partner. "I think when you draft a player, you build that relationship, put all that time in," Mason said. "Ideally, I know they wanted him back and that was the plan. They wanted him and Shea to start (their careers) as Predators, finish as Predators. But, I mean, he made a decision and one that he made the right to make, but I definitely think there were probably a lot of unhappy people around here after he made that decision, fans included, because you get attached to players and it would've been nice to see that happen." Last season the Predators finished the regular season with the fifth most points in the NHL and had a legitimate shot at winning the Stanley Cup. The fact that Suter and Weber were both All-Star defensemen and could play almost half the game in front of one of the best goalies in the league in Pekka Rinne seemed like a formula that could make Nashville a contender for the foreseeable future. That was part of why general manager David Poile had such a hard time understanding Suter's decision, which Suter said was made for family reasons, as his wife hails from Minnesota and his parents in Wisconsin would be closer to their grandchildren. On Saturday, Suter was not of much of a mind to talk about why the Predators might have had difficulty accepting his decision. "I put a lot of thought into it and it was the right decision for me and my family and I'm happy to be where I am," he said. Suter's departure created a hole in the Predators' lineup. Losing a player of his caliber would create a hole in any lineup, but in Nashville's case he was there for seven years and the organization had built and planned around him. In trying to make the best of the situation in its aftermath, Poile said that the Predators already might have the next Ryan Suter in the organization. This season, Roman Josi has taken over Suter's spot with Weber. Josi, 22, is in his second season and is a skilled player with plenty of potential. "There are some things Ryan does extremely well," Nashville coach Barry Trotz said on Saturday. "Watching Minnesota's power play, he's one of the best at coming off the wall and into the middle and using deception and stuff like that. That really opened up some different lanes for the guys. "That's something we're trying to teach Roman. He's always a threat in the middle and needs to use a little more deception. It doesn't come as easy. It's not like, 'Hey, do this.' It's going to take some practice and a lot of reps on the point." To Trotz's point, certain things did not come easily for Suter right away either. Trotz said at first Suter's shot "couldn't break a pane of glass." "He worked on it and Ryan got mad at me and he worked on it all summer," Trotz said. "Next year his shot was better. Now he shoots the puck better and he's dangerous that way. Just like any young player, there's elements of his game that keep growing. "His shot, his ability to do different things and that's the same with Roman. Roman has a real hard shot at his age." That is what is frustrating for the Predators. Suter is the finished product and Josi is the work in progress. Trotz noted that Weber and Suter, who were both drafted the same year, came up together in the minors. He guessed they might have had seven or eight years together to develop their chemistry and evolve into the league's top defense pair, which many agreed they were the last few seasons. How long might it take for Josi to grow into having a similar chemistry with Weber? "Can I put on a time frame?" Trotz said. "No, I really can't." Weber said even in their final season together, he and Suter had glitches at times, that the chemistry was something they worked on every day. But he also testified as to how strong it was. "You play with somebody for that long, you look at the (Sedin twins on Vancouver), I think they'll obviously tell you the same thing," Weber said. "They know exactly where each other are and I think it was just one of those things where you play with somebody for a certain amount of time and you just kind of learn a lot about them." Now that process has begun, to an extent, anew. For a variety of reasons, the Predators are struggling. They won on Friday for only the second time in their last seven games. Even with the six-goal outburst on Friday, Nashville remains the lowest-scoring team in the league. Suter was not an offensive juggernaut, but his smooth skating and passing were like lubricants in the gears of the offensive machine. "For the life of me, I don't know the exact reason," Poile said of the offensive struggles. "Ryan's a fabulous player and helped us in a lot of ways, offensively for sure. But, to me, our players are just not playing like they did last year in the specific area of what it takes to be successful." Entering the first game at Nashville with Suter as a foe, the Predators stood one point outside of playoff position at the season's midpoint. They could be a playoff team again for the eighth time in nine seasons and might do very well. But it's impossible not to wonder how they might have been if Suter had chosen to stay. "But it's done with now," Mason said. "It's the just the way it is. Definitely, when you put that much time into kind of grooming a guy and he's on your team and you just kind of hope and expect that you can continue it. "It didn't."
Original Story:
http://www.foxsportstennessee.com/nhl...
THE BACKYARD
BEST OF MAXIM
RELATED ARTICLES
Ryan Suter remembers his days in Nashville fondly, from being drafted with the seventh overall pick in 2003 at Bridgestone Arena to playing seven seasons and making five playoff appearances with the Predators. He's fully aware, though, fans won't be relishing the good times he spent in Music City as he takes the ice wearing a Minnesota Wild sweater Saturday night. "Whatever...
SATURDAY'S STORY LINES: The last time Wild defenseman Ryan Suter stepped into the visiting team hotel in Nashville was 2003. The NHL draft was in Nashville that year and a young Suter was there to conduct his team interviews. Suter went on to be drafted seventh overall by the Predators and spent the first seven years of his career with the organization. Friday, Suter walked back...
NASHVILLE Some professional sports organizations buy players. Some organizations nurture players. The Nashville Predators are the latter. Since the franchise entered the NHL in 1998, it has had the same general manager and the same coach and the organization's philosophy has been one of drafting or signing young players, developing them through their minor-league and coaching...
Ryan Suter on playing with the Wild: "Great organization, and I'm happy to be a part of it. We have a great future ahead of us."
SlapShot Radio's photographer was busily snapping away last night and I will be posting the pics later... ----------------------------- Normally a nasty welcome in the south involves the phrase "bless your heart…" Well… it was an atypical Southern welcome last night for Ryan Suter. For the 25th consecutive game, at least 17,113 rapid Predator fans filled...
Ryan Suter on playing his first game back in Nashville: "I have a lot of great memories here. This is all I knew. Lot of good years here, lot of friends."
(Photo by: John Russel/Getty Images) Ryan Suter and the Minnesota Wild exit Bridgestone Arena with a 2-1 shootout win over the Nashville Predators in a back-and-forth contest. The only goals of the game were scored on the power play and the game had to be settled in the high pressure shootout competition. The offensive woes continue for the Predators by not creating...
By: Miranda Martin Miranda@PredneckNation.com Upon Minnesota's first trip to Nashville this year, it will certainly be an interesting atmosphere at Bridgestone Arena. Of course, the main headline is Ryan Suter's return to Nashville after deciding to sign with Minnesota in July. So far, the reception of former Predators on Bridgestone ice has been fairly mixed this season. On February 14, ...
Courtesy of wild.nhl.com The Minnesota Wild and with them, Ryan Suter, are coming for the first time this season to Bridgestone Arena for a tilt against the jilted Nashville Predators. This is the game many have been waiting for and a game many have circled in permanent red ink on the calendar. Nashville finally got the spark that Poile was hoping to ignite from the acquisition of...
Print off for Warm Ups! Ryan Suter returns to Bridgestone Arena for the first time since signing with the Minnesota Wild on Independence Day. The Nashville Predators look to win the series at home against the Wild and seek revenge against Suter. The Predators have a record of 10-9-5 with 25 points and ranked 10th in the Western Conference. The Wild are 11-9-2 with 24...
"I was just trying to get through it, trying to block it out, it's not fun being booed. It went the whole game, too. That kind of surprised me. They'll probably have some sore throats [Sunday]." -Ryan Suter of the Minnesota Wild after playing in Nashville last night.  More on the game from Michael Russo of the StarTribune.
Good evening. Did I miss anything today? It's my mom's birthday, and I have been out all day. Here is a really deep look at the prospects in the NFL draft. Home run stats are up for the Mariners. But what does it all mean? Weather nerd alert! Things got a little dicey for the Bulls on their flight to Indianapolis. SCOREBOARD NCAAB Purdue 89, Minnesota 73 – I am so baffled as...
NHL News

Delivered to your inbox

You'll also receive Yardbarker's daily Top 10, featuring the best sports stories from around the web. Customize your newsletter to get articles on your favorite sports and teams. And the best part? It's free!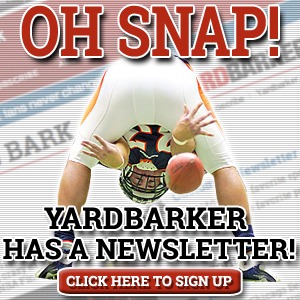 Latest Rumors
The Backyard

Today's Best Stuff

For Bloggers

Join the Yardbarker Network for more promotion, traffic, and money.

Company Info

Help

What is Yardbarker?

Yardbarker is the largest network of sports blogs and pro athlete blogs on the web. This site is the hub of the Yardbarker Network, where our editors and algorithms curate the best sports content from our network and beyond.