Found May 23, 2012 on Fox Sports Tennessee:
PLAYERS:
Pekka Rinne
,
Scott Hartnell
,
Patrick Sharp
,
Henrik Lundqvist
,
Claude Giroux
,
Anze Kopitar
,
Evgeni Malkin
,
Pavel Datsyuk
,
John Tavares
,
Michael Grabner
TEAMS:
Nashville Predators
,
Philadelphia Flyers
,
Chicago Blackhawks
,
New York Rangers
,
Los Angeles Kings
,
Pittsburgh Penguins
,
Detroit Red Wings
,
New York Islanders
If he can do it, Pekka Rinne will help small-market Nashville pull off an upset over the nation's largest media market. Not on the ice, but in cyberspace. At 11:59 p.m. on Wednesday, the voting was set to close for EA Sports NHL13's Cover Vote, an NCAA tournament-style bracket pitting player against player to try to land the cover of the home video game. The winner of the current round will be announced on Thursday. Some teams, like Rinne's Predators, have mounted social media campaigns. Some like ex-Predator Scott Hartnell of Philadelphia have taken to YouTube for a mock presidential-style commercial complete with a waving U.S. flag in the background (Hartnell is Canadian) and the disclaimer, "I'm Scott Hartnell and I approved this message;" the video has received more than 28,000 views. Behind the scenes, there is said to be reality-TV style alliances in the making between some teams in favor of their candidates. In Rinne's case, he is going after his second straight opponent from a big market -- nothing new to the Predators on the ice -- after ousting Chicago's Patrick Sharp in the last round. Rinne has earned an even more imposing foe, fellow goalie Henrik Lundqvist of the New York Rangers, who were set to play in Game 5 of the Eastern Conference finals on Wednesday -- offering the Swede a potential advantage. Nonetheless, Rinne has held his own. As of 10:46 a.m. Eastern on Wednesday, EASportsNHL's Twitter feed indicated that Rinne was in the lead. Whichever player wins out, the campaign has proved a public relations victory for the league. The voting started with 60 players and now by the quarterfinal round, nearly 19 million votes have been cast, according to the NHL. When EA Sports first took its popular NFL Madden game public for this kind of vote for the game's '11 edition, 13 million votes were cast during a similar campaign. Of the players remaining, Rinne is going up against the only player whose team is still alive. Lundqvist is fighting for a chance to advance to the Stanley Cup final, with his team tied with New Jersey at two games apiece. Although on Wednesday, "The King," as he is called in New York, is likely to have other things on his mind. "I think with Lundqvist being in the New York media market, with his team being in the playoffs, with some of the notoriety he's been able to gain in Sweden with a lot of the games he's played for the international team (winning an Olympic gold medal in 2006), I think it appeared at the start that the deck was maybe stacked a little bit against us," said Jay Levin, the Predators' manager of interactive marketing who happens to be from metropolitan New York. "I guess in a fan voting like this, it's hard to say an upset one way or another, but when you consider a lot of those factors, I think it appeared as if Lundqvist maybe had an easier route." That might also have been assumed for Lundqvist's team in the Stanley Cup playoffs, as the Rangers earned the Eastern Conference's top regular season record, but now find themselves possibly looking at a third straight seven-game series. The opposite side of the bracket from Rinne's already has been decided. Philadelphia's Claude Giroux emerged over Los Angeles' Anze Kopitar and Pittsburgh's Evgeni Malkin bested Hartnell in a match-up between two of the league's fiercest rivals. The other match-up on Rinne's side of the bracket features Detroit's Pavel Datsyuk up against the New York Islanders' John Tavares, who was the beneficiary of a YouTube video made by his teammate Michael Grabner. If Rinne survives, the next round of voting will end on May 28. Voting between the finalists concludes on June 4 but the winner will not be announced until the league's awards ceremony in Las Vegas on June 20. If Rinne prevails against Lundqvist this time around, the Preds promise to use their wiles in the semifinals. "I would imagine heading into next round that will be a strategy to the game," Levin said of alliance-making. "We've already started to reach out in case."
Original Story:
http://www.foxsportstennessee.com/05/...
THE BACKYARD
BEST OF MAXIM
RELATED ARTICLES
Time is running out to vote for Predators' goalie Pekka Rinne for the cover of NHL 13 as he battles against fellow Vezina finalist, Henril Lundqvist. Go to the NHL 13 Cover voting page and register your vote. Peks needs your support to move on to the semifinal round.Also, for those in Smashville wanting to get in one last skate on the Bridgestone Arena ice, tonight is the night...
May 24, 2012 – EA SPORTS™ and NHL.com announced today that the semifinals matchups for the EA SPORTS NHL®13 Cover Vote, sponsored by BlackBerry®, will be Philadelphia Flyers forward Claude Giroux versus Pittsburgh Penguins forward Evgeni Malkin and New York Islanders forward John Tavares against Nashville Predators goalie Pekka Rinne.  Fans have cast more than 19.5 million...
For the third season in a row, the Nashville Predators' Alexander Radulov was named the Kontinental Hockey League's Most Valuable Player (a.k.a. The Golden Stick Award) for his regular season play with Salavat Yulaev Ufa.Before joining the Predators in March, Radulov scored 25 goals and added 38 assist during the KHL regular season. In six playoff games he had six assists...
Last Goalie Remaining: Rinne In Semifinals of EA Sports Cover VoteVOTE HEREPreds goaltender Pekka Rinne moved on to the Semifinals round of the EA Sports NHL 13 Cover Vote, edging Chicago Blackhawks forward Patrick Sharp in Round 1 and NY Rangers goaltender Henrik Lundqvist in Round 2. Voting for the Semifinal Round runs NOW through Monday, May 28. Rinne is matched-up against...
NASHVILLE – When Alexander Radulov finally landed in Nashville and re-joined the Predators on March 20th, there was a lot of excitement around the franchise. The locker room was pumped up and Poile was elated to have his 'prodigal son' back.Radulov, who came back after a four-year hiatus in Russia, was expected to be the final piece for a Stanley Cup run – assuming he could...
Nashville Predators' forward, Alexander Radulov, was awarded the KHL's Most Valuable Player award during his time in Russia playing for Salavat Yulaev for the third year. For specifics, here is the report by the KHL's website.The "Golden Stick" trophy, which goes to the man voted the most valuable player in the regular championship, was won for the third year running...
Follow me @jaeckel Here's the thing about conventional wisdom. It's so often based on assumptions, presumptions and group-think. So I'm going to take a myth/reality approach to this question of where Ryan Suter might be headed. The "experts" have Suter headed to Detroit, Minnesota (along with Zach Parise!), possibly Philadelphia or staying in...
You may not know him personally but you've seen his work. Matter of fact, you see his work every second of every game inside Bridgestone Arena. And he needs your help. Nashville Predators' Game Ops extraordinaire Ron Zolkower (whose official title is Presentation Producer) has been diabetic for 27 years. Over time, his body has lost the ability to recognize when he's having...
Photography by Tom DiPace It has been brought to the attention of the 29 other teams in the NHL that Ryan Suter will be the most coveted D-man in the upcoming free agency frenzy. Coming off a first time All-Star appearance and putting up steadily increasing numbers every year has made Suter a hot commodity with some of his best years still on the horizon (he's only 27). Any team...
Pekka Rinne edged Henrik Lundqvist last night in Round 2 of the NHL 13 Cover Vote. Not only did Lundqvist get edged in a video game cover vote, he lost to the New Jersey Devils in Game 5, 5-3 and now face elimination.Now, Rinne will go against John Tavares of the New York Islanders. Nashville Predators fans, VOTE! GO! GO! GO! GO! GO!Read, 'Reasons to vote for Rinne instead of...
For this year's NHL game, EA Sports came up with a cool idea of letting us, the fans, vote for who we want to be on the cover of NHL 13. The vote is now in the Semi-Finals, and the remaining players are Evgeni Malkin, Claude Giroux, Pekka Rinne and John Tavares.I myself love the NHL series and play NHL 12 a lot. My vote goes to Claude Giroux. Who would you vote for? You can vote...
NHL News

Delivered to your inbox

You'll also receive Yardbarker's daily Top 10, featuring the best sports stories from around the web. Customize your newsletter to get articles on your favorite sports and teams. And the best part? It's free!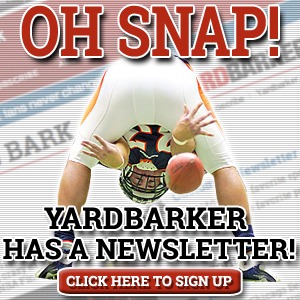 Latest Rumors
The Backyard

Today's Best Stuff

For Bloggers

Join the Yardbarker Network for more promotion, traffic, and money.

Company Info

Help

What is Yardbarker?

Yardbarker is the largest network of sports blogs and pro athlete blogs on the web. This site is the hub of the Yardbarker Network, where our editors and algorithms curate the best sports content from our network and beyond.