Found June 04, 2012 on The Rangers Tribune:
In the New York Post's weekly Sunday hockey column yesterday, Larry Brooks reported that GM Glen Sather and the New York Rangers have contacted the Nashville Predators about restricted free agent forward Alexander Radulov. The Blueshirts, in doing this, are seeking a goal scorer to replace Marian Gaborik while he is likely out for the first two months of the 2012-13 season after undergoing shoulder surgery. 
Among the many problems I have with this news, the very first has to start with the Rangers even looking to replace Gaborik at all. Gaborik is scheduled to undergo surgery to repair a torn labral in his shoulder later this week, and from there will be involved in a five-month rehabilitation process. Assuming he will need some time to hit the ice before entering gameplay again, that would leave Marian looking at some time around Thanksgiving to make his season debut. 
So for the Rangers, they would only be without this past season's top goal scorer for about a month and a half, which equates to around seventeen games. And remember, that is only if the National Hockey League and the NHLPA can mutually agree on a new CBA in time for the start of the 2012-13 campaign, and to be honest, it's going to take a near miracle for that to happen if negotiations are as hairy as they are being predicted to be. 
Secondly, Alex Radulov will not fill the shoes of Marian Gaborik even if the Rangers went as far as to acquire the soon-to-be 26-year-old's rights and sign him to a contract. Radulov's career-high in goals was 26 back in 2006 before he bolted to the KHL, where his numbers were also less than stellar. He does not have the speed nor the wicked release that Gabby possesses, so replacing one with the other makes little sense. 
And, not for nothing, but what sort of scouting report are the Rangers exactly looking at on Radulov? Because he in no way, shape or form fits into the mold of this team, especially under a head coach like John Tortorella. Radulov has massive character issues, he's more about himself than the team he plays for, he is one of the more lazy players when it comes to two-way hockey and he spends a fair share of time riding the bench.
Yeah, that Alex Radulov. 
The Rangers have this kid, too, his name is Chris Kreider. Last I checked he was a fairly talented emerging star with quick speed and a slick shot. So maybe it would be a better idea to allow a reliable pre-existing Ranger who has already proven himself to this team to step up and fill the spot for the whole seventeen games, likely less, that Marian will miss. I know, it's sad that I'm left to think for this organization sometimes. 
Plus, did GM Glen Sather not see the downfall of Nik Zherdev under John Tortorella several years ago? Zherdev and Radulov are practically carbon copies of each other. And not only Zherdev, but what about what happened with Artem Anisimov in this past postseason? The kid was playing less than five minutes per night because of defensive blunders, even though the effort was actually there. What will happen to a player that does not even show the will to backcheck?
Now according to Brooks, Sather is more than just "kicking tires" with this Radulov thing, which means he's putting offers on the table. It likely will not take much to lure his rights here, since Predators GM David Poile can either accept a trade or risk losing Radulov to the KHL for absolutely nothing. This just may happen. 
But I shouldn't have to be the speaker of logic in this situation. Sather should know damn well by now what works and what doesn't with the current mold that has formed around this team, and there's no doubt that adding Radulov will be forcing a square into a round hole. 
Original Story:
http://www.rangerstribune.com/the-ran...
THE BACKYARD
BEST OF MAXIM
RELATED ARTICLES
After patiently waiting for almost four seasons for wayward Predator Alexander Radulov to make a return to Music City, the Preds are now ready to send him on his way to another NHL team or the KHL.According to Josh Cooper of the Tennessean, David Poile made it clear today that Radulov did not fit into the Predators future plans. He indicated that a trade or a release to a KHL team...
Larry Brooks at the New York Post reports that the Rangers are interested in obtaining the rights to negotiate with Nashville's RFA Alexander Radulov..."The degree to which these discussions between Sather and Poile have advanced is unknown, but The Post has learned this is more than the GM "kicking the tires." The Blueshirts, of course, would have to be given...
from Josh Cooper of the Tennessean, The Alexander Radulov era in Nashville will likely come to an end soon. Predators general manager David Poile said today he's looking to trade the forward's rights to another NHL team or allow him to return to the Kontinental Hockey League. "The best way to characterize it is it's time to not pursue Rad anymore," Poile said. "If he...
It's getting closer to UFA day, so I become a little more lenient on what I post.  What do you think of this one? via the Russian website Championet (translated), General Manager, "Rangers' Glen Sather began negotiations with the" Nashville "to acquire the rights to forward Alexander Radulov, who on July 1 will become a restricted free agent, according to North American...
According to a report by Larry Brooks of the New York Post, the New York Rangers' General Manager, Glen Sather has contacted David Poile about acquiring the rights of Alexander Radulov.Sather is trying to find a replacement for Marian Gaborik, who could be out until December. Gaborik will undergo shoulder surgery. Alexander Radulov's entry level deal is up and is a Restricted...
John Tortorella's interview with Michael Kay and Don La Greca on ESPN Radio drew more attention (click here to read The Suit's analysis), but few noticed that GM Glen Sather also spoke to the media on Wednesday. Pat Leonard of the New York Daily News managed to corner the Rangers' seldom heard from brass leader and as with Tortorella, Slats delivered plenty of interesting comments...
As first reported by Joshua Cooper of the Tennessean, Nashville Predators' General Manager, David Poile will look to trade Radulov's rights to another team in the NHL or allow him to return to the KHL with CSKA Moscow.So, Alexander Radulov will most likely not be playing in a Predators uniform in the 2012-13 season.  David Poile said, "It is time not to pursue Radulov...
New York Rangers sniper Marian Gaborik will miss the start of next season while recovering from shoulder labrum surgery.So a team already lacking offensive punch will have that much more motivation to acquire another scorer. This development will intensify the franchise's interest in Blue Jackets power forward Rick Nash.Gaborik played the final two rounds of the playoffs with the...
On July 1, 2010, Glen Sather went out and secured the solid, veteran backup goalie that Henrik Lundqvist had never known.  For the past two seasons, Marty Biron has been the consummate professional, teammate and role player behind one of the game's premier workhorses.  It's no coincidence that Henrik Lundqvist had his strongest playoff performance in a year where he had his...
This summer the Rangers can afford to be aggressive – and risk a swing-and-a-miss mistake – this off season as they search to go one round further next season than this time around. There's one caveat however (isn't there always?) and that's the pending CBA fallout. The Rangers are not far from being a Cup team. The core is there, the youth is plentiful and in place while...
from Larry Brooks of the NY Post, So who exactly is being disrespectful to Rangers players, the writer who suggests a game plan based primarily on blocking shots and packing the defensive zone might not be broad enough to win the Stanley Cup, or the coach on his way to the summer who takes a verbal swipe at a player he knew to have played the final two rounds of the playoffs with...
NHL News

Delivered to your inbox

You'll also receive Yardbarker's daily Top 10, featuring the best sports stories from around the web. Customize your newsletter to get articles on your favorite sports and teams. And the best part? It's free!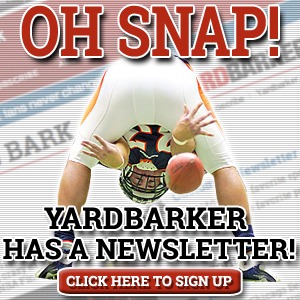 Latest Rumors
Best of Yardbarker

Today's Best Stuff

For Bloggers

Join the Yardbarker Network for more promotion, traffic, and money.

Company Info

Help

What is Yardbarker?

Yardbarker is the largest network of sports blogs and pro athlete blogs on the web. This site is the hub of the Yardbarker Network, where our editors and algorithms curate the best sports content from our network and beyond.