This weeks Water Cooler features QCS writers Mike Straw, Jason Davis, Ryan Talbot, Brandon Hess, and Bradley Gelber. How important was it for the Sabres to finally get their first win under Ron Rolston out of the way Tuesday, taking down Tampa Bay? Jason Davis: Very important. You want to see the new coach notch his first win quickly to ease any stress of going on a prolonged losing streak. Now Rolston can relax and run the team his way without the stress of getting the first win. Plus, Tampa Bay is currently fighting for a playoff spot, and although it's early the Sabres can get some confidence from a win like that. Brandon Hess: It was an important victory in so much as this team is desperate for points. Until I see this team sustain a long winning streak it'll just be another meaningless win on their path towards a lost season. Mike Straw: It was nice, but not a huge achievement for the team. It's just one win, which I don't think is enough to spark a monumental run to the post season. It was great for that monkey to be lifted off their backs, but it doesn't mean too much. As Bradley Gelber pointed out earlier in the season, the Sabres might be better off trading Thomas Vanek and getting value for him back? Are the rest of you open to that idea? Ryan Talbot: I'm open to trading anyone on this team if it improves the team long-term. I doubt he's traded though. Mike Straw: While I'm never against making trades that shake things up, Vanek is one of a handful of players I view as untouchable. His game has grown so much so that he's become as much a playmaker as he is a goal scorer. You have to keep that guy around and rebuild around. Hodgson has 17 points in 20 games this season; does he have the most potential among all of the youngsters currently on the team? Bradley Gelber: It's close between him & Ennis, but I think Tyler has developed more where as Cody has room to continue to grow and surpass him. I think all of the pressure that was on CoHo is Vancouver to be the young superstar center is finally gone to the point where he can just play his game. The one big issue with Cody this season isn't his offensive production, but his horrendous turnovers. To be a top-line center you need to be able to play both ways & countless, boneheaded turnovers have resulted in easy goals for the opposition. Jason Davis: I think so. Hodgson is still only 23 with only one full season of experience in the NHL. He will get his opportunities to score, especially when paired with Vanek and Pominville. While playing on that line I believe he can learn the game quicker because he will be forced to play against top talent night after night. He will continue to grow and I still believe he can be a No. 1 center for this team. Despite the poor start to the year, the Sabres sit only 4 points back of 8th, realistically; do they have any chance at making the playoffs at the end of the season? Ryan Talbot: Considering they are only 4 points out of 8th, yeah they have a chance. Is this team going to win the Stanley Cup? Highly doubtful unless Miller plays out of his mind. At the end of the day, this team is lacking in talent. Bradley Gelber: Of course they have a chance, but I don't see it happening. Like I said in last week's Water Cooler they'll put together a streak and then fall just short ensuring no playoffs or top pick in the draft. Many teams have struggled in this compact season so the door remains open, however whatever team grabs the 7th or 8th seed will be annihilated in the first round. Brandon Hess: Realistically yes, with this condensed schedule I think there will be a logjam of .500 teams around 8th place. There's no reason Buffalo can't be one of them, they're only one undefeated week away from being in the conversation. I think they'll ultimately fall short, but it's too early to rule them out. Among all of the players at the combine, is there anybody that has stood out the most that Bills fans should keep their eyes on? Jason Davis: Xavier Rhodes from Florida State is one. He measured at 6'2″ and 217 lbs with one of the top vertical jumps and around a 4.4 40-yard dash. The numbers are key since Buddy Nix loves to draft guys with players with those measurables. Ryan Talbot: First round possibilities: Dion Jordan, Dee Milliner, Cordarrelle Patterson Mid-Round possibilities: Da'Rick Rogers, too many TEs to name, Justin Pugh, E.J. Manuel, Ryan Nassib, Matt Scott   Photo By Kim Clement/USA Today         The post QCS Buffalo Water Cooler: Sabres Carry On Under Rolston appeared first on Queen City Sports.
Original Story:
http://queencitysports.net/bills/qcs-...
MORE FROM YARDBARKER
NHL News

Delivered to your inbox

You'll also receive Yardbarker's daily Top 10, featuring the best sports stories from around the web. Customize your newsletter to get articles on your favorite sports and teams. And the best part? It's free!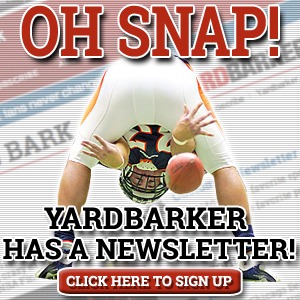 Latest Rumors
Best of Yardbarker

Today's Best Stuff

For Bloggers

Join the Yardbarker Network for more promotion, traffic, and money.

Company Info

Help

What is Yardbarker?

Yardbarker is the largest network of sports blogs and pro athlete blogs on the web. This site is the hub of the Yardbarker Network, where our editors and algorithms curate the best sports content from our network and beyond.