Found February 06, 2013 on Queen City Sports:
This week's Water Cooler features QCS writers Bradley Gelber, Jason Davis, and Brandon Hess. Let's get into it right away. The Sabres are off to an awful start this year. Just how bad are the Sabres? The Sabres have struggled out of the gate to start 2013. (AP Photo/Gary Wiepert) Bradley Gelber: Bad. There will be plenty of people making excuses for the team so I'd rather just tell it like it is. So far the Sabres can't win puck battles, can't win faceoffs, can't cycle the puck and their back-up goaltending has been atrocious. John is playing way more than he should be and is being asked to play in situations/roles that don't suit him. In addition to all that the once super energizing Nathan Gerbe has basically become a ghost. I know he was injured, but he was third last in ice time only ahead of Scott & McCormick. I think many of us looked past some pretty glaring issues heading into the season and were blinded by the excitement of hockey returning. Bradon Hess: For at least another few games I'm going to stick with the "this isn't a bad hockey team, they're just playing bad team hockey" mantra, but they're running out of time to prove me right.  The defense has been atrocious; the goaltending shaky, and there's been little secondary scoring beyond Hodgson's line.  They have enough pieces in place to turn things back in the right direction, but bad habits are hard to break, if Lindy can't shake them out of this funk soon they may be in store for a top 5 draft pick. Will anyone not named Vanek, Pominville, or Hodgson ever stand up and start contributing offensively for Buffalo? Jason Davis: The Sabres better hope so if they ever want to win some games. The first line cannot carry this team every game. The second line of Stafford-Ennis-Foligno need to find the chemistry and consistency they had at the end of the last season in order to provide the Sabres with some offensive help. Drew Stafford hasn't scored in ten games and Foligno has one goal during that span. Vanek is one of only a few Sabres playing up to expectations to start the season. (AP Photo/Charles Krupa) Brandon Hess: The Marcus Foligno, Tyler Ennis, and Drew Stafford line has shown glimpses nearly every game they've played together, but haven't quite broken out.  Last night Ennis and Stafford picked up points, and Foligno created space for Tyler by driving hard to the net and drawing defenders.  Is this is a sign of things to come for that trio?  Perhaps, and even Jochen Hecht brought a bit of life to the Sabres bottom six in the Ottawa loss. There's too much offensive talent beyond Hodgson's line to be stifled for this long, I see a breakout coming. Tyler Myers is struggling. Pardy is now starting. Nothing seems to be going right for the Sabres D-men. For what was supposedly going to be an alright unit going into the season, what's wrong with the Sabres defensemen? Bradley Gelber: Injuries certainly haven't helped, but most of them just look lost. I won't even get into Myers because that's the obvious head scratcher, but the rest of the lines haven't been much better. Leopold finally scored last night, however both him and Myers currently sit at a -7 on the season. Sulzer is a guy many had pretty high expectations for after the way he closed out last season with the Sabres. Unfortunately he couldn't even handle the puck in his own end last night, which led to numerous point blank opportunities. Brennan hasn't played up to his potential since joining the team, but can you really blame him with what his supporting cast has been doing? Jason Davis: They don't play physical enough. Too many times opponents skate into the Buffalo zone and aren't met with any opposition. Opponents are able to generate many opportunities because the Sabres effort isn't there on the forecheck or fighting for pucks in the corners. The Sabres are lacking defensemen as well. They have too many offensive minded defensemen and not enough true defensemen. They need to find a good balance in order to succeed. Make sure to come back next week to check out the next edition of the QCS Water Cooler, as we'll continue to discuss Sabres Hockey all season long. The post QCS Buffalo Water Cooler: Sabres Slump Continues appeared first on Queen City Sports.
Original Story:
http://queencitysports.net/nhl/qcs-bu...
THE BACKYARD
BEST OF MAXIM
RELATED ARTICLES
Darcy Regier may have given the impression that Lindy Ruff ain't goin' nowhere if the Sabres' season continues trending downward, but Ted Black was far from willing to use that vernacular when I spoke to the team president last night during Buffalo's 5-4 shootout win over Montreal. Black's refusal to declare the coach as untouchable isn't a news flash for...
It seems as if the mid-winter slumber of the Buffalo Sabres is going to last a bit longer than expected this year. The team, after opening 2-0, has lost seven of its last eight games and have, at times, looked like an AHL team going against an NHL club. It's clearly not the way management, players, and fans saw the 2013 lockout-shortened season playing out at the start.  With...
from Allan Muir of Sports Illustrated, 10. Patrick Kaleta, Sabres Reacting to Kaleta's 2009 head shot on Montreal's Andrei Markov, TSN's Dave Hodge wondered if the agitator might be better off playing without a stick since he wasn't bothering to play the puck. Kaleta has matured somewhat, but he's still basically a hit-to-hurt player, a human missile with little...
With apologies to Jhonas Enroth, I don't think there's a man with more of an opportunity in tonight's Sabres - Senators game than defenseman Adam Pardy. After being waived at the start of the season, injuries and overall poor defensive play by Buffalo necessitated recalling the guy who has been hovering around ninth on the depth chart.  But there's a little more...
Thomas Vanek scored twice in regulation, including the tying goal with 2 seconds left, and also came through in the shootout to rally the Buffalo Sabres past the Montreal Canadiens 5-4 on Thursday night. Jason Pominville also scored in the shootout and Ryan Miller clinched the victory by making a left pad save to stop Brian Gionta on Montreal's final opportunity. Buffalo rallied...
There isn't all that much to sum up with the Buffalo Sabres at this point. Another game, another night allowing four goals and yet another loss. This is the same broken record that's been playing for this entire 1-6-1 stretch. Due to injuries, Adam Pardy made his Sabres debut and Lindy Ruff also chose to get Jhonas Enroth some action although the result on the scoreboard...
Thomas Vanek scored twice in regulation, including the tying goal with 2 seconds left, and also came through in the shootout to rally the Buffalo Sabres past the Montreal Canadiens 5-4 on Thursday night. Jason Pominville also scored in the shootout and Ryan Miller clinched the victory by making a left pad save to stop Brian Gionta on Montreal's final opportunity. Buffalo rallied...
Three Stars of the Week 1. Thomas Vanek (Buffalo Sabres) via totalprosports.com Thomas Vanek has been a beast during the last seven days, to be put simply.  Vanek has scored five goals in four games last week and has added four assists.  With nine points in four games, he is averaging more than two a game over the past week.  Also factor in Vanek's +6 rating, and Vanek has...
I have been picking the MVP of the season from as early a point as I reasonably can in the season.  This is in part to try to determine at which point in the season the eventual MVP emerges.  My first pick this season was Thomas Vanek of the Buffalo Sabres.  Last week he was surpassed by Patrick Marleau of the San Jose Sharks.  I think Vanek has taken over the lead again.  ...
Sabres News

Delivered to your inbox

You'll also receive Yardbarker's daily Top 10, featuring the best sports stories from around the web. Customize your newsletter to get articles on your favorite sports and teams. And the best part? It's free!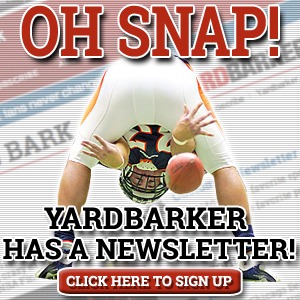 Latest Rumors
Best of Yardbarker

Today's Best Stuff

For Bloggers

Join the Yardbarker Network for more promotion, traffic, and money.

Company Info

Help

What is Yardbarker?

Yardbarker is the largest network of sports blogs and pro athlete blogs on the web. This site is the hub of the Yardbarker Network, where our editors and algorithms curate the best sports content from our network and beyond.