Found February 07, 2012 on The Rangers Tribune:
It's that wonderfully entertaining time of year again, and although I am making reference to the NHL Trade Deadline when I say that, I'm not talking about the actual day (February 27) itself. Rather, I'm referring to the three weeks leading up to the trade deadline in which the ever so interesting rumors begin to stir up around the interwebs throughout the world of hockey.  Actually, it seems as if they've gotten off to a head start this year because I'm already seeing our New York Rangers tied to some names that I don't think have a snowball's chance in hell of coming to New York. But then again, I'm not a big rumor guy, so maybe they just don't excite me as much as they do some of you.  With the Rangers currently leading the Eastern Conference in first place, they don't necessarily need to make a move of any sort. They've battled their way to the top of the conference with this roster, so why should it change moving forward?  Well, I think that all depends on just how far the Rangers want to go in the playoffs this season. I mean, obviously they'd love to win a Stanley Cup, but let's be realistic here; there are some weaknesses that must be addressed before they go ahead and do that. There needs to be more scoring, there's always room for improvement on defense and that powerplay needs someone to revive it real soon. Those are three pressing issues surrounding the Blueshirts with just three weeks left to make a move to that would take care of them.  GM Glen Sather, believe it or not, is very wise when it comes to making trades. At the end of the day, he always gets his goal accomplished when making a deal, and more often than not gets a decent return in the process. If the Rangers do plan on making any sort of splash prior to or on February 27, Sather is going to do that by buying, not selling, and it will be a move that fills one of the three needs that I listed above. Anything out of those guidelines would just be unnecessary.  Now, with the Rangers being a team that is high up in the standings and a potential buyer, their name is going to someway be tied to every player on the block in the NHL. According to the so-called "media", the Rangers are going to have interest in anyone and everyone. Of course, 99-percent of these rumors will be false speculation looking to bring on attention, but it's something we've seen each and every year.  I'm not sure what it is about making trades, but just the notion alone has fans bouncing off the walls. I personally don't overreact to the thought of making trades, therefore I don't think much of these Internet rumors that are put out there, either.  For example, I saw the load of crap posted by Larry Brooks in the New York Post last week in regard to Ryan Smyth of the Edmonton Oilers. Notice that there was not a word about that rumor mentioned on here until now, at least by myself. See, what Larry has become infamous for is speculating, wording it so it seems like a legitimate trade rumor, and then playing it off as so in order to gather site hits and Internet attention for himself. How pathetic.  If I'm the Rangers, I want no part of Smyth, and I doubt he wants to come to New York anyway. He's not worth the hassle of putting a trade together for because I can guarantee you right now that he will not make this team much better. So let's ignore Brooks' stunt and forget that ridiculous idea was even mentioned.  There's only one name that the Rangers are legitimately tied to right now, and that is Tuomo Ruutu of the Carolina Hurricanes - someone they've showed interest in before. Ruutu, 28, is a guy that would no doubt add some offense to the Rangers in the secondary scoring category, as he already has 16 goals and 27 points in 54 games played with Carolina this season. Thing is, Hurricanes GM Jim Rutherford has not yet decided on whether he will be shopping Ruutu around before the deadline or not. He'll be making a decision on the Finnish forward and his $3.8 million cap hit sometime this week. I should add that this is not a rumor, either. It is fact, according to several outlets, that Glen Sather and the Rangers have inquired about Tuomo Ruutu. But they aren't the only ones and, again, we don't know that Ruutu will even be leaving Carolina just yet.  I've also seen some chatter about defenseman Ryan Suter of the Nashville Predators. The Preds are in a position where they are best off trading Suter away since the 27-year-old isn't interested in signing an extension with the club at the moment. But the Rangers are not going to be willing to give very much up for another defenseman, even of Suter's caliber, so I cannot really see this one coming close to fruition either.  Look, the Rangers do not need to make any moves they do not want to. They have a solid hockey club put together right now, and one that is very tightly knit in the locker room. Plus, head coach John Tortorella is very familiar with the squad of players he is coaching right now and that makes his job slightly easier. In my opinion, there's no problem with the Rangers remaining completely silent between now and February 27. They may not be built to win a Stanley Cup, but the current New York Rangers are a very special team that's been a pleasure to watch this season.  There need be no change unless a glorious opportunity presents itself.  Thoughts?
Original Story:
http://www.rangerstribune.com/the-ran...
THE BACKYARD
BEST OF MAXIM
RELATED ARTICLES
Per Larry Brooks, it looks like the Rangers will not open in Europe next year. It was previously expected that the Blueshirts would open next season and the year after in Europe because of the ongoing construction at The Garden, but next year is different. With the current Collective Bargaining Agreement expiring at the end of the season, the NHL could not secure dates for any NHL...
Remember long ago when, as fans, we would have to worry when our New York Rangers were scheduled to go up against a division opponent? Remember long ago when we assumed an automatic loss would go down each night the Blueshirts had to go up against the Philadelphia Flyers or Pittsburgh Penguins? Well times have changed big time over the course of the past year, as the Rangers are...
Greg Wyshynski at Puck Daddy takes a look at the most expensive defenses in the NHL with the Flyers leading the way with a $24.027 million cap hit this season.Conversely, despite having one of the best defenses in the NHL, the Rangers are at the bottom of the league in money invested in their blueline..."Look at the New York Rangers (second in the NHL in GAA) and the Boston...
All my life, growing up in a family full of hard-core New York Rangers fans, I always heard about how there was that time that defenseman Dale Rolfe took that beating from Dave "The Hammer" Schultz of the dreaded Broad Street Bullies, and no Ranger did anything about it. I wasn't yet 3 years old [...]
Brandon Dubinsky had a phone conversation with one of his mentors after Wednesday's game in Buffalo, when he played a season-low 8:37.
John Tortorella looks ahead to the Rangers' upcoming matchup against the New Jersey Devils after practice at the MSG Training Center yesterday... For the players thoughts on the Devils, click the "Read More" tab below.Marc Staal, Brandon Dubinsky, Brandon Prust and Henrik Lundqvist preview Tuesday's matchup against the New Jersey Devils... Remember to follow...
The main victim of the Rangers' power play, their own All-Star goaltender, lodged a more-than-justified complaint. "One goal, and it's the difference. We did a lot of good things on the power play and had chances, but in the end, it is the difference," Henrik Lundqvist said after the...
Say what you will about shootouts, but they're pretty important. That's why it's helpful to have a good goalie who you can count on to stop the other team and squeeze out that extra point for a W. It appears the Rangers and Predators are getting the most help from their goalies, according to a recent poll by Sports Illutrated. Henrik Lundqvist and Pekka Rinne were voted...
By Brian Ring Hartford, CT, February 7, 2012 - The Connecticut Whale defeated the Syracuse Crunch, 3-1, Tuesday night at the XL Center in Hartford. Mats Zuccarello, Blake Parlett and Scott Tanski all scored for Connecticut, with defenseman Jeff Woywitka adding two assists. Goaltender Chad Johnson made 23 saves in winning his third straight start in the month of February. The Whale's...
With brother Mikko already in the fold as the team's Finnish scout and having once signed Jarkko to a three-year contract, USA Today's Kevin Allen believes that Ottawa is looking to complete the natural Ruutu hat-trick by trading for Tuomo Ruutu at this year's Trade Deadline, stating, "The Senators are looking for offensive help, and Ruutu seems to be their primary...
It's the New Jersey Devils against the New York Rangers in ESPN.com's Game of the Week.
A week ago, some hockey "insiders" were saying a Tuomo Ruutu trade was "imminent." A week later, there's talk Canes general manager Jim Rutherford may be negotiating a contract extension for the hard-charging forward, who's due to become an unrestricted free agent after the season. Question: when all is said and done, which will it be? Will Ruutu be traded...
NHL News

Delivered to your inbox

You'll also receive Yardbarker's daily Top 10, featuring the best sports stories from around the web. Customize your newsletter to get articles on your favorite sports and teams. And the best part? It's free!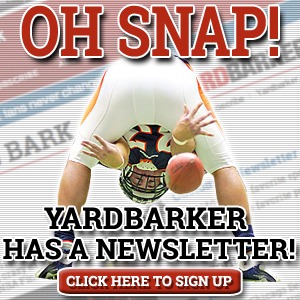 Latest Rumors
Best of Yardbarker

Today's Best Stuff

For Bloggers

Join the Yardbarker Network for more promotion, traffic, and money.

Company Info

Help

What is Yardbarker?

Yardbarker is the largest network of sports blogs and pro athlete blogs on the web. This site is the hub of the Yardbarker Network, where our editors and algorithms curate the best sports content from our network and beyond.