Found August 24, 2012 on The Rangers Tribune:
PLAYERS:
John Tortorella
,
Rick Nash
,
Marian Gaborik
,
Brad Richards
,
Glen Sather
,
Brian Boyle
,
Derek Stepan
,
Chris Kreider
,
Carl Hagelin
,
Shane Doan
,
Henrik Lundqvist
,
Ryan McDonagh
,
Dan Girardi
,
Marc Staal
,
Stu Bickel
,
Michael Del Zotto
TEAMS:
New York Rangers
,
Columbus Blue Jackets
,
Arizona Coyotes
,
Tampa Bay Lightning
Whether fans are willing to admit to the facts or not, it's an indisputable actuality that head coach John Tortorella and assistant coach Mike Sullivan contributed largely to the success of the New York Rangers in 2011-12. Enough so that Mr. Tortorella was runner-up for the Jack Adams award for the "Coach of the Year" title in the NHL; an honor he deserves whether he has hardware to show for it or not. After all, the make-up of a successful coach is comprised of the abilities to get the most out of a squad of players and to not only get them to buy into what is said by the coaching staff, but to get them to buy into themselves and each other as well. John Tortorella, all things considered, did that to a 'T' last season. 
But getting the most out of the 2011-12 Rangers will be a much different task than getting the most out of the 2012-13 Rangers beyond shadow of a doubt. The addition of power winger Rick Nash to the roster, alone, would hold this to be true. Bringing in Nash now changes the complex of the Blueshirts' offense and what the unit will be capable of doing out on the ice. Last season, for example, Tortorella had to work with four lines that were limited in the number of goals they could put up on the board on a nightly basis. It was either Marian Gaborik and Brad Richards being thrown out onto the ice until they were blue in the face or scored the needed goal (whichever came first), or Torts would simply role with what was working on that specific night, regardless of the player(s) being in the top six or bottom six. 
That will change for the upcoming season, or at least that was the hope of GM Glen Sather when trying to pry Nash from the grip of the Columbus Blue Jackets for months on end. Tortorella now has three bonified superstars on offense in Gaborik, Richards and now Nash, who will need to work together in some capacity to lead the offensive charge here in New York. The Rangers should no longer need to rely on Brian Boyle to get them through the first round of the playoffs, and that's not a bad thing at all. Torts now has the deep and solidified offense he's been asking for and it is his job to get it to flow properly, based on primary, secondary and tertiary scoring and contributions. 
And it is not only the inclusion of Nash into the equation that will change Tortorella's approach as a coach from an offensive standpoint. The core youth of players up front (Derek Stepan, Chris Kreider, Carl Hagelin, etc.) will all go into the next season with more experience and knowledge of what it takes to win at the NHL level. With that comes higher capability and consequently higher expectations. In other words, they're going to better. 
Does this mean John Tortorella should be preparing to completely re-scribe all of his ideologies and approaches when it comes to coaching the team? No, absolutely not. But based on the facts presented here (or assumptions, whichever way you prefer to look at it), the Rangers will have more offensive firepower in 2012-13, and that's before the possible and hopeful acquisition of veteran forward Shane Doan. Will Tortorella want to tweak his defense-first mentality and that natural tendency of the team to sit on one to two-goal leads? I certainly would think so, and that's basically what the organization has been building towards for all of these years since the lockout. 
Think of it this way: More offense means less pressure on the defense which, as a result, means less pressure on the still superb, but also aging Henrik Lundqvist. Before the start of the next season, the organization will most likely be sitting down and discussing this exact topic, if that discussion has not been held already. With a changing roster and improved capabilities when it comes to goal scoring, it is on the coaching staff to also adjust appropriately to fit into the sequential pattern that we just spoke of. Tortorella is now free to implement a more threatening forecheck and offensive cycle due to the increase in talent and, in regard to the youngsters, experience. To put it simply, some focus can be taken from the defensive end of the ice and be applied to the offensive end. 
The same goes for the defense as well. Ryan McDonagh and Dan Girardi grew better and better as a pairing last season, so they're already coming in as what I believe is the best shutdown duo in the entire National Hockey League. Marc Staal was close to, if not completely himself as the Rangers dove deeper into the postseason, so he, too, will be back to his trustworthy self from the start of training camp. That, in turn, makes Michael Del Zotto better since he now has a little more freedom to take risks knowing his partner, Staal, is there as a reinforcement. The third pairing is a question mark at the moment, but one could make an argument that even Stu Bickel grew with experience last year, too. 
So from a defensive standpoint, maybe Tortorella has them getting involved in the offense more with the changing team; something last year's club most definitely could have used some improvement on. 
John Tortorella is a proven Stanley Cup Champion, and even though he admittedly told his 2004 Tampa Bay Lightning team that he had no idea as to how difficult it was to win the trophy after they did it, he has a pretty good idea now. A set of new pieces have been added to the puzzle by GM Glen Sather, and now it is time for the coaching staff to adjust and make them all fit to form a Stanley Cup-winning picture. 
Original Story:
http://www.rangerstribune.com/the-ran...
THE BACKYARD
BEST OF MAXIM
RELATED ARTICLES
While many are still concerned about the Rangers scoring woes, it's worth noting that the Rangers now have two of the top ten post-lockout scorers in the NHL. The list, compiled at Kukla's Korner, has Rick Nash at #7 with 231 goals, and Marian Gaborik at #10 with 228 goals. It's worth noting that two Rangers top this list because it does address one of the Rangers biggest concerns...
There's no denying the importance of primary and secondary scoring, shutdown defense, and great special teams play. But more than anything, hockey games are won and lost based on the ability to stop the puck. Every coach and player will tell you that a team goes only as far as its goalie takes them, and if you're not convinced, how about this quick statistic for you...
Over at MSG's Maven's Ravin' column, hockey legend Stan Fischler takes a look at some metro-area hockey players and evaluates whether or not they're one-hit wonders. His list include two Rangers.His take on Ryan McDonagh...If there's not a Norris Trophy in this guy's future, I don't know another defenseman with such potential. Then again, you never know...
Don't get too caught up in various CBA proposals that show the Rangers as being way below a projected new salary cap or way above it.  These are all hypothetical situations and the truth is that New York's position really could go either way.   Regardless, the new cap will surely be grandfathered in, giving the Rangers and every other team ample time to figure out a plan of...
In their yearly preseason predicitions, The Hockey News has the New York Rangers finishing fourth in the Eastern Conference and second in the Atlantic Division to the Pittsburgh Penguins.The Blueshirts will finish fourth, not so much because they won't be as good - with Rick Nash and Chris Kreider for a full year, they'll improve offensively - but because the Penguins will be...
Over at The Pipeline Show, Guy Flaming has a piece on New York Rangers prospect Michael St. Croix and how 2012-13 will be a huge year for his development. Flaming offers some advice he's received from several NHL scouts.I've spoken with numerous scouts who aren't sold he can play in the top 6 for a NHL club and because he's not considered a checker, he won't fit...
BY: Bruce Berlet (Special to Howlings) Joe Resnick, the agent for All-Star left wing Rick Nash, denied a report that his client will return to play for HC Davos in the Swiss Elite League if there another NHL lockout. Resnick told TSN that Nash, whom the New York Rangers acquired from the Columbus Blue Jackets on July 23, will not play for the European team that Nash and San Jose...
NHL News

Delivered to your inbox

You'll also receive Yardbarker's daily Top 10, featuring the best sports stories from around the web. Customize your newsletter to get articles on your favorite sports and teams. And the best part? It's free!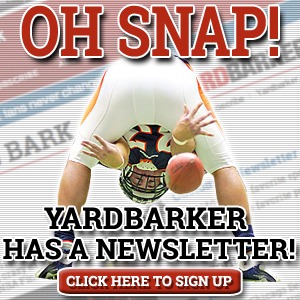 Latest Rumors
Best of Yardbarker

Today's Best Stuff

For Bloggers

Join the Yardbarker Network for more promotion, traffic, and money.

Company Info

Help

What is Yardbarker?

Yardbarker is the largest network of sports blogs and pro athlete blogs on the web. This site is the hub of the Yardbarker Network, where our editors and algorithms curate the best sports content from our network and beyond.