Found March 16, 2012 on NorthWest Sports Beat:
I love him…I can't stand him
The Canucks approach the end of their sixth season under Head Coach Alain Vigneault, marking the fifth year the team will graduate to the post-season during his time as Vancouver's bench boss.
Over this span players and fans have come to learn the intricacies of AV, embracing a calm but confident coach who understands how to get the most out of his players.
For all of Vigneault's accolades, including a 2007 Jack Adams Trophy, the coach has his faults when it comes to handling his team on the ice.
Love him or hate him, Alain Vigneault has another opportunity to lead the Canucks to victory in the upcoming Stanley Cup Playoffs, and fans will debate these decisions with extra scrutiny for the weeks to come.
LOVE
Optimization
Alain Vigneault's latest line juggling with the Sedins is just another example of his mastery
With the Sedin twins at his disposal, Vigneault has become a master of optimizing ice time in Vancouver.
The Sedins start 78% of their shifts in the offensive zone, leading the league among NHL forwards with at least 20 games played.
The Sedins' core strength, their cycle game, is derived from puck possession in the offensive zone, and much of that is in part to Vigneault's dedication to optimizing their ice time.
Slump Buster
Over the course of an 82-game regular season even the greatest superstars will go through a cold streak. Part of a coach's job is to minimize those streaks, and nip them in the bud when they do arise.
Alain Vigneault's latest line juggling with the Sedins is just another example of his mastery with line chemistry and ability to identify when a shakeup is necessary.
Keep Calm, Carry On
Some coaches scream and shout, and some maintain their composure to calmly guide their team to victory. Alain Vigneault has always been patient with his players, pressing the right buttons at the right time while maintaining respect in the locker room.
Vigneault's control of the media under the spotlight of last year's Stanley Cup Finals was also impressive.
HATE
Y U No Call Timeout?
Vigneault's in-game coaching leaves something to be desired. The timeout is one of the few tools a bench boss has at his disposal during a game, and Vigneault rarely uses his to slow a game down when necessary.
While the time to use a late-game strategic timeout is obvious, AV rarely attempts to stem the tide early in a game.
AV's in game coaching is something that makes me go hmmmmm
Put Me In, Coach
With such a talented goaltending tandem in Roberto Luongo and Cory Schneider, too many times Vigneault is unwilling switch goaltenders when his teams needs a talking to.
Not every goal is the goaltender's fault, but at some point a message has to be sent. Once a starter is pulled out of mercy any properly proud hockey club will respond for the backup.
What Have You Done For Me Lately?
The Canucks' bipolar performance in the first and fourth rounds of last year's Stanley Cup Playoffs questioned the control Vigneault had over his team's performance.
The Blackhawks dominated a large part of the opening round, and the blowouts in Boston during the Stanley Cup Finals were atrocious.
How much of that falls on the Head Coach?
I fear fans may be better equipped to answer that question come summer time.
CLICK HERE CHECK OUT THE CANUCKS BLOG IN THE CLUBHOUSE TODAY!
© Kevin Vanstone for North West Sports Beat, 2012. | Permalink | No comment |
Follow NWSB on Twitter or join US on Facebook for real-time updates OR... | Share This on Twitter | Share NWSportsBeat.com on Facebook
Post tags:
2012
,
Alain Vigneault
,
AV
,
Canucks analysis
,
Canucks blogs online
,
Canucks news
,
Cory Schneider
,
Daniel Sedin
,
Henrik Sedin
,
NHL Headlines
,
NHL News
,
Roberto Luongo
,
Rumors
,
Vancouver Canucks Hockey Blog
,
Vancouver Hockey Blogs
Original Story:
http://www.nwsportsbeat.com/canucks/a...
THE BACKYARD
BEST OF MAXIM
RELATED ARTICLES
GOING THE DISTANCE
Sven Edler!? In the Vancouver Canucks vs. Columbus Blue Jackets game tonight we saw what might be one of the NHL goals of the year by the Canucks defenseman Alex Edler. Coast to Coast! If you listen carefully you can hear former goaltender Kevin Weekes on the CBC Hockey night in Canada broadcast team say "Coast to Coast and Butter on the TOAST!" The goal put the Canucks up...
Scoring tonight, David Booth has four goals in six games. When he hasn't been adjusting to his new team or getting back into game-speed after his injury he's been quite the explosive goalscorer. He's a tad one-dimensional but when that dimension is scoring goals and it's working, you can overlook things like defensive decencies. Which brings us to the second line...
from Jason Botchford of the Vancouver Province, The Canucks have made it clear they will bring Reinprecht up at the end of the season when he will no longer require re-entry waivers. They will be adding an intense, two-way, battled-tested hockey ­player who is making $2 million a year. Not bad at all when it comes to adding forward depth. He's not going to step in and be an answer...
from Ben Kuzma of the Vancouver Province, The coach said it and the general manager confirmed it. In their minds, there's no doubt that Roberto Luongo is the starting goaltender. The only problem with the proclamation is when doubt starts to cloud the picture as the playoffs approach. In a solid season where the Vancouver Canucks stopper had just three regulation losses in January...
Pure hypothetical and meant to be fun Say the Canucks go out in the first round. They limp out like they're playing now to some team like Phoenix or Colorado or maybe a sleeping giant like Los Angeles or San Jose. Or even worse, Calgary harnesses the hate that spews like oil in the tarsands in Alberta (I know it doesn't actually "spew" there) and Vancouver...
Playoffs: So Close; So Far Last night, the Canucks ________ and they did so _________! You fill in the blanks. Now let's get down to business; you have some reading to do as I have put together a fantastic list of Canucks articles/blogs/posts/stories from across the entire interwebzzzzzzzzzzzzz. Sorry, I'm falling asleep already just thinking of Saturday's game against Columbus...
Canucks look to snap funk…again It is pretty hard to be a Canucks fan these days and it is hard to predict outcomes of games that they should be winning but just aren't. Vancouver will try to avoid a three game losing streak on Saturday night when they host the worst team in the NHL – the Columbus Blue Jackets. Columbus Blue Jackets (22-41-7) at Vancouver Canucks (42-20-8...
VANCOUVER, British Columbia (AP) -- Daniel Sedin scored two goals and the Vancouver Canucks edged the Columbus Blue Jackets 4-3 on Saturday night. Sedin scored the winner on a third-period power play as he scooped the rebound of his own tip-in attempt behind Steve Mason. The goal gave the Canucks a 4-2 lead that was cut by a shot off a faceoff win by James Wisniewski, the Columbus...
Just Lose It This limerick brought to you by Saturday's Hockey Night in Canada matchup between the Columbus Blue Jackets and Vancouver Canucks on St. Patrick's Day. The disparity is vast with the Jackets and Nucks, Be it a story of sticks, or helmets, or pucks, The playoffs are near, the Canucks all but clinched, For the Canucks, Rick Nash would have been a good pinch, Alas...
The Vancouver Canucks' power play is clicking again, and it produced a much-needed win this time. Daniel Sedin scored the second of his two goals with the man-advantage Saturday night and it turned out to be the winner in a 4-3 victory over the Columbus Blue Jackets. Alex Edler also got into the act, scoring on an end-to-end dash that provided a 3-1 lead in the second period...
The Vancouver Canucks may be inching closer to clinching their fourth straight Northwest Division title, but they're enduring their worst stretch of the season. Hosting the NHL-worst Columbus Blue Jackets, who haven't beaten them in regulation in more than two years, could help the Canucks start to turn things around. They look to avoid their first three-game losing streak...
Record Pts Div. Rank G/G GA/G PP% PK% Minnesota Wild (29-30-10) 68 4th Northwest 2.06 (30) 2.69 (17) 14.8% (26) 82.8% (13) Vancouver Canucks (43-20-8) 94 1st Northwest 3.04 (4) 2.44 (5) 21.6% (1) 85.9%(6)   Minnesota Wild Top 5 Scorers: G A Pts 1. #15 Dany Heatley 20 26 46 2. #21 Kyle Brodziak...
NHL News

Delivered to your inbox

You'll also receive Yardbarker's daily Top 10, featuring the best sports stories from around the web. Customize your newsletter to get articles on your favorite sports and teams. And the best part? It's free!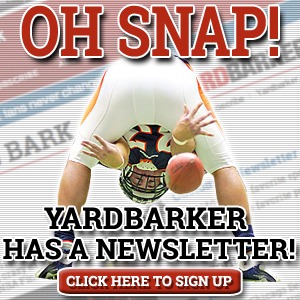 Latest Rumors
Best of Yardbarker

Today's Best Stuff

For Bloggers

Join the Yardbarker Network for more promotion, traffic, and money.

Company Info

Help

What is Yardbarker?

Yardbarker is the largest network of sports blogs and pro athlete blogs on the web. This site is the hub of the Yardbarker Network, where our editors and algorithms curate the best sports content from our network and beyond.