Found February 13, 2013 on Kukla's Korner:
I don't know what the *#$%@& to say. The Red Wings had a 2-0 lead on the sleeping St. Louis Blues, and then, somehow, a team that'd won 3 straight and 3 straight games against St. Louis managed to find a way to wake a sleeping giant and *#$%@& themselves over as thoroughly as possible en route to a 3-2 OT loss to the Blues. The Red Wings took all of 5 shots in the 2nd, 1 shot (ONE SHOT!) in the 3rd, and stood around as Barret *#$%@& Jackman dazzled and deked Niklas Kronwall, Brian Lashoff and Henrik Zetterberg of all people--with Nicklas Lidstrom and Tomas Holmstrom watching--out of their shorts, just like Chris Stewart deked Howard out of his jock on the 2-2 goal. The Wings were served up on a platter as a great "story" for the Blues to capitalize upon to break their 0-for-5 and 0-for-February streak, and on NBC, on TSN2, and with ESPN and NHL.com following the game, Jake Allen had to stop 14 of 17 shots as the Wings went 0-for-4 on the power play-...
Original Story:
http://kuklaskorner.com/tmr/comments/...
THE BACKYARD
BEST OF MAXIM
RELATED ARTICLES
Todd Bertuzzi may be done for the season, or more seeing as how he is 38. The Detroit Free Press reported earlier tonight that Bertuzzi had been admitted to the hospital with extreme back pain. Bertuzzi has missed Detroit's last three games with his chronically-injured back and, following a 5-3 win over St. Louis last Thursday, "could barely walk" according to the Detroit...
Detroit Red Wings forward Pavel Datsyuk is known for his skill, but you can't forget about how incredibly smart he is.  He picked up his own rebound, looked at the net, realized he had enough space and fired it from behind the net off the back of the glove of St. Louis Blues rookie goaltender Jake Allen.  Unfortunately for Datsyuk, his magic wasn't enough as the Red Wings blew...
from Scott Burnside of ESPN, Many observers liked the Blues to take another step forward with a long playoff run next spring. Some, including this scribe, liked the Blues to use last season's successes to catapult themselves to the franchise's first Stanley Cup championship, much like what Los Angeles did last season. Forward T.J. Oshie and defenseman Kevin Shattenkirk...
from Scott Burnside of ESPN, On this day, the Blues coaching staff was on board a bus that transported them from their hotel to Joe Louis Arena at 8:30 a.m. Their "office" at the arena is a AAA minor hockey team dressing room next to the team's dressing room. By 9 a.m., there are seven laptops up and running plus a big screen television with video capability. The...
The Detroit Red Wings are back on the ice at Joe Louis Arena, hoping to rebound from a 4-3 OT loss to St. Louis despite facing a very, very tough task on Friday in battling the 9-2-and-1 Anaheim Ducks, who haven't played since defeating the Blackhawks 3-2 in a shootout on Tuesday. I'm going to be out of the office from about 12:30-2, so if there's big breaking injury...
Six nights ago, the Wings went into STL on a damn ugly two-game skid, and the prospects for the Wings season were dire.  DET looked like world-beaters at STL, winning 5-1 and starting a season high three game win streak they skate into The Joe with tonight.   Things couldn't be worse for STL.  The Blues stormed out of the gate, 6-1 in January, but since that time are 0-4...
The Detroit Red Wings are back on the ice today, preparing for a grudge match and-a-half against an ornery St. Louis Blues team tomorrow evening (7:30 PM EST, NBCSN/97.1 FM, and, via RedWingsFeed, Yahoo Sports' Sean Leahy expertly explored the Blues' issues), and it sounds like the Wings will have to continue playing without a pair of players battlng back ailments: ...
The Macomb Daily's Jerry Wolfe reports that Red Wings defenseman Niklas Kronwall's going to donate tickets for Red Wings games to families affected by autism, starting this season, in association with the Autism Alliance of Michigan: Kronwall, 32, was turned onto AAoM after hearing Anthony Ianni speak about awareness and safety training for those with autism who face...
Normally, I'd try to keep the game-day updates regarding tonight's game between the Red Wings and St. Louis Blues (7:30 PM EST, NBCSN/TSN/97.1 FM) in one thread, but surprising and unpleasant injury news regarding a player whose size and strength the Wings rather desperately needed to employ against St. Louis merits its own entry. According to the Macomb Daily's Chuck...
The Detroit Red Wings face off against the Anaheim Ducks tonight (7:30 PM, FSD/Prime Ticke/NHL Network U.S.--so that means that Center Ice and GameCenter Live Online users are screwed via an NHL Net blackout yet again!/97.1 FM, and tonight is a Niklas Kronwall "Fathead Friday") facing a stiff test in more ways than one. The 9-2-and-1 Ducks are coming off a pair of shootout...
  Uggghhhh. Nice to get a point against a division team, but... Okay, let us just get through this recap. This is painful for me (as I don't drink near as much as I used to weeknights). First Period – Just as Pierre and Edso are talking about what a great rookie Barrett Jackassman was and how he totally deserved to win the Calder over Z, Tatar takes the puck...
I know it's early, but its always fun to speculate. What will the Red Wings look like in 13-14? There are some questions that need to be answered, mainly how can they upgrade on defense, and can they keep both Filppula and Brunner? Who's out, and who's in? Take the jump for more speculation. Looking at CapGeek we can see that Kenny will have to make a...
NHL News

Delivered to your inbox

You'll also receive Yardbarker's daily Top 10, featuring the best sports stories from around the web. Customize your newsletter to get articles on your favorite sports and teams. And the best part? It's free!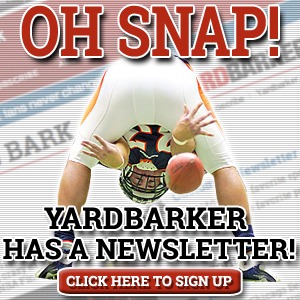 Latest Rumors
Best of Yardbarker

Today's Best Stuff

For Bloggers

Join the Yardbarker Network for more promotion, traffic, and money.

Company Info

Help

What is Yardbarker?

Yardbarker is the largest network of sports blogs and pro athlete blogs on the web. This site is the hub of the Yardbarker Network, where our editors and algorithms curate the best sports content from our network and beyond.