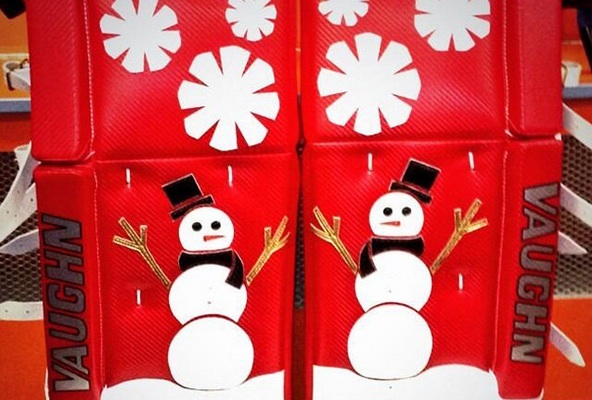 Detroit Red Wings prospect Petr Mrazek has spent most of his time in the AHL this year and he has some specially designed pads for the Grand Rapids Griffins outdoor game at Comerica Park against the Toronto Marlies.  Both teams are obviously the minor league affiliates for the Red Wings and Maple Leafs, the two Winter Classic combatants.  Mrazek has since been called up to the big club because of an injury to Jimmy Howard, and it is possible he will dress for the Winter Classic rather than the game at Comerica Park, but the Red Wings are planning on having Howard back in time.  Mrazek's snowman pads he had designed for the Outdoor Game are pretty awesome and unique to say the least.  It would be pretty cool if he got to wear them at the Big House, but they should look just as good at Comerica Park.  It's definitely a change from the vintage look that most goalies go with. [Puck Daddy Blog]
Read the rest of this story...
MORE FROM YARDBARKER:
Cult of Sport: Before there was Ezekiel Elliott, there was Eric Dickerson
MORE FROM YARDBARKER
NHL News

Delivered to your inbox

You'll also receive Yardbarker's daily Top 10, featuring the best sports stories from around the web. Customize your newsletter to get articles on your favorite sports and teams. And the best part? It's free!