Found February 24, 2013 on Talk Hockey:
Source: ESPNPenguins star and reigning NHL MVP Evgeni Malkin is dealing with concussion-like symptoms, according to a report by the Pittsburgh Tribune-Review.Malkin has symptoms that include a severe headache and mild disorientation, the newspaper reported, citing multiple sources.Penguins coach Dan Bylsma said a concussion has not been ruled out, but disputed that Malkin suffered from headaches and disorientation.Malkin was injured in the third period of Friday's game against the Panthers after getting nudged by Florida's Erik Gudbranson. Malkin's back hit the boards at full speed and his head snapped back upon impact....Link to the full article---------------------------------------------------------------------------------------------------------------------------------------My Take: It's been tough watching so many big NHL stars go down to injuries. First it was arguably the best defenseman in the NHL, now arguably the top forward in hockey. Pittsburgh has been having a great season with a 12-6 record, which placed them second in the Eastern Conference. The Penguins have had enough problems with concussion-related injuries to their players anyways. They lost Sidney Crosby for over 100 games because of his concussion. Image Source: Justin K. Aller/Getty Images North America
Original Story:
http://www.talkhockey.ca/apps/blog/sh...
THE BACKYARD
BEST OF MAXIM
RELATED ARTICLES
NEW YORK — Pittsburgh Penguins center Evgeni Malkin has been placed on injured reserve with a concussion. The team announced the move Monday, saying it was retroactive to Feb. 22. The NHL's reigning MVP was diagnosed with a concussion on Sunday, two days after he slammed back-first into the end boards during a win over Florida. Malkin, whose head snapped back when he hit the...
Before the discussion even comes up, lets make it clear that this was not a dirty hit by Florida Panthers defenseman Erik Gudbranson.  It was a completely legal hit, and this was just a casualty of both players being very big, skating very fast and being close to the boards. Pittsburgh Penguins forward Evgeni Malkin was driving wide in the third period to try and get a shot.  As...
God no. Malkin has not returned to the game, even though it is late in the third. ****.
Rob Rossi had it this morning: Evgeni Malkin is experiencing concussion symptoms, including severe headache and mild disorientation, multiple sources confirmed Saturday. Malkin was injured early in the third period of the Penguins' win over Florida at Consol Energy Center on Friday. He did not finish the game after sliding into the end-zone boards. The back of his...
PUSHING AND SHOVING
For anyone that wants to question the toughness of Pittsburgh Penguins forward Evgeni Malkin, they might want to check out this clip from the Penguins/Panthers game on this Friday night. In the third period of play, Malkin was knocked hard into the boards by Florida defenseman Erik Gudbranson and keep an eye on his neck as it snaps back from the collision: Malkin's current...
The following is how we fully expect the media (and some fans) to react regarding Evgeni Malkin's concussion. This is not our opinion. This is a joke. Evgeni Malkin is experiencing concussion symptoms. Or so we're told. Of course, Malkin hasn't spoken to the media directly about the injury. It's just another sign that the Russian star doesn't "get...
Evgeni Malkin got thrown into the boards by Florida's Erik Gudbranson with 15 minutes left in the third Period and didn't return.  It looked like he may have gotten whiplash. He also looked a little woozy as he headed to the locker room. The Pens went on to score two goals after he left and won the game 3-1. © Doug MacRay for Pittsburgh Penguins - PenguinPoop Blog...
Tampa Bay Lightning (9-7-1) @ Pittsburgh Penguins (12-6-0) ROOT, NBCSN, TSN2 - 7:30 pm/et Consol Energy Center - Pittsburgh, PA Maybe if everyone speculates and guesses hard enough and asks enough questions to enough people, Evgeni Malkin's injury will heal itself. If there even is an injury at all, that is. Also, there's a hockey game today...
Pittsburgh Penguins (13-6-0) @ Florida Panthers (5-9-4) ROOT, FS-F - 7:30 pm/et BB&T Center - Sunrise, FL The last time the Penguins played the Panthers, Malkin was injured. Hopefully nothing like that happens tonight. Season Series: 1-0-0 Last meeting that counted: February 22, 2013. Penguins won 3-1. What we said in our recap:...
PITTSBURGH (AP) -- Evgeni Malkin stepped up when Pittsburgh Penguins captain Sidney Crosby battled concussion problems for the better part of two seasons. Now, it's Crosby's turn to return the favor. Crosby had two goals and an assist to lead Pittsburgh past the Tampa Bay Lightning 5-3 on Sunday night in the Penguins' first game since reigning MVP Malkin was injured...
  Wednesday night, we were all treated to a great hockey game. Friday night, we got an ordinary one. No one would talk about this game ever again if it weren't for an apparent big-time injury to Evgeni Malkin. Malkin went crashing into the boards early in the third period. It looked horrible.    This game had a good pace to it at the beginning, but Florida was...
NHL News

Delivered to your inbox

You'll also receive Yardbarker's daily Top 10, featuring the best sports stories from around the web. Customize your newsletter to get articles on your favorite sports and teams. And the best part? It's free!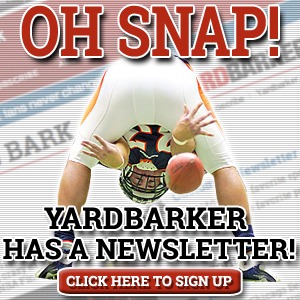 Latest Rumors
Best of Yardbarker

Today's Best Stuff

For Bloggers

Join the Yardbarker Network for more promotion, traffic, and money.

Company Info

Help

What is Yardbarker?

Yardbarker is the largest network of sports blogs and pro athlete blogs on the web. This site is the hub of the Yardbarker Network, where our editors and algorithms curate the best sports content from our network and beyond.