Found November 30, 2012 on Blue Seat Blogs:
(AP Photo/Julio Cortez) Two summers ago (2011), we started writing posts titled "Reasonable Expectations." The idea behind these posts was to outline what we should expect from some of our core youth on the Rangers. It's natural to expect every player to turn into a first liner, but that's not reality. When we wrote these expectation posts two summers ago, they were obviously for last season (2011-2012). Now that the season has come to an end, Suit brought up a good idea to track how we did with our predictions. Since it was my idea to start with the Reasonable Expectation posts, it only makes sense that I go first. Beginning in February of the 2010-2011 season, I wrote three Reasonable Expectation posts: one for Michael Del Zotto, one for the Brandon Dubinsky/Artem Anisimov/Ryan Callahan line, and one for Tim Erixon. Considering the players I wrote about, it looks like I have a kiss of death. Apparently if I write a Reasonable Expectations post about a player, he has a 60% chance of being traded for Rick Nash. My predictions were the following: Michael Del Zotto: Not a bust, hopefully can work out most defensive issues by age 25, hopefully can put up 40 points regularly. Dubinsky/Anisimov/Callahan: Not top line scorers, secondary scorers, more blue-collar than razzle-dazzle. Expect 20 goals, 50-60 points. Tim Erixon: Possibly NHL ready, no more than 15-20 points in what was supposed to be his rookie year. Let's get the obvious one out of the way first: I missed on Erixon. He was not as NHL ready as the Rangers hoped he would be. Erixon spent the entire year in the AHL before being shipped to Purgatory Columbus for Rick Nash. Del Zotto was a tricky one. Without a doubt, he put a miserable sophomore season behind him. Even though he wasn't lining up against top competition regularly (-.01 QoC), he showed significant improvements in his own end. He also put up a line of 10-31-41, which made him the highest scoring Ranger defenseman. I'd say I hit the nail on the head with MDZ. As for Dubi/AA/Cally, I predicted nothing more than 20 goals and 50-60 points. I also stated that anything less than 10-15 goals would be a disappointment. Well I missed on Cally, who exceeded my predictions by far with a season of 29 goals and 54 points. Anisimov finished with a line of 16-20-36, which is pretty good considering he played about seven seconds (exaggeration) on the powerplay all year. Dubi had a miserable year, with a line of 10-24-34. While I was off on the scoring for the Dubi/AA/Cally trio, I was certainly on the money with the blue collar hockey. All three were relied upon to provide solid defense, and all three excelled in that manner. Yes, Anisimov too, who played with a positive QoC (.005) and was still fourth on the team in RCorsi (2.9). Of course, the two that "underperformed" per my expectations got shipped out as well, but that's has less to do with performance and more to do with roster structure than anything else. Tweet
Original Story:
http://www.blueseatblogs.com/2012/11/...
THE BACKYARD
BEST OF MAXIM
RELATED ARTICLES
If you've been following the Whale closely this season, then you've surely noticed that forwards Andrew Yogan (4th, 2010) and Jason Wilson (5th, 2010) have been healthy scratches with the Whale for a good portion of the season. There are more forwards on the depth chart that are ahead of these two prospects, and it had been hurting their playing time. Connecticut General Manager...
Pretend you are a hockey player, in the middle of a lockout. What do you do to pass the time? You sign an endorsement deal, of course. New York Rangers Forward Brad Richards has been named a global ambassador for the US-based menswear apparel line, UNTUCKit. UNTUCKit, as you may expect, is an e-commerce label that creates higher quality shirts that are design to be worn...you...
Though he's locked out from the game, Brad Richards is making fashionable use of his free time. He's part of a team with several dedicated fashion followers and one of the many New York Rangers who have been scoring in both sport and style. Most recently Richards and his teammates dressed up for a feature in Esquire magazine. Now the NHL center has been tapped as the new face...
Pat Leonard at the Daily News spoke with Brad Richards about the possibility of him playing overseas if the lockout continues to drag on... "(You have) the thought, but I'm here until someone tells me – at least until the New Year, maybe I'll re-evaluate that – until someone tells me there's no NHL this year. I'd like to think I'm gonna be here, but as time goes...
After missing the last few games with a groin injury, Rick Nash returned to the HC Davos line-up to score two goals in their 4-3 win over the SCL Tigers. For video of Nash's goals, click on the below picture (00:07 mark & 1:08 mark)... ...great to see him back playing and dominating again. Too bad it's still not for the Rangers. Nash now has 12g, 6a in...
Jim Cerny at Blueshirts United was able to sit down with Dylan McIlrath to discuss the latest on his recovery from a dislocated kneecap... "It started last Monday when I got back on the ice...I eased into it a little bit, but now I'm starting to do my rehab in the morning while these guys are practicing, then I'll hop on for the last five minutes and skate around...
Yesterday, John Tortorella, Adam Graves, Rod Gilbert, Dave Maloney, Ron Greschner, and Gilles Villemure visited Cooney Island and Breezy Point to assist with the Hurricane Sandy recovery effort... For more pics visit the Rangers Twitter page. ...it seems as if the Rangers organization has made it their mission to assist with the recovery effort as much as they can. Every...
While the owners continue to wait on word from the players if they're interested in doing a sit down without Gary Bettman or NHLPA Executive Director Donald Fehr, Rangers players Henrik Lundqvist and Marc Staal give their thoughts on the plan... Here's Lundqvist (via Daily News)... "If the plan is to have meetings between players and owners to solve this mess, maybe...
The CT Whale have announced that forward Andrew Yogan has been reassigned from the Whale to its ECHL affiliate, the Greenville Road Warriors. Yogan, a rookie and a fourth-round (100th overall) selection by the parent New York Rangers in the 2010 NHL Draft, has one goal and 11 penalty minutes in 11 games this season with the Whale, and had missed the last four contests due to...
If the plan is to have meetings between players and owners to solve this mess, maybe it's time to.. — Henrik Lundqvist (@HLundqvist30) November 30, 2012   ..allow teams that actually are carrying the league finacially to get involved. So far I have not seen any invitations to the meeting room.. — Henrik Lundqvist (@HLundqvist30) November 30, 2012  ...
HARTFORD, November 29, 2012:  Connecticut Whale general manager Jim Schoenfeld announced today that forwards Andrew Yogan and Jason Wilson have been reassigned from the Whale to its ECHL affiliate, the Greenville Road Warriors. Yogan, a rookie and a fourth-round (100th overall) selection by the parent New York Rangers in the 2010 NHL Draft, has one goal and 11 penalty minutes...
NHL News

Delivered to your inbox

You'll also receive Yardbarker's daily Top 10, featuring the best sports stories from around the web. Customize your newsletter to get articles on your favorite sports and teams. And the best part? It's free!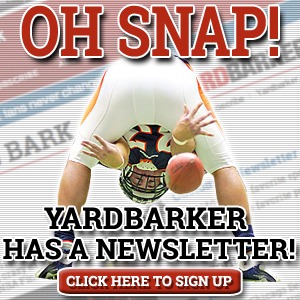 Latest Rumors
Best of Yardbarker

Today's Best Stuff

For Bloggers

Join the Yardbarker Network for more promotion, traffic, and money.

Company Info

Help

What is Yardbarker?

Yardbarker is the largest network of sports blogs and pro athlete blogs on the web. This site is the hub of the Yardbarker Network, where our editors and algorithms curate the best sports content from our network and beyond.