Found August 21, 2012 on The Rangers Tribune:
PLAYERS:
Chris Kreider
,
Rick Nash
,
Cam Atkinson
,
Braden Holtby
,
Marian Gaborik
,
Brad Richards
,
Ryan Callahan
,
Derek Stepan
,
Marc Staal
,
Artem Anisimov
,
Brandon Dubinsky
,
Carl Hagelin
,
Daniel Alfredsson
,
Ryan McDonagh
,
Michael Sauer
,
Michael Del Zotto
TEAMS:
New York Rangers
,
Columbus Blue Jackets
,
Ottawa Senators
,
Calgary Flames
,
Boston College Eagles
As luck would have it, I was fortunate this past weekend to shake hands with budding star and Rangers rookie, Chris Kreider. Along with other NHL players, Kreider graciously donated his time at a local charity event sponsored by Rick Nash's former Columbus Blue Jacket teammate, Cam Atkinson, in Greenwich, Connecticut. So, coincidentally, what better way to feed off of that adrenaline rush than to expound upon how Chris and the rest of New York's youthful "Core" quintet can contribute to the Rangers' success this season. Chris Kreider 
As if he didn't need any more press clippings after winning not one but two Boston College NCAA Championships - garnering MVP honors for the latter one – Kreider's highly anticipated arrival last April was welcomed with open arms. Jumping right into playoff action after minimal practice time with his new teammates, Kreider's presence was immediately felt via his lethal combination of speed, conscientious defensive play and deadly-accurate shot. Just ask Braden Holtby. Even more encouraging was that Chris's reputation preceded him enough to get him instant top line minutes alongside Marian Gaborik and Brad Richards. Plus, his inspired play earned him the privilege to either remain with those elite players, or at times form a solid, All-American 2nd line trio with Ryan Callahan and Derek Stepan. The result? Kreider led the entire team in shooting percentage during his inaugural playoff run, while oh-by-the-way setting an NHL record after scoring five playoff goals without ever having played a single regular season game. Quite the auspicious beginning indeed for the highly-touted, fresh-faced kid from Boxford, Massachusetts.  So what can we expect from Kreider this season? Hopefully more of the same. His combination of speed, size and skill certainly adds another dimension - make that 3 dimensions - to the Rangers' offense, both at even strength and during the extensive power play time he will surely see. Combine those qualities with his youthful exuberance, a willingness to battle in the trenches, and the seamless way he acclimated to NHL-level play, the sky really is the limit for Kreider. Like other Ranger rookies, he will soon have the "benefit" of experiencing a grueling John Tortorella-run camp for the first time and of playing - hopefully - an 82 game NHL season, interspersed with the obligatory travel and up-tempo practices. How Kreider responds to the wear-and-tear of a much-longer-than-collegiate season is one of the biggest questions that remains to be answered. But if the promise he showed last spring is any indication, Ranger fans will be more than satisfied by what they see from #20 this year.   Michael Del Zotto
Next up is "Mr. Matterhorn" himself: Stellar rookie year, forgettable sophomore campaign, terrific bounce back 3rd season. Contract negotiations aside, the question remains: what direction will Michael Del Zotto's career take in 2012-13? Well, assuming his "stock" doesn't follow its up-and-down trend by falling rapidly after a solid year, we can and should expect great things from the Ontario native. There is no doubt about his offensive prowess from the blue line, especially his uncanny ability to spring forwards with crisp, outlet passes. That we know. The part of his O-game that needs substantial improvement is as a point-man on the power play. A mere two points on the man advantage during the regular season just won't cut it, let alone only one point in 20 playoff contests. But even more so, it's the defensive aspects of Michael's game that will once again come under scrutiny by the coaching staff as well as by the fans. Despite very similar scoring totals during years one and three, what notably jumps out about Del Zotto was his ability to reverse a -20 rating to a +20 rating during those two seasons, respectively. That stat alone showed him to be a much more heady, 2-way player versus a one-dimensional player and a glaring liability in his own zone. Assuming similar defensive pairings to last year's, Michael should also benefit greatly from partnering with a completely healed Marc Staal for the entire season. Analogous to the Leetch / Beukeboom duo of the 90's, Staal's reliability allows DZ the freedom to carry the puck into the zone with confidence, knowing full well he has an All-Star on the other side to back him up. If Del Zotto can perform as he did last season - or better yet improve upon it - he will earn even more confidence and ice time from Sullivan and Tortorella, and, thus, the rollercoaster ride will once again be fun for all ages.  Derek Stepan
At first glance, Stepan's young career,  like Del Zotto's, seems like somewhat of an anomaly: a spectacular rookie year followed by a not-so-spectacular 2nd season. So the initial focus here was going to be why the major drop in production from year one to year two for the University of Wisconsin grad. But upon further review, I was surprised to see that Derek actually increased his regular season point totals from 45 to 57, while admirably playing all 82 games during both campaigns. Perhaps I was obscured by the way Stepan took the League by storm when he scored a hat trick in his very first NHL game on opening night in Buffalo two years ago. Or maybe it was the MSG-highlight reel goals he seemed to...well...reel off effortlessly as a rookie. Whatever the reason, and with the exception of an impressive, mid-season tear he, Gaborik and Columbus-bound Artem Anisimov went on as the Rangers' top line, something appeared to be missing from Step's overall game. Sure, he put up more points, but not nearly in as dramatic fashion nor as frequently in clutch situations. Or so it seemed. Hence, my surprise at seeing that his stats - even his +/- rating  -  had actually improved as compared to his rookie campaign. Good for him! But real or imagined, one thing is for sure. Derek Stepan certainly has the skill set to be a major force in the League. He is very adept at stick-handling in traffic, has impressive speed, is a terrific playmaker and has shown a knack for making the "key play at key times" as his coach likes to say. That being said, it is imperative that Derek improve on face-offs and, to a similar extent, on his overall defensive play. These need to be a given for any top six center, but especially for one playing on a Tortorella-led squad. Granted, Derek is already an outstanding penalty killer and will likely be called upon to fill that role even more so now that penalty-killers Anisimov and also-Columbus-bound Brandon Dubinsky are no longer an option. But given the amount of ice time Step deservedly gets at even strength, he needs to become a more complete player. Carl Hagelin Perhaps an indication of Gordie Clark's North American-focused scouting staff, or maybe just a product of today's game itself, Carl Hagelin is the only European on this fountain of Ranger youth list. True, he played his formative years at the University of Michigan, but still, the speedy forward is Sweden-born and raised, and has quickly become a key cog in the MSG Machine. And I do mean quickly. With speed clearly his most obvious asset, Hags not-so-slowly but surely gained ground in the Ranger lineup last season. Initially a bottom six forward, it became obvious to everyone that his quickness could help the Rangers in just about every facet of the team's game. Need someone first in on the forecheck? Tap #62. Need a hustling backchecker to break up plays? Hags is the man. Need a speedy forward to kill penalties? Carl can do it. In fact, he picked up two shorthanded goals last year in the process. Meanwhile, word spread around the League almost as quickly as Hagelin's skating ability, and he captured a spot in the fastest skater challenge at the 2012 All-Star Game. Gee, who do you think won? Yup, rookie Carl Hagelin. And he did so in dramatic fashion, breaking one-time Ranger speedster Mike Gartner's all-time record by just under 2 tenths of a second. Come playoff time, Carl earned a spot alongside Gaborik and Richards on the top line, but an ill-advised elbow to the head of his childhood idol, Daniel Alfredsson, cost him a 3-game suspension. Hags did come back and contribute, but the line seemed to lose some of its chemistry and momentum, albeit providing some clutch plays in both the Ottawa and Washington series. As for 2012-13, again to quote the Rangers' head coach: "It's all a process."  For Carl Hagelin, that process begins and ends with his speed. Whereas teammates Gaborik and Kreider, for example, can be counted on in the speed department as well as for other attributes, the same can not yet fully be said of Hags. Sure, he is far from a one-dimensional player. But if he is to truly take it to the "next level", it behooves him as a 2nd year player to focus on his own goal production versus relying solely on being first to the puck and reflexively dishing it off.  Another key is for him to use his quickness to get into open shooting lanes, so he can be fed the puck as well as do the feeding.  Ryan McDonagh
1992...1997…20--??  Those first two years represent the last two times a New York Ranger was awarded the Norris Trophy as the NHL's top defenseman. No need to elaborate on who that Hall of Fame-inductee is, of course. But as improbable as it sounds, Ryan McDonagh is already being touted by many as the next Blueshirt to capture that very same honor. And why shouldn't he be? He's gone from playing just half a season on Broadway as a rookie in 2010-11 to playing 100+ games in 2011-12 alongside All-Star D-man Dan Giradi as half of THE #1 shut-down pair on the team, perhaps even League-wide. Talk about taking advantage of one's opportunities. Now, who knows if McDonagh would've had the same good fortune if not for Marc Staal being dangerously concussed by brother Eric? Or to a lesser extent, if not for Michael Sauer's head injury, as well? But regardless of the how or why, it was still up to McD to beef up his game and earn the confidence from the coaching staff. And that he did. Big time! Without question, one of THE most memorable goals from last season was Ryan's sharp-angle, game-winner with just 1.8 seconds left in OT against the Calgary Flames. By then it was already pretty clear that the St. Paul, Minnesota native was a solid defenseman in his own zone. But with that clutch play, and more soon to follow, it was very apparent that Ryan McDonagh was fast becoming an elite, all-around NHL defensemen in just his sophomore year. The other stand-out performance by Ryan came during Game 3 of last year's Eastern Conference Semi-Finals against the Caps. No, it wasn't a sweet outlet pass up the middle nor a perfectly-timed body check to eliminate Ovechkin. For Ryan, those are givens. What stood out in that game was that Ryan McDonagh himself logged 53 minutes and 21 seconds of ice-time before Gaborik ended the marathon in the the third overtime.  53+ minutes! Almost an entire game's worth of T.O.I. by one player!  Talk about endurance. Talk about trust from the coaching staff. Talk about less talk, more action. So the expectation for McDonagh going forward is...?  The word that comes to mind is "consistency."  Not that Ryan's play is inconsistent per se. Nor that he has nothing specific to improve upon. But if McD is to remain one of the top D-men in the game - perhaps named THE top one someday - he needs to consistently stop the games' most elite scorers head on, whether it be via well-timed poke-checks, by playing the man, or with his smooth skating style to break up rushes. If McDonagh can do all of that at a high-level - as he's done before - all season long while showing minimal fatigue, maybe just maybe he'll capture that attainable Norris Trophy. ** Follow Marc Weissman on Twitter: @mgweissman **
Original Story:
http://www.rangerstribune.com/the-ran...
THE BACKYARD
BEST OF MAXIM
RELATED ARTICLES
Although the Rangers are likely to benefit from a lockout –due to the injury to Marian Gaborik– there is still a solid chance that when the season starts, the club will still be without their top scorer from last season. Gaborik, who had shoulder surgery to repair a torn labrum in June, is said to be out five or six months recovering from the surgery. The acquisition of Rick...
On January 21, 2012, the New York Rangers gave notice to the rest of the NHL that they had arrived. Just three weeks prior in the Winter Classic, the Atlantic Division was alerted that the Blueshirts were a legitimate contender and not going away anytime soon, as they took down the Flyers to continue their unbeaten streak against their Philadelphia foes for the season. But it was...
James O'Brien of Pro Hockey Talk breaks down a report courtesy of Craig Custance of ESPN in which teams would be in salary cap hell if the owners get the CBA in their model, which would lower the salary cap from $70 million to around $54 million. Here is the breakdown for the New York Rangers:Rangers: Would be $13.1M above $54M. Custance assumes that New York would need...
In an attempt to take our minds off of the inevitable lockout, let's turn our focus to the Rick Nash acquisition and if he will play with Brad Richards and Marian Gaborik. The concept of a "super" line with these three sure is enticing. After all, it worked in Ottawa with Daniel Alfredsson, Jason Spezza, and Dany Heatly. It has worked in the past with Sidney Crosby, Evgeny...
The New York Rangers have had a fairly impressive offseason, finally landing Rick Nash in a trade with the Columbus Blue Jackets and re-signing many of their top players from last year's squad that reached the Eastern Conference Finals. While they are hopeful that negotiations will go well with Michael Del Zotto over the next couple of weeks, the Rangers know that...
How ironic it is that D-Day for the National Hockey League and Decision Day for the electorate of the United States of America will come somewhere around the same time of year? After all, we're talking about two events with some eerily similar characteristics. At the end of the day, there is one side claiming a set of "new" ideas not unlike the ideas that already exist, and...
The Rangers will have the Greenville Road Warriors as their ECHL affiliate for at least one more season. The Greenville website posted that they have renewed their agreement with the Rangers for the 2012-2013 season, which will be their third season with the Rangers. The Rangers initially agreed to have the Greenville club as their ECHL affiliate when the Charlotte Checkers left...
In his look at which teams are in the hot seat heading into 2012-13, John Kreiser or NHL.com mentions the New York Rangers, with the acquisition of Rick Nash and making it to the Eastern Conference finals, have heightened expectations....The Rangers are coming off a season in which they finished first in the East and made the conference finals, so anything short of a trip to the...
According to the Greenville Road Warriors website, the ECHL team and the New York Rangers have come to terms on a renewal of their affiliation, marking the third straight year both organizations have been associated with one another."We are excited to continue our relationship with the Greenville Road Warriors," said Rangers Assistant General Manager Jim Schoenfeld. "The Road...
August is always the toughest month for hockey fans. The Rangers season officially ended in late May but June provided us the draft and the intrigue of free agency. In July fans had free agent signings to keep our hockey-crazed minds occupied. In August there's almost nothing going on to fill the emptiness that comes [...]
BY: Bruce Berlet (Special to Howlings) Joe Resnick, the agent for All-Star left wing Rick Nash, denied a report that his client will return to play for HC Davos in the Swiss Elite League if there another NHL lockout. Resnick told TSN that Nash, whom the New York Rangers acquired from the Columbus Blue Jackets on July 23, will not play for the European team that Nash and San Jose...
BY: Bruce Berlet, (Special to Howlings) New York Rangers rookie sensation Chris Kreider was among the hockey notables at a fundraiser in Greenwich on Sunday for the Marty Lyons Foundation organized by Greenwich native and AHL All-Star Cam Atkinson. Others who joined Kreider and Atkinson included Martin St. Louis, a Greenwich resident and NHL All-Star wing with the Tampa Bay Lightning...
NHL News

Delivered to your inbox

You'll also receive Yardbarker's daily Top 10, featuring the best sports stories from around the web. Customize your newsletter to get articles on your favorite sports and teams. And the best part? It's free!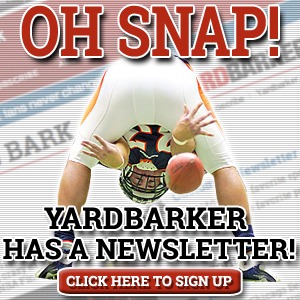 Latest Rumors
Best of Yardbarker

Today's Best Stuff

For Bloggers

Join the Yardbarker Network for more promotion, traffic, and money.

Company Info

Help

What is Yardbarker?

Yardbarker is the largest network of sports blogs and pro athlete blogs on the web. This site is the hub of the Yardbarker Network, where our editors and algorithms curate the best sports content from our network and beyond.