Found April 03, 2012 on Fox Sports Tennessee:
NASHVILLE As the story goes, Pekka Rinne played so rarely back in his native Finland that the Predators' scout who found him based his opinions solely on what he saw in warm-ups. The Predators drafted the goalie in 2004 four years after he became eligible, meaning that for four years no other team saw anything in him that made him worth gambling a pick on, even in the eighth round (a round that no longer exists), which is when Nashville took him. Now, of course, Rinne leads the NHL in victories with 42, was a finalist for the Vezina Trophy last year as the NHL's top goalie and could be again this year. In November, the Predators rewarded Rinne with a seven-year contract worth 49 million. Not bad for a guy who could hardly get on the ice when he was 20. The player who kept Rinne off the ice was fellow goalie Niklas Backstrom, currently of the Minnesota Wild. The two exchange texts and phone calls throughout the season as much as the NHL's busy schedule permits and catch up during the four times each season when their teams play one another. Backstrom, four years' Rinne's elder, was slated to start against the Predators on Tuesday at Bridgestone Arena, though Rinne had the night off, as the team rests him for the upcoming playoffs. Looking back on their days in the SM-liiga, Finland's elite league, toiling for Karpat Oulu, Backstrom said "it's hard to say yes for sure" that Rinne's future success could have been predicted even though he showed promise. "You saw in practices he was a good goalie every time he got a chance to play," Backstrom said. "You know he was young and improving every year and working hard. I think that's the biggest thing. You could tell by the way he approached hockey, his life and the way he works, it's going to do really good things for him. "For sure, as a goalie or even as a player, you always need a little bit of luck to get over that hump to be a really top player, but he had all the tools. His work habits were his strength." Backstrom chuckled when asked if he was glad that his coaching staff never discovered how good Rinne was for fear that he might lose his job. (This dynamic has happened with successive Predators goalies, from Tomas Vokoun pushing out Mike Dunham to Rinne overtaking Dan Ellis.) "For sure, it's good to have someone to push you," Backstrom said. "We played on the same team and having fun together and really good friends, so it's not like that. It's more to push each other to get better." As good as Rinne is now, pushing Backstrom out would not have been a simple task. Backstrom has suffered through an injury plagued season and on Tuesday coach Mike Yeo bemoaned the fact that his No. 1 goalie had played only 44 games. In 2008-09, Backstrom set franchise records for wins and shutouts and ranked third in the NHL in goals-against average and in shutouts, fourth in save percentage and fifth in wins. Perhaps Rinne did push Backstrom to get better in practices an unseen dynamic. With goalies on the same team, the competition for playing time is not always harmonious. "You can have on a team two really good goalies and only one guy is playing," Backstrom said, "so it can be really tough for the other goalie. It's a tough job." That, in fact, is how life has been for Predators' back-up Anders Lindback. Rinne plays so many games that last season Lindback, despite being on the team virtually the entire season, preserved his rookie status entering this season, as he only played 22 games in 2010-11. This season, it has been even fewer. He entered Tuesday a rare start for him with 14 games played and only two more games remaining after the game against the Wild. On Jan. 7, the Predators sent Lindback to Milwaukee of the American Hockey League just so he could get a game in, then called him right back up. On the Predators, Lindback and Rinne share a similar dynamic to what Rinne did with Backstrom. At one point this season, Lindback went longer than a month while only playing once. Nonetheless, those in the know see Lindback as a bright prospect. Before the NHL trade deadline, CBC analyst Glenn Healy, a former No. 1 NHL goalie himself, suggested that Toronto should trade for Lindback and make him their No. 1. Not bad for a guy who rarely gets on the ice. Lindback described what that is like. "It's different, but it's all about trying to work hard in practice and have good habits," he said. "I mean, I try not to lay off and try to really focus and bear down in practice. I think I've been feeling all right all year. It sounds like a clich, but Backstrom said that same path -- trying to stop every puck in practice -- is part of what made Rinne better. "Every day in the practice, he tried to fight for every puck, stop every puck," Backstrom said. "He worked out after practice and the stayed on the ice longer. Even if he wasn't playing that much, he was working hard and doing the extra work. Be ready when he would get a chance and improving his game. That's usually the key to success to work hard. That work ethic has helped to make Rinne one of the cornerstones of Nashville's franchise. He's a cornerstone with a very relaxed demeanor off the ice and very friendly one, as well. Aside from those traits that are visible to the media, Backstrom was asked if there were anything about Rinne that the public might not be aware of. Considering that Rinne was something of a late bloomer, it might not be a huge surprise. "That he's always late," Backstrom said. "He's never on time. You always you have to wait for him."
Original Story:
http://www.foxsportstennessee.com/04/...
THE BACKYARD
BEST OF MAXIM
RELATED ARTICLES
With the Cincinnati Cyclones' ECHL season over, the Nashville Predators have elected to call up goaltender prospect Chet Pickard. Don't read too much into this move, however. If they wanted to get Pickard playing time, they would have assigned him to the AHL Milwaukee Admirals. Instead, they called him up to the big club so that the 2008 first round pick can work closer with...
The Nashville Predators are in a three-way battle for fourth place in the Western Conference standings with Detroit and Chicago. With fourth place comes home ice advantage during the first round of the Stanley Cup playoffs. Some Predators admit to watching scores from around the Central Division On Tuesday night, Nashville's 2-1 shootout win over the Minnesota Wild temporarily...
The playoffs are almost here and Smashville can feel it. It's time for winning playoff hockey to be played. On Tuesday night, the Nashville Predators played well enough defensively to escape from the Minnesota Wild with a 2-1 victory, which means two much-needed points in the standings. Nashville is currently playing a game of back-and-forth with Detroit and Chicago for the...
NASHVILLE, Tenn. (AP) -- Alexander Radulov scored the lone goal in the shootout, and the Nashville Predators edged the Minnesota Wild 2-1 Tuesday night to reach 100 points for the second time in three seasons. The Predators, who have two games left, moved back into fourth place in the Western Conference -- one point over idle Detroit and two over Chicago. Detroit will finish the...
The Nashville Predators have assigned Chet Pickard to the NHL. Pickard will back-up Anders Lindback, Tuesday night. Pekka Rinne is sick, per Joshua Cooper. Here is the Press Release.Nashville, Tenn. (April 3, 2012) – Nashville Predators President of Hockey Operations/General Manager David Poile announced today that goaltender Chet Pickard (CHEHT PIH-kuhrd) has been assigned to...
The Minnesota Wild have won three straight games against teams looking to better their seeding in the upcoming Stanley Cup playoffs. The Wild has played the role of spoiler in the last three games. Predators forward Patric Hornqvist says as long as Nashville sticks to playing its own game, the Predators should come away with two points. "We just have to out-work them. We need a...
By Seth Lake Heading into their final three games of the regular season in the midst of a fight for the fourth seed in the Western Conference and home-ice advantage in the first round of the Stanley Cup Playoffs beginning next week, the Nashville Predators took to the ice at Bridgestone Arena on Tuesday night facing a Minnesota Wild club that had fallen out of the playoff race, but...
Before I get to my Monday morning rant, a quick playoff update. The Predators still have the 4 or 5 seed in their control, by winning out, they finish with 104 points, the best Chicago can do is 102. OK, I do not get it. Why do we feel the need to attack the very thing that we love? I am really getting tired of the complaining going on about playoff seeding. This system has been...
The Nashville Predators' spot in the postseason is secure, but their recent spotty play means they won't want to take their final regular-season games lightly. The Minnesota Wild are out of contention, but relishing their role as a spoiler. Possibly needing to win its final three games for a chance at home-ice advantage in the first round, Nashville on Tuesday night will...
Photo Credit: AP Photo/Mike Strasinger With 4th place on the line over the course of the current week, Nashville knew they couldn't afford a loss if they wanted to secure home-ice advantage in at least the first round of the playoffs. With Pekka Rinne apparently under the weather per multiple reports, it would be Anders Lindback that would have to navigate the ship for the Predators...
Season Records Dallas Stars 42-33-5 Nashville Predators 46-26-8 The Nashville Predators wrap up the home portion of their regular season when they host the Dallas Stars on Thursday night at Bridgestone Arena. Nashville has been consistently strong at home over the last several seasons. Since the beginning of the 2005-06 season, the Predators have picked up 180 home wins and rank...
NHL News

Delivered to your inbox

You'll also receive Yardbarker's daily Top 10, featuring the best sports stories from around the web. Customize your newsletter to get articles on your favorite sports and teams. And the best part? It's free!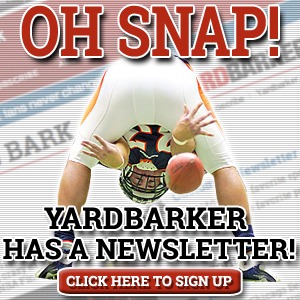 Latest Rumors
The Backyard

Today's Best Stuff

For Bloggers

Join the Yardbarker Network for more promotion, traffic, and money.

Company Info

Help

What is Yardbarker?

Yardbarker is the largest network of sports blogs and pro athlete blogs on the web. This site is the hub of the Yardbarker Network, where our editors and algorithms curate the best sports content from our network and beyond.