Found February 01, 2013 on Queen City Sports:
The Buffalo Sabres have finished their January portion of the schedule but it's still too difficult to evaluate players at this juncture with only 7 games played and virtually no training camp.  What makes it even harder to judge a player's performance is that there is no way of knowing whether or not we're seeing the effects of lockout rust combined with a condensed schedule, or plain old ineffectiveness.  Only time will tell, or will it?  After all, in a normal season there are a limited number of back to back games, and the season is spread out much more than this game every other night pace.  This lack of off days will not only lead to more injuries, but it drastically reduces the amount of practice time teams will have between games to work on their weaknesses and or develop chemistry.  Is it fair then, to judge a player's performance in such a non traditional season? Probably not, but I'm going to cast a stone from my glass house anyway, because it's what I do best.  The hourglass has run out on Jordan Leopold in Buffalo.  That seems like a bold statement less than a quarter of the way into the year, but it's a reality I feel the Sabres organization needs to start accepting.  Sure the duo of Tyler Myers (-3) and Leopold (-4, team worst) have looked awful, so it's perfectly valid to call Myers into question as well.  Except there's no reason to because Tyler is 23 years old and part of the future for this Buffalo team.  With a long term extension in place Myers isn't going anywhere, so the Sabres focus for Tyler should be on helping him get his game back on track. TJ needs to be evaluated now, not next year when the NHL returns to business as usual. (Getty Images) In contrast, Jordan Leopold isn't part of the plan here.  Leopold is an unrestricted free agent this summer, and the Sabres will have enough depth to let him walk. This team is going through a youth revolution, and TJ Brennan is a big part of that.  Brennan possesses the same vision and offensive creativity that Leopold, at his best, can display.  Prior to the season starting I would have been concerned that TJ is still a bit raw in his own end, but after watching Leopold play the role of pylon for 7 games how can Brennan be any worse? This shortened season is bittersweet, we're all happy hockey is back but this isn't a true representation of the NHL.  It's an extended tournament, where the hottest team that handled the schedule crunch the best will emerge in the end, not necessarily the best team.  Why then not use these 40+ remaining games to prepare and evaluate the future of this team for next season?  Giving the kids more ice time isn't the same thing as throwing in the towel.  With the way the pairing of Myers and Leopold has played, you could argue that trotting them out there for 20 minutes a night is waiving the white flag in and of itself.  Perhaps Brennan's youthful energy and hunger to prove himself will rub off on Myers and stir the sleeping giant within him back to his Calder winning form.  There's no way to know without playing him. There isn't much downside to this move.  We all know the coach and GM aren't going anywhere, so there's no reason to abstain from making this change in the lineup for fear of media backlash. If Brennan struggles he'll likely be no worse than Leopold has been, and you still have Robyn Regehr coming back in the lineup soon.  You also can't argue that Darcy needs Jordan to play in order to increase his trade value, because his play right now wouldn't fetch a bag of pucks.  Like their decision to keep Mikhail Grigorenko in blue and gold, this organization is handing the keys to the jeep over to the kids.  TJ Brennan is going to be here next year, and the year after, and the year after that, Leopold won't.  The Sabres would do well for themselves to use this quasi season as a means to break in their youth.  Like it or not, for the Sabres, the future is now. Agree or Disagree? Let me know on twitter @SabreHess The post Ruff Needs to Turn to Brennan…Now appeared first on Queen City Sports.
Original Story:
http://queencitysports.net/nhl/ruff-n...
THE BACKYARD
BEST OF MAXIM
RELATED ARTICLES
from Mike Cole of NESN, Sabres head coach Lindy Ruff called a timeout with just 13.6 seconds to play and his team leading 7-4. Ruff defended the move by saying he didn't like having Lane MacDermid, a noted fighter, lined up against one of his own skill guys. So, he called timeout and changed things up, which involved sending John Scott over the bench to keep the peace...
BOSTON — Many thought Thursday night's Bruins-Sabres game would begin with some fireworks and controversy. However, it was what happened in the game's final seconds that have some people talking. Sabres head coach Lindy Ruff called a timeout with just 13.6 seconds to play and his team leading 7-4. Ruff defended the move by saying he didn't like having Lane MacDermid, a noted...
The Buffalo Sabres got tougher this offseason, and many think that has to do with the defending Northeast Division champion Bruins, who the Sabres continue to chase. Buffalo isn't just chasing Boston in the standings, though. They also proved last season that they also lack the toughness that has become one of the Bruins' best traits. The Sabres were criticized far and wide for...
Tuesday night didn't end well. Ryan Miller allowed a pair of questionable goals and there were some struggles from various players on the roster. However, Tuesday's overtime loss to the Leafs was followed by a 7-4 win over the Bruins. Thomas Vanek continued his Hart-worthy play with a five-point effort that was complimented by his first hat trick since 2011. Buffalo's defensive...
Coming into tonight's Buffalo versus Boston game the primary focus was the potential physical play. Since the Sabres got bigger over the off season, with the additions of enforcer John Scott and agitator Steve Ott, many Sabres fans thought they would finally receive an answer for last season's Milan Lucic and Ryan Miller incident.However, Sabres sniper, Thomas Vanek grabbed...
Two breakaways key scoring explosion.
Thursday night's game between the Bruins and the Sabres may not have gone how most people predicted. This includes not only the score of the highly offensive game, but the bad blood between these two teams as well. The result of the game was a 7-4 win for Buffalo, and an angry and offended Brad Marchand. But Marchand wasn't angry with a Buffalo player, but rather the man...
8 a.m. ET: The Bruins are already one-eighth of the way into their season, but they've yet to take on any Northeast Division rivals. That will change on Thursday night when they welcome the Buffalo Sabres to town. The B's and Sabres will renew what's become one of the game's better rivalries at TD Garden on Thursday night. The B's are flying high, entering the game with...
  Thomas Vanek of the Sabres had a nice move to beat Tuukka Rask of the Bruins to complete his hat trick. Alex Ovechkin circled the wagons! John Scott of the Sabres gave Shawn Thornton of the Boston Bruins a little bit of a beatdown. Logan Couture turned a turnover into a goal and celebrated by "Kaepernicking"   The post Gifs of the Night – 1/31 appeared first on The Hockey Guys.
Sabres News

Delivered to your inbox

You'll also receive Yardbarker's daily Top 10, featuring the best sports stories from around the web. Customize your newsletter to get articles on your favorite sports and teams. And the best part? It's free!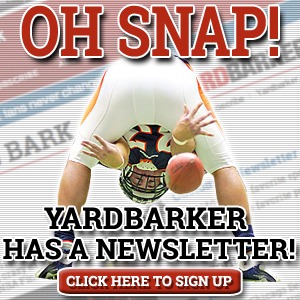 Latest Rumors
Best of Yardbarker

Today's Best Stuff

For Bloggers

Join the Yardbarker Network for more promotion, traffic, and money.

Company Info

Help

What is Yardbarker?

Yardbarker is the largest network of sports blogs and pro athlete blogs on the web. This site is the hub of the Yardbarker Network, where our editors and algorithms curate the best sports content from our network and beyond.