The Buffalo Sabres have finished their January portion of the schedule but it's still too difficult to evaluate players at this juncture with only 7 games played and virtually no training camp.  What makes it even harder to judge a player's performance is that there is no way of knowing whether or not we're seeing the effects of lockout rust combined with a condensed schedule, or plain old ineffectiveness.  Only time will tell, or will it?  After all, in a normal season there are a limited number of back to back games, and the season is spread out much more than this game every other night pace.  This lack of off days will not only lead to more injuries, but it drastically reduces the amount of practice time teams will have between games to work on their weaknesses and or develop chemistry.  Is it fair then, to judge a player's performance in such a non traditional season? Probably not, but I'm going to cast a stone from my glass house anyway, because it's what I do best.  The hourglass has run out on Jordan Leopold in Buffalo.  That seems like a bold statement less than a quarter of the way into the year, but it's a reality I feel the Sabres organization needs to start accepting.  Sure the duo of Tyler Myers (-3) and Leopold (-4, team worst) have looked awful, so it's perfectly valid to call Myers into question as well.  Except there's no reason to because Tyler is 23 years old and part of the future for this Buffalo team.  With a long term extension in place Myers isn't going anywhere, so the Sabres focus for Tyler should be on helping him get his game back on track. TJ needs to be evaluated now, not next year when the NHL returns to business as usual. (Getty Images) In contrast, Jordan Leopold isn't part of the plan here.  Leopold is an unrestricted free agent this summer, and the Sabres will have enough depth to let him walk. This team is going through a youth revolution, and TJ Brennan is a big part of that.  Brennan possesses the same vision and offensive creativity that Leopold, at his best, can display.  Prior to the season starting I would have been concerned that TJ is still a bit raw in his own end, but after watching Leopold play the role of pylon for 7 games how can Brennan be any worse? This shortened season is bittersweet, we're all happy hockey is back but this isn't a true representation of the NHL.  It's an extended tournament, where the hottest team that handled the schedule crunch the best will emerge in the end, not necessarily the best team.  Why then not use these 40+ remaining games to prepare and evaluate the future of this team for next season?  Giving the kids more ice time isn't the same thing as throwing in the towel.  With the way the pairing of Myers and Leopold has played, you could argue that trotting them out there for 20 minutes a night is waiving the white flag in and of itself.  Perhaps Brennan's youthful energy and hunger to prove himself will rub off on Myers and stir the sleeping giant within him back to his Calder winning form.  There's no way to know without playing him. There isn't much downside to this move.  We all know the coach and GM aren't going anywhere, so there's no reason to abstain from making this change in the lineup for fear of media backlash. If Brennan struggles he'll likely be no worse than Leopold has been, and you still have Robyn Regehr coming back in the lineup soon.  You also can't argue that Darcy needs Jordan to play in order to increase his trade value, because his play right now wouldn't fetch a bag of pucks.  Like their decision to keep Mikhail Grigorenko in blue and gold, this organization is handing the keys to the jeep over to the kids.  TJ Brennan is going to be here next year, and the year after, and the year after that, Leopold won't.  The Sabres would do well for themselves to use this quasi season as a means to break in their youth.  Like it or not, for the Sabres, the future is now. Agree or Disagree? Let me know on twitter @SabreHess The post Ruff Needs to Turn to Brennan…Now appeared first on Queen City Sports.
Original Story:
http://queencitysports.net/nhl/ruff-n...
MORE FROM YARDBARKER
Sabres News

Delivered to your inbox

You'll also receive Yardbarker's daily Top 10, featuring the best sports stories from around the web. Customize your newsletter to get articles on your favorite sports and teams. And the best part? It's free!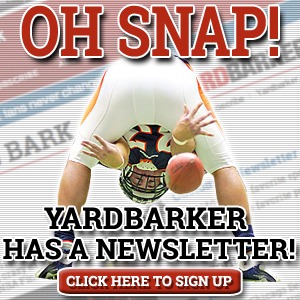 Latest Rumors
Best of Yardbarker

Today's Best Stuff

For Bloggers

Join the Yardbarker Network for more promotion, traffic, and money.

Company Info

Help

What is Yardbarker?

Yardbarker is the largest network of sports blogs and pro athlete blogs on the web. This site is the hub of the Yardbarker Network, where our editors and algorithms curate the best sports content from our network and beyond.