Found February 18, 2013 on Queen City Sports:
The Buffalo Sabres fell 4-3 to Pittsburgh yesterday afternoon in what was yet another failed attempt for Lindy Ruff's club to win back to back home games for the first time this season.  The loss was especially disconcerting because Steve Ott's third period tally had completed a comeback from a 2-0 deficit and had actually given Buffalo a 3-2 lead in the final frame. Hodgson's goal ignited a comeback, but the Sabres failed to earn a point in the loss. (Getty Images) These close losses not only take a psychological toll on the team, and it's fan base, but are devastating to Buffalo in the standings.  Coming out of the previous lockout in 2004, the new CBA allowed for the overtime and shootout loser to collect a point, which would be great for the Sabres, if they could get these games into overtime. Looking back through the early part of this season Buffalo had a lead on home ice in the third period against Carolina and lost in regulation, they allowed a late goal to Florida at home to lose in regulation, and they managed to lose in regulation to Pittsburgh yesterday despite owning a late game lead.  Getting each of these games into extra time would result in 3 more points, tying them for 8th in the conference.  Heck, they may have even managed to win one of them had they gotten out of regulation. If you think this is making a mountain out of a molehill, look at these numbers. 2009 (NE Division Winners, 3rd in Eastern Conference, 100pts) OT record 6-4, SO record 4-6, 20 games tied at end of regulation or 24% of all games played 2010 (7th in conference, 96 pts) OT record 10-9, SO record 5-1 25 games tied at end of regulation or 30% of all games played 2011(DNQ for postseason, 9th in conference) OT record 5-4, SO record 7-7 23 games tied at end of regulation or 28% of all games played 2012 (currently 12th in conference) OT record 0-1, SO record 1-0 2 games tied at end of regulation or 12% of all games played Examining the previous 3 seasons show that Buffalo has averaged getting games into OT in 24-30% of their contests.  This season it's only 12%, which is a stark drop-off, especially in a season where all games are in-conference and virtually a 4 point swing.  If the Sabres were operating at their normal percentages it would equate to either a 2 or 3 point increase in the standings, which again would bring them back into the conference's top 8.  By contrast the Northeast Division leading Bruins have gotten into overtime in 4 of their 13 games, or 30% of their schedule thus far. Ultimately winning in regulation is the goal for every team on a night in night out basis.  However in such a condensed schedule it is especially important to snag every available point, and right now the Sabres are leaving points, even loser points, on the table.   Twitter @SabreHess The post Sabres Continue to Leave Points on the Table appeared first on Queen City Sports.
Original Story:
http://queencitysports.net/nhl/sabres...
THE BACKYARD
BEST OF MAXIM
RELATED ARTICLES
The Buffalo Sabres have just not been the team everyone expected them to be this season, but it hasn't been because of the play of Ryan Miller. The Buffalo goaltender has been incredible this season, despite repeated defensive breakdowns in front of him. Following the Sabres' loss to the Penguins on Sunday afternoon, it sounded like frustrations were starting to get the best...
(AP Photo/Paul Sancya) If you haven't heard by now, Ryan Miller had some choice words on Sunday afternoon after the Buffalo Sabres gave away a game to the Pittsburgh Penguins after fighting back from 2-0 to take the lead in the third period. While plenty on the team were upset with the result, it was Miller who really let is frustrations show. He ended up giving a pretty interesting...
Sabres goalie Ryan Miller has seen more shots than any other goalie so far this season, so to say he's broken in would be an understatement.  Sunday during Hockey Day in America, the Sabres and Pens were knotted at three when Neal was set to ring up his 12th goal of 2013 as Sidney Crosby fed him deep in the Sabres' zone. Miller gave Neal a Mutombo wag and denied him with a glove...
Thomas Vanek's been the only Sabre to produce on the power play. Five of his twelve goals has been with the man advantage At 6-9-1 and tied 10th in the Eastern Conference Standings, there are a lot of issues currently plaguing the Buffalo Sabres. One of those issues is the team's lack of ability to produce consistently on the power play. Buffalo finds itself sitting in the bottom...
SNAGGED IT
During the celebration of Hockey Day In America, it's only fitting that the Buffalo Sabres American goalie Ryan Miller delivered this absolute gem.  Tied 3-3 late in the 3rd period, Pittsburgh Penguins forward James Neal somehow got wide open in the Sabres zone.  Sidney Crosby hit Neal with a perfect pass, and Ryan Miller miraculously came across the crease and snagged it out...
It's become an unfortunate reality for the Buffalo Sabres: late period goals against. And on Sunday, the unfortunate happened once again in Buffalo's 4-3 loss to Pittsburgh. For the sixth time this season, the Sabres gave up a goal with less than 2:30 left to play in a period — a Paul Martin shot with 2:04 remaining. It ended up being the second time that the goal given up...
YouTube.com Ryan Miller of the Buffalo Sabres played a great game in goal against the Pittsburgh Penguins on Sunday — Hockey Day in America, in case you didn't know. With the game tied 3-3 with just over three minutes left in the third period, Miller darted to his left to make a glove save on James Neal's one-timer. Watch the awesomeness below: Unfortunately for Miller,...
Photo Courtesy of Bill Wippert/Getty Images. By: Connor Nielen (@ConnorNielen) In what has become customary fashion, the Buffalo Sabres again succumbed to the latest installment of 'heart-breaking loss roulette' on Sunday afternoon. A valiant home effort against a lethal Penguins squad, one in which the Sabres fought back from an early two-goal deficit to take an eventual third...
Buffalo isn't a city known for feeling a lot of heat in February, but don't tell that to Lindy Ruff and his 27th place hockey team. I've spent much of my hockey time, over the past 16 years actually, defending Ruff as the right man to coach this team.  But with each passing season of failure, each half-hearted effort on the ice, the hope tank has slowly been leaking.  ...
The old adage about weather in Buffalo goes: "if you don't like it, wait five minutes." With a third of the NHL season officially in the books, it's safe to say we can apply that same saying to being a Sabres fan. Consistency is perhaps the last word you would choose when defining the team's play thus far and that has played a rather large role in why the Sabres have struggled...
Pittsburgh Penguins (10-5-0) @ Buffalo Sabres (6-8-1) NBC, TSN2, 12:30 pm/et First Niagara Center - Buffalo, NY The Pens visit Buffalo on a cold Sunday.  The Sabres are 11th in the East and they haven't won two games-in-a-row since the first two of the season. They beat the Bruins 4-2 on Friday. The Pens are one point behind New Jersey for the Atlantic...
After a hard fought, comeback win against the Boston Bruins on Friday night, the Buffalo Sabres have a little more confidence brewing than they did after the last two times the teams met. In order to keep the confidence growing, the Sabres have to pass a big test this afternoon when they face the visiting Pittsburgh Penguins in a nationally televised game (NBC) on Hockey Day In America...
Sabres News

Delivered to your inbox

You'll also receive Yardbarker's daily Top 10, featuring the best sports stories from around the web. Customize your newsletter to get articles on your favorite sports and teams. And the best part? It's free!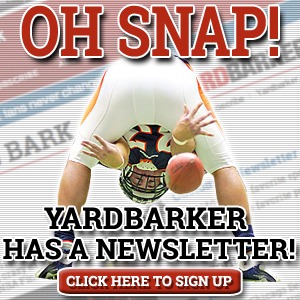 Latest Rumors
Best of Yardbarker

Today's Best Stuff

For Bloggers

Join the Yardbarker Network for more promotion, traffic, and money.

Company Info

Help

What is Yardbarker?

Yardbarker is the largest network of sports blogs and pro athlete blogs on the web. This site is the hub of the Yardbarker Network, where our editors and algorithms curate the best sports content from our network and beyond.