Found November 23, 2011 on Queen City Sports:
PLAYERS:
Lindy Ruff
,
Paul Gaustad
,
Milan Lucic
,
Brad Marchand
,
Nathan Gerbe
,
Robyn Regehr
,
Zdeno Chara
,
Christian Ehrhoff
,
Tim Thomas
,
Drew Stafford
,
Thomas Vanek
,
Brad Boyes
,
Tyler Seguin
,
Jhonas Enroth
,
Derek Roy
,
T.J. Brennan
,
Andrew Ference
,
Jochen Hecht
TEAMS:
Buffalo Sabres
,
Boston Bruins
Buffalo, NY – It was one of those games where you were glad to be a lover of the game of hockey.
The fans, and the media for that matter, got their money's worth tonight. There were goals, fighting, overtime and it ended in a shootout. Only thing that would've made it better for the fans in attendance is a Sabres victory, but that wasn't to be as Boston came from behind to beat the Sabres 4-3 in a shootout.
"I was happy with how we played," Lindy Ruff said afterwards.
The fun started just 1:23 in when Paul Gaustad and the hated Milan Lucic dropped the gloves.  Although Lucic clearly got the better of the Sabre center, but it set the tone early that Buffalo wasn't going to back down from the Bruins. Ruff said that he was happy with how his team responded. "We answered every call," he said.
The fisticuffs continued halfway through the period went Brad Marchand hit Nathan Gerbe in the corner and Gaustad came flying in to aid his teammate. During the big scrum that ensued, Robyn Regehr found a dance partner in Zdeno Chara. The two behemoths went toe-to-toe, but Chara slightly got the advantage in that decision.
Vanek continued his hot play, tallying his 12th goal of the season
Buffalo was left with a powerplay after the mini-brawl that broke out, and they made the Bruins pay. Christian Ehrhoff finally removed the monkey off his back when he blasted the puck right by a screened Tim Thomas to put the Sabres up 1-0. After Drew Stafford drew a penalty by charging to the net, Thomas Vanek scored his 12th of the year on the powerplay to put the Sabres up 2-0 at the end of the opening period.
The only bad news coming out of the first period was the loss of Brad Boyes. Boyes looked to have injured his ankle on a play in the Bruins zone, and Ruff didn't sound too positive about Boyes diagnosis afterward.  "You guys saw it….it's going to be a period of time."
Buffalo came out with the same intensity in the second period, but Boston was able to take control quickly. Tyler Seguin was left all alone by the faceoff circle during a Bruins powerplay and he was able to beat a sliding Jhonas Enroth to cut the Sabres lead to one.  "It looked like Jhonas lost on edge," Ruff said regarding the Seguin's 12th goal of the season. "Normally, he would've been there, but something bad happened to him."The Sabres almost regained their two goal lead almost as fast as the Bruins cut it in half, but Tim Thomas was there to stymie both Buffalo opportunities. The first attempt came on a golden opportunity for Vanek, but the Bruin netminder was able to get his stick on it, although Ruff thought it should've been a penalty. "I thought (Tim) Thomas got away with a little bit of a thrown stick on Thomas' play."  The second chance came less than 30 seconds later when Stafford tried to backhand a puck from the slot past Thomas, but he was able to get a pad on the puck.
After looking like they were going to give up the tying goal, the Sabres were able to take advantage of a lucky bounce as Derek Roy's shot was blocked, but went straight to the stick rookie call up T.J. Brennan who was able to bury the shot past Tim Thomas for his first career NHL goal in his first career game. It's the first time since Lindy Ruff in 1979 that a Sabres defenseman scored in his NHL debut. Ruff was complimentary of his young defenseman's play in his first game. "I thought it was good. For the most part, he kept it on the simple side."
With just under four minutes to go in the second, Boston was able to take advantage of their own advantageous bounce as the puck went off Regehr's skate right to Bruin forward Brad Marchand who put the puck top-shelf past a sprawling Enroth.
Late in the period, Drew Stafford was charging the net and clipped Tim Thomas which led to him having to drop the gloves against defenseman Andrew Ference. The third period was dominated from beginning to end by the Bruins.  Chara scored just 3:35 into the third to tie the game for Boston. It was a shot that Chara didn't realize had gone in until his teams began celebrating.  From that point on, it seemed as if Buffalo was holding on to their opportunity to gain a point for dear life.  The Sabres were outshot 12-8 in the third, but it felt like more as Boston spent about ¾ of the period in the Buffalo zone.
After a scoreless overtime the game went to a shootout.  Both goaltenders were stellar, but it was Enroth who would give up the lone goal on Boston's fifth shootout attempt as Beniot Puliot beat Jhonas high glove side to give the Bruins the win and the extra point.
A big positive to come out of tonight's game was the play of Jochen Hecht. In his first game since April, Hecht played like he hadn't missed a single night. "(Jochen) gave us one heck of a game," Ruff said. "He was real reliable – made some nice plays. It was good to have him back in a game like tonight."
Ruff did have one final message about his team's performance tonight, "You play like that you're gonna win a lot of games."
Original Story:
http://www.queencitysports.org/2011/1...
THE BACKYARD
BEST OF MAXIM
RELATED ARTICLES
THROW DOWN
It didn't take long for the Buffalo Sabres to do more than they did on Nov. 12. Paul Gaustad dropped the mitts with Milan Lucic off the faceoff on Lucic's first shift on Wednesday night in Buffalo. There was, of course, a lot of talk coming into the game about whether the Sabres would seek revenge for Lucic's hit on goaltender Ryan Miller in the teams' last meeting...
Tyler Seguin was left off of the All-Star ballot this season. After all, who would expect a 19-year-old to lead the Bruins in points in his second year in the NHL? But fans are coming out in force to write in Seguin's name on the ballot. Early results for All-Star voting indicate that after one week, Seguin has received 41,443 votes. That's good for 24th of all forwards,...
The Bruins have climbed their way out of the bottom of the conference in exciting fashion. Thanks to goals from just about anyone and everyone rocking the black and gold, the B's have proven that their early season woes were indeed a Stanley Cup hangover. In three straight wins over the Blue Jackets, Islanders and Canadiens, the B's were able to outscore opponents 8-1. Check...
Tyler Seguin's goal on a one-timer on Wednesday night in Buffalo could trick you into believing he was born a natural sniper. But NESN's Jack Edwards pointed out that that's not the case. Instead, Seguin's increasingly powerful and accurate shot can be attributed to his hard work. If his shot continues to improve, the sky is the limit for the 19-year-old, as he already...
The Buffalo Sabres, outscored 17-9 since Martin Lucic played their star goaltender like a fiddle to expedite the post-Cup hangover recovery of his own team, aren't going to impress anyone by throwing down with the Bruins tonight.  That ship has sailed. Say what you want about Lucic, but his dastardly deed in that landmark game eleven days ago was effective, bordering on brilliant...
Here it is. The big moment we've all been waiting for. A chance for the Sabres to finally back up all of their talk in the last few weeks after Milan Lucic's run-in with Buffalo goalie Ryan Miller. But since the game falls on the Wednesday before Thanksgiving, it may be competing for some people's attention with their former high school or college friends that they may...
BUFFALO -- The Bruins rallied from 2-0 and 3-1 deficits against the fired-up Buffalo Sabres, tying tonight's game 3-3 via goals from Tyler Seguin, Brad Marchand and Zdeno Chara. They then won it, 4-3, when Benoit Pouliot, the 10th shooter of the shootout, was the lone scorer. With his game-winning ...
The Boston Bruins have earned victories in a variety of ways during their winning streak, from the simple blowout to one-goal nail-biters to come-from-behind thrillers. It won't matter to them how they solve the Detroit Red Wings, just as long as they come out on top. Boston seeks its first 11-game winning streak in more than 40 years while looking to end a three-game skid...
This is probably the under card for tonight's game between the Boston Bruins and the Buffalo Sabres. The Bruins captain Zdeno Chara fights Robyn Regehr after a scrum behind the Boston Bruins net. I am going to score the win in Chara's favor as well.
Benoit Pouliot scored in the fifth round of a shootout, and the Boston Bruins won their 10th straight game Wednesday night, rallying from behind to beat the Buffalo Sabres 4-3.
The Bruins are Causeway Street fightin' men, and they will never lose again.
The Boston Bruins have earned victories in a variety of ways during their winning streak, from the simple blowout to one-goal nail-biters to come-from-behind thrillers.
NHL News

Delivered to your inbox

You'll also receive Yardbarker's daily Top 10, featuring the best sports stories from around the web. Customize your newsletter to get articles on your favorite sports and teams. And the best part? It's free!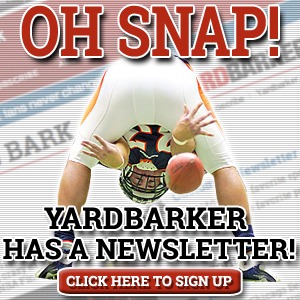 Latest Rumors
Best of Yardbarker

Today's Best Stuff

For Bloggers

Join the Yardbarker Network for more promotion, traffic, and money.

Company Info

Help

What is Yardbarker?

Yardbarker is the largest network of sports blogs and pro athlete blogs on the web. This site is the hub of the Yardbarker Network, where our editors and algorithms curate the best sports content from our network and beyond.