Found November 28, 2011 on Rob The Hockey Guy:
Alain Vigneault announced his starting goalie today, and for the sixth straight time Vigneault will be giving Cory Schneider the nod. Giddy sports writers immediately hopped up and down at this news, with the prospect of the hottest controversy in this town since the Dickenson-Printers saga.
While I can certainly understand the giddiness of the media, this situation is a little different from the Printers-Dickenson situation the BC Lions faced in 2004-05. At least initially.
For now, Roberto Luongo and Cory Schneider are saying all the right things. Luongo has been very complimentary to Schneider and vice versa. Luongo had this to say about Cory Schneider:
Cory has unbelievable talent. He has been working his bag off for the last two years. He never complained and was always 100 per cent behind me so same thing goes for me. He deserves what he's getting right now.
Cory Schneider getting six straight starts is a big deal in Vancouver because something like this has never happened to Roberto Luongo before. Of course, he's never had a backup like Cory Schneider before. Luongo missed the first two games of this streak due to injury, but he's been healthy for almost a week now. Schneider in the meantime has been exceptional, save for the Chicago game.
So head coach Alain Vigneault has decided to ride the hot hand, giving Luongo another night off against Columbus tomorrow night. If you ask me, it's the right decision, and Schneider should be kept in until he loses or isn't exceptional between the pipes. It's not an unheard of philosophy and you only need to look at the Pittsburgh Penguins last season.
Last year Marc-Andre Fleury of the Penguins got off to a terrible start. He lost 6 of his first 7 games and had to watch Brent Johnson start a lot of games because of it. Brent Johnson started 8 of 12 games in late October/early November before Fleury finally turned his game around and had an exceptional season. Fleury ended up with great numbers and was a big reason the Penguins fared so well despite the absence of Sidney Crosby and Evgeni Malkin.
What Alain Vigneault has to figure out is if he ultimately will do everything possible to try to ensure that Roberto Luongo is playing at full capacity by the time the playoffs roll around. It's all fine and dandy to give the keys to Cory Schneider in November and ask him to carry the load while he's playing well. Luongo gets some rest and has a lot of time to get in the groove before the playoffs start. But what happens if Schneider is outplaying Luongo in February or March? It'll be then, not now, that the real tough questions will have to be answered.
Original Story:
http://www.robthehockeyguy.com/2011/1...
THE BACKYARD
BEST OF MAXIM
RELATED ARTICLES
The NHL gave out its weekly stars awards this week. On the list Vancouver Canucks backup netminder Cory Schneider. Now he's the first to say personal awards and achievements don't matter to him. Only wins matter he'd say. His overall record is now 6-4-0 with a 2.02 GAA, .931 Save% in 12 appearances.
Free NHL Betting Odds & Picks on the Columbus Blue Jackets vs. Vancouver Canucks Tuesday matchup. The Canucks are -215 home favorites. The over/under is set at 5.5. Vancouver has all lines clicking, including the first line with Henrik Sedin, and Daniel Sedin averaging a point per game and also has Alexandre Burrows who is on fire.
Vancouver, BC – Vancouver Canucks goaltender Cory Schneider has been named the National Hockey League's second star of the week for the week ending November 27th. Schneider is joined by Sidney Crosby of the Pittsburgh Penguins (first...
Despite dubbing himself ready to play Wednesday, Roberto Luongo continues to ride the bench. It's front-page news in Vancouver and a hot topic across the NHL, says Adrian Dater.
Any other time, a goaltending controversy in Vancouver might have been a hot topic that threatened to distract the Canucks from turning things around. Right now, 166 days after they lost Game 7 of the Stanley Cup Final to the Boston Bruins, the Vancouver Canucks and Head Coach Alain Vigneault are playing the hot hand because they need to. Schneider, much like Detroit Red Wings netminder...
Cory Schneider stopped 47 shots for his fifth straight victory as the Vancouver Canucks beat the Columbus Blue Jackets 4-1 on Tuesday night.
Cory Schneider stopped 47 shots for his fifth straight victory as the Vancouver Canucks beat the Columbus Blue Jackets 4-1 on Tuesday night.
Tweet   Columbus Blue Jackets vs. Vancouver Canucks RECORDS - CBJ: 6-14-3 (Road: 1-7-2), VAN: 13-9-1 (Home: 5-3-1) WHEN: Nov. 29, 2011 - 10 p.m.   |   WHER...
Cory Schneider stopped a career-high 47 shots to help the Vancouver Canucks take a 4-1 victory over the Columbus Blue Jackets.
Roberto Luongo made 43 saves as the Vancouver Canucks held on to take a 3-2 victory over the San Jose Sharks.
It seems unlikely that Roberto Luongo will go down in history as hockey's version of Wally Pipp, but backup Cory Schneider is not giving Vancouver Canucks coach Alain Vigneault any reason to go back to his No. 1 goaltender. Schneider, anticipated to make a seventh straight start, looks to lead the Canucks to their sixth win in a row Thursday night against the struggling Nashville...
NHL News

Delivered to your inbox

You'll also receive Yardbarker's daily Top 10, featuring the best sports stories from around the web. Customize your newsletter to get articles on your favorite sports and teams. And the best part? It's free!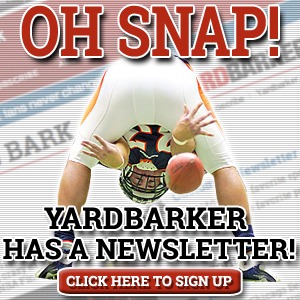 Latest Rumors
Best of Yardbarker

Today's Best Stuff

For Bloggers

Join the Yardbarker Network for more promotion, traffic, and money.

Company Info

Help

What is Yardbarker?

Yardbarker is the largest network of sports blogs and pro athlete blogs on the web. This site is the hub of the Yardbarker Network, where our editors and algorithms curate the best sports content from our network and beyond.