Found April 03, 2013 on Rock the Red:
Fang Finger is a Nashville-based blogger for the website Fang Faction. Martin Erat is a skilled forward just past the prime of his career. The Czech Republican native is a great skater and has an excellent shot, when he decides to release the puck. Often in his career, Erat has been known to be a pass first, shoot second forward, which didn't help in the Predators' situation, but could do so in the nation's capital. Erat will be able to feed players like Alexander Ovechkin, Nicklas Backstrom, Troy Brouwer and Mike Ribeiro, who are capable of scoring a large amount of goals in a season. The 31 year old is an excellent skater and has good puck control. Erat is not a very physical forward, but can get rough if necessary. This season, he has played in 36 games posting 21 points (4 goals, 17 assists). "Marty should go in there and make the playoffs [for the team]," said General Manager David Poile. "That deal does it for them." Not too many people can give a scouting report on Mi...
Original Story:
http://www.rockthered.net/2013-articl...
THE BACKYARD
BEST OF MAXIM
RELATED ARTICLES
What are some positives and negatives of yesterday's big trade that sent Martin Erat to the Capitals?
Former teammates of Martin Erat react to yesterday's trade...
A year ago when the NHL's trade deadline passed, Nashville Predators general manager David Poile was treated like a triumphant hero, the winner of the league's annual sweepstakes. He acquired forwards Andrei Kostitsyn and Paul Gaustad. Earlier, he had traded for defenseman Hal Gill and persuaded forward Alex Radulov to return from Russia. This year, while Poile felt he...
Once upon a time, Capitals General Manager George McPhee was viewed, rightly I think, as cautious and shrewd each spring around trade deadline time. Never one to radically revamp his roster with wheeling and dealing then, McPhee in fact over the years has widely earned a reputation for perhaps being overly cautious, a bit too much of a deadline fence-sitter relative to his manager...
The Washington Capitals have acquired right wing Martin Erat and minor leaguer Michael Latta from the Nashville Predators for 2012 first-round draft pick Filip Forsberg. Erat leads the Predators with 17 assists and is tied for the first on the club with 21 points this season. He's played all 723 of his NHL games with Nashville, and ranks second in team history with 163 goals...
News broke just moments ago that Erat and Latta had been traded to Washington for Forsberg. Here is the release from Nashville's PR department: "Nashville Predators President of Hockey Operations/General Manager David Poile announced today that the club has acquired forward Filip Forsberg from the Washington Capitals in exchange for forwards Martin Erat and Michael Latta. Forsberg...
After a couple hours of waiting on pins and needles for an announcement, the Nashville Predators and Washington Capitals completed a trade before clock struck 2:00pm CT. Martin Erat and Michael Latta have been traded to the Capitals in exchange for Filip Forsberg. Filip Forsberg was a top prospect entering the 2012 NHL Entry Draft, but dropped to 11th overall, where the Capitals...
Washington Capitals Press Release ARLINGTON, Va. – The Washington Capitals have acquired forwards Martin Erat (mahr-TIHN EE-rat) and Michael Latta (MIGH-kuhl LA-tuh) from the Nashville Predators in exchange for forward Filip Forsberg, vice president and general manager George McPhee announced today.   Erat, 31, has recorded 21 points (four goals, 17 assists) and 26 penalty minutes [...]
Was this move worth its potential pitfalls? (Flickr) Wednesday afternoon, as 3 PM and the NHL's trade deadline came and went, it initially appeared that the Washington Capitals had stood pat on deadline day for the second year in a row.  Soon after, there were rumblings that the Capitals had made a big deal.  The rumblings grew louder until they were confirmed, but nobody...
((HT: Sportsnet)) Martin Erat requested a trade out of Nashville and got it... Jason Pominville was moved out of Buffalo to Minnesota to improve them... Ben Bishop was moved from Ottawa to Tampa... Marian Gaborik waived his no-trade to go from the Rangers to Columbus... And those were the highlights of the day as it picked up steam after lunchtime... but the biggest event...
The 2013 NHL trade deadline is officially in the books. While we all expected trades to be rather hard to come by due to the shortened season and the crowded playoff picture, we were treated to a wealth of activity not only in the days leading up to the deadline but on deadline day itself. The dust is still settling on many transactions, but it's never too early to try and...
Another goal from Mike Green helped the Caps continue their surge. (AP) The Washington Capitals kicked off the Martin Erat era on a high note Thursday, beating the New York Islanders for the first time all season by a final score of 2-1 in a shootout.  After Mike Green scored his fifth goal in four games to put the Capitals on top very late in the opening frame, the following...
NHL News

Delivered to your inbox

You'll also receive Yardbarker's daily Top 10, featuring the best sports stories from around the web. Customize your newsletter to get articles on your favorite sports and teams. And the best part? It's free!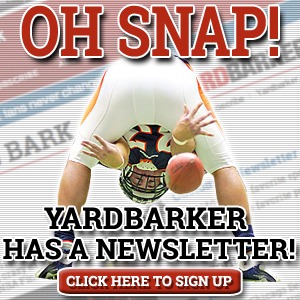 Latest Rumors
Best of Yardbarker

Today's Best Stuff

For Bloggers

Join the Yardbarker Network for more promotion, traffic, and money.

Company Info

Help

What is Yardbarker?

Yardbarker is the largest network of sports blogs and pro athlete blogs on the web. This site is the hub of the Yardbarker Network, where our editors and algorithms curate the best sports content from our network and beyond.