Found November 16, 2011 on NESN.com:
The Bruins have won six in a row, but they wouldn't be the big, bad Bruins if there wasn't a little roughhousing involved. After Buffalo goaltender Ryan Miller took exception to a hit by Milan Lucic, the NHL was abuzz with discussions of whether hitting on goalies should be allowed, where goalies should be allowed to venture and what further discipline, if any, Lucic should receive. (The NHL ruled Lucic had no intent to injure Miller.) More important than that storyline, though, is the fact that Boston is now just four points out of first place in the Northeast Division....
Original Story:
http://www.nesn.com/2011/11/send-andy...
THE BACKYARD
BEST OF MAXIM
RELATED ARTICLES
WILMINGTON--Milan Lucic should be having his hearing right now with NHL disciplinarian Brendan Shanahan and, after this morning's practice, he continued to defend himself in the aftermath of his collision with Buffalo Sabre goalie Ryan Miller on Saturday night. Miller came ...
It's official. No suspension or fine for Milan Lucic for his love tap on Ryan Miller.Per NHL.com:"I had the hearing because I did make an initial assessment of the play as I do with all plays, but I did have some questions for Milan and I wanted to hear directly from him," Shanahan told NHL.com. "They were regarding his intent; at what point did he know there was...
Milan Lucic will be in the lineup tonight when the Bruins host the New Jersey Devils at the Garden looking for...
Brendan Shanahan says he isn't presiding over a league where goalies have to worry about getting hit, and think it's ''irresponsible'' for the Buffalo Sabres to suggest otherwise. The NHL's new disciplinarian reacted strongly to complaints from the Sabres on Monday after he elected not to suspend Bruins forward Milan Lucic for his collision with Buffalo...
The Vancouver Canucks were more than willing to talk about the Brendan Shanahan's decision not to suspend Bruins winger Milan Lucic on Monday. Perhaps somewhat unsurprisingly, one of the most outspoken Canucks was Alex Burrows. The Canucks were asked about the decision on Monday, and the general consensus was that Shanahan probably should have come down harder on Lucic following...
WILMINGTON - Milan Lucic, the bruising Bruins forward, avoided any league sanctions for his hit on Sabres goaltender Ryan Miller in Saturday night's 6-2 victory at TD Garden after NHL disciplinarian Brendan Shanahan ruled that Lucic did not merit any supplemental punishment. Lucic drew a minor penalty for charging after his hit on Miller at 13:12 of the first period.
The NHL has ruled that Boston Bruins forward Milan Lucic will not be suspended for his collision with Buffalo Sabres goaltender Ryan Miller during the Bruins' 6-2 win on Saturday at TD Garden.
It's a Monday edition of Marek Vs. Wyshynski (Episode 1), and we're chatting about the following and much more: Special Guest Star: Puck Daddy Radio favorite Bobby Holik! The Milan Lucic hit on Ryan Miller, which concussed the goalie and sparked a debate about the Sabres' response. The Hockey Hall of Fame Class of 2011. Question of the Day: Rank the HOF Class of 2011...
Around the world of hockey, the reaction to Brendan Shanahan's decision to let Milan Lucic off is mostly surprise. Stu Hackel says Shanahan's and Lucic's explanations don't hold up.
Many N.H.L. general managers criticized Brendan Shanahan's ruling on Boston's Milan Lucic, whose hit on Buffalo goalie Ryan Miller resulted in a concussion.
I was waiting on Brendan Shanahan's decision regarding Milan Lucic's hit on Ryan Miller before positng the game blog today – because the outcome of that teleconference may have a huge impact on what type of Sabres team the Canadiens see tonight. Montreal could be in for a seriously difficult game against a very motivated club who feels as though they've been unfairly criticized...
No matter what the NHL decided to do with Milan Lucic after his run at Ryan Miller — and the League decided not to suspend the Boston Bruins forward on Monday afternoon — there were going to be aftershocks for both the Boston Bruins and the Buffalo Sabres. The first shot was fired before Lucic's decision was rendered via Sabres Coach Lindy Ruff, who said after Buffalo'...
Bruins News

Delivered to your inbox

You'll also receive Yardbarker's daily Top 10, featuring the best sports stories from around the web. Customize your newsletter to get articles on your favorite sports and teams. And the best part? It's free!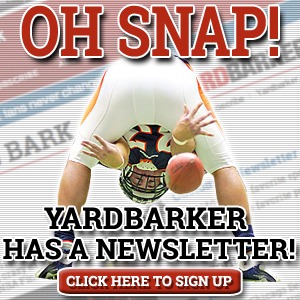 Latest Rumors
Best of Yardbarker

Today's Best Stuff

For Bloggers

Join the Yardbarker Network for more promotion, traffic, and money.

Company Info

Help

What is Yardbarker?

Yardbarker is the largest network of sports blogs and pro athlete blogs on the web. This site is the hub of the Yardbarker Network, where our editors and algorithms curate the best sports content from our network and beyond.