Found April 13, 2012 on Fox Sports Midwest:
ST. LOUIS Their screams began behind closed doors, deep in the Scottrade Center after a crucial road victory. Not far away, a stunned crowd filed to the exits, silenced after winger Martin Havlat gave the San Jose Sharks reason to celebrate a statement triumph in their cramped locker room. Before their 3-2 double-overtime victory Thursday, not much had gone right for the Sharks against the Blues over the past six months. St. Louis had swept the four-game regular-season series, outscoring them 11-3. San Jose had struggled to assert itself against one of the NHL's biggest surprises, a team that finished a stellar 30-6-5 at home. Some figured Game 1 of the Western Conference quarterfinals would reveal more of the same. Then Havlat's shot streaked past Jaroslav Halak, clinching his second goal of the game, and the series dynamic changed. Suddenly, the second-seeded Blues were given doubt. Is St. Louis, making its first postseason appearance since 2009, prepared for playoff pressure? Is seventh-seeded San Jose, making its 13th postseason appearance in 14 years, prepared to show how much the Blues must learn about this time of year? Answers will come, but each team's focus shifted Thursday as the Sharks' postgame outlook evolved from pleasure to poise. Now, San Jose turns its attention from trying to steal one game at the Scottrade Center to taking two. Now, St. Louis must view Saturday's contest as critical to its goal of winning a playoffs series for the first time since 2002. "In any series, it's important to get an early one," Sharks coach Todd McLellan said. "Starting on the road, not many of you experts are picking us to win. So it's certainly good to sneak one out here." But San Jose did more than sneak out of the Scottrade Center. The Sharks strutted off the ice after a fast and physical game that showed how little separates the teams. Goalie Antti Niemi had 40 saves to best Halak's 31. The Sharks rallied after surrendering two third-period goals to center Patrik Berglund. In the process, they showed they could swing back in a raucous setting after wavering late. "Once you get in (the playoffs), anybody can beat anybody," Havlat said. "We lost four games (against St. Louis), but it was in the regular season. We have a confident group here. I'm just trying my best to help my team, and I think everyone else is trying to do the same." History can be San Jose's motivation in this series. The Sharks are all too familiar with postseason heartbreak, so perhaps souring the Blues' run would provide them with special satisfaction. After all, their recent playoff near-misses are a wrenching trend: San Jose has lost in the Western Conference finals in each of the past two seasons, in addition to bowing out in the Western Conference semifinals in three of the past six. But the Sharks have gained postseason wisdom with those scars. That's knowledge most on the Blues' bench don't have, and that's something San Jose can exploit moving forward. There were major questions about how St. Louis' 1-4 regular-season finish would affect coach Ken Hitchcock's team going into the playoffs. Throughout the week, the Blues talked about leaning on grizzled postseason veterans such as defenseman Kent Huskins, winger Jamie Langenbrunner and centers Jason Arnott and Scott Nichol to provide leadership. The Blues also spoke about relying on a disciplined style of play that made a turnaround under Hitchcock possible. They spoke about embracing the moment and not letting the demanding stage overwhelm them. Yes, the Blues played well enough to win a playoff game for the first time since 2004. Halak, as expected, was strong. But the Sharks' victory sent a message that regular-season dominance doesn't always translate to the playoffs, especially when the margin between triumph and defeat is so small on any given night. San Jose proved it is ready for a fight. "I will take it hard tonight and get ready tomorrow and come back with a better effort," Hitchcock said. "It's one game. It was a heck of a hockey game probably the best game of the playoffs so far. Two good teams going at it. That's the playoffs." That's what the Sharks know all too well. And that's what the Blues are only beginning to discover. St. Louis mastered San Jose in the regular season, but the Sharks' postseason grit was the difference Thursday. As a result, San Jose earned a valuable road victory. There is much to be learned about both teams in the coming days. But after Game 1, the Blues must move on with more doubt.
Original Story:
http://www.foxsportsmidwest.com/04/13...
THE BACKYARD
BEST OF MAXIM
RELATED ARTICLES
ST. LOUIS The question was common this week, and goalie Jaroslav Halak turned to the crowd after practice to explain how the St. Louis Blues have faith in their chance to advance despite playoff inexperience. The past doesnt matter, he said without emotion to the cameras and microphones nearby. Hockey can be an unforgiving game, but it rewards teams that stay true to an approach...
ST. LOUIS (AP) -- Martin Havlat scored his second goal of the game 3:34 into the second overtime, giving the San Jose Sharks a 3-2 victory over the St. Louis Blues in Game 1 of their playoff series Thursday night. Andrew Desjardins tied it for San Jose with 5:16 in regulation, banging in a one-timer from the slot from Tommy Wingels, and Dan Boyle had two assists. Antti Niemmi made...
ST. LOUIS Playing in his first career playoff game, Blues defenseman Kevin Shattenkirk played 33:06, had a team-high 11 shots on goal, blocked four shots and assisted on the game-tying goal early in the third period. But following a tough 3-2 double overtime loss to the San Jose Sharks at Scottrade Center Thursday night in Game 1 of the Western Conference Quarterfinals, the 23...
ST. LOUIS (AP) -- Jaroslav Halak will start in goal for the St. Louis Blues in their playoff opener against the San Jose Sharks on Thursday night. Coach Ken Hitchcock announced his decision Wednesday. Goaltender Brian Elliott is nursing an unspecified upper-body injury and he didn't practice. Elliott led the NHL with a 1.56 goals-against average and nine shutouts. Halak wasn...
Martin Havlat scored his second goal of the game 3:34 into the second overtime as the visiting San Jose Sharks captured the opener of their Western Conference quarterfinal series with a 3-2 victory over the St. Louis Blues. Andrew Desjardins also tallied, Ryane Clowe and defenseman Dan Boyle each notched two assists and Antti Niemi made 40 saves for the Sharks, who lost all four...
Martin Havlat scored his second goal of the game 3:34 into the second overtime, giving the San Jose Sharks a 3-2 victory over the St. Louis Blues in Game 1 of their playoff series Thursday night. Andrew Desjardins tied it for San Jose with 5:16 in regulation, banging in a one-timer from the slot from Tommy Wingels, and Dan Boyle had two assists. Antti Niemmi, who won a Stanley Cup...
The first round of Game One's are now said and done, and already we have seen three incredible overtime games. After Philadelphia's comeback thriller Wednesday night, it was pretty clear that this year's NHL Playoffs were set to be just a little more exciting than usual. And after Thurday night's round of games, we know that for a fact. Here are the recaps from the...
Nearly a month has past since the St. Louis Blues were the first team in the NHL to qualify for the playoffs. In the days between then and now there has been enough discussion regarding the first such event in three years around the city that even the most casual of local hockey fans know what's going on. If the blue, not red, color of the fountain at Kiener Plaza and the...
        Thunder and lightening ripped through Northern California just about the time Double Overtime began in this incredible battle of wills and determination Thursday night. This was no ordinary hockey match. But when are the Playoffs ever ordinary? Those who tried to say that the Sharks would fall easily because St Louis beat them in 4 out of 4 games during regular season...
WHOOOOOOOOOOOOOOOOOOOOOOOOOOOOOOOOOO what a game THAT was! Whoever made this gif is a genius. Double OT for game one? A comeback tie with less than 6 minutes left in the third? A 1st OT period that the Sharks survived ONLY because of Niemi? A win over the Blues in their barn? What a ride!Teams should hand out oxygen tanks for the playoffs so we can all keep breathing during the...
Ken Hitchcock's big decision decided itself. It was no surprise when the St. Louis Blues coach announced Jaroslav Halak would start in goal in the playoff opener against the San Jose Sharks. After all, his other option, Brian Elliott, didn't practice because of an unspecified upper-body injury sustained about a week ago. ''Oh yeah, it's a big decision before...
There are a lot of questions that will be soon be answered about the San Jose Sharks when they face-off against the St. Louis Blues in the first round of the 2012 Stanley Cup playoffs. Will they be a one series and out team, if they are does GM Wilson continue to tweak the Sharks or is a major overhaul in order. Or is GM Wilson still around to make decisions and if he is let...
NHL News

Delivered to your inbox

You'll also receive Yardbarker's daily Top 10, featuring the best sports stories from around the web. Customize your newsletter to get articles on your favorite sports and teams. And the best part? It's free!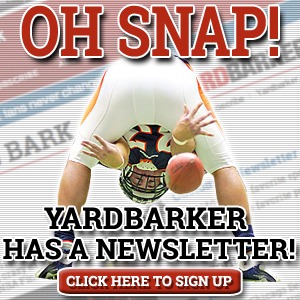 Latest Rumors
The Backyard

Today's Best Stuff

For Bloggers

Join the Yardbarker Network for more promotion, traffic, and money.

Company Info

Help

What is Yardbarker?

Yardbarker is the largest network of sports blogs and pro athlete blogs on the web. This site is the hub of the Yardbarker Network, where our editors and algorithms curate the best sports content from our network and beyond.