Found January 31, 2013 on Boston Sports Then & Now:
PLAYERS:
Tuukka Rask
,
Tim Thomas
,
Tyler Seguin
,
Nathan Horton
,
Chris Kelly
,
Rich Peverley
,
Benoit Pouliot
,
Brian Rolston
,
Jordan Caron
,
Zach Hamill
,
Chris Bourque
,
Marc Savard
,
Dougie Hamilton
,
Phil Kessel
,
Claude Julien
TEAMS:
Boston Bruins
,
Tampa Bay Lightning
,
Washington Capitals
,
Toronto Maple Leafs
Bruins goaltender #40 Tuukka Rask has been outstanding in the #1 role this season The Boston Bruins have gotten off to an excellent start in the lockout shortened 2012/13 season. Having only lost one game in overtime and none in regulation; the B's have been performing at level similar to that of their Stanley Cup run in 2011. Here are six thoughts in reference to their start to the season both positive and negative. Tuukka Time: Tuukka Rask's tenure in Boston has been somewhat of a roller coaster. He won the job from Vezina winner Tim Thomas in 2010 and promptly lost the job the following season due to a historic season from Thomas. Last season wasn't much better for Rask despite having pretty good numbers with a .929 save percentage, a 2.05 goal against average, and a line of 11-8-3 with three shutouts. The Bruins failed to get him any support on the scoreboard in just about his every start. His season was also ruined when the team needed him most, as he suffered a season ending injury when it was expected that he would play the majority of the games down the stretch to rest Thomas. Now that "Tank" has decided he needs to spend more time with the three F's; Rask finally has the number one spot all to himself and so far, he has not disappointed in the early going. In just five games the young Finn has a line of 4-0-1 with a stellar .932 save percentage and 1.74 goals against. Rask has been so good this season that he has the Bruins and the fans asking "Thomas who?" If Rask continues to play at the level he has so far, he may have a shot at a Vezina and possibly a Stanley Cup at the end of the season. Seguin Underwhelming: After torching the score sheets in the Swiss league during the lockout, the expectation for Seguin was that he would walk onto the Bruins and immediately start leading the team in just about every offensive category. Why wouldn't the fans expect this? Seguin scored 25 goals, 15 assists, and a minus 4 in 29 games. He finally began to look like he was ready to reach his potential as a franchise center after his major improvements the season prior. Maybe the expectations for him were unfair given the differences in play styles between the European leagues and the NHL. Euro leagues emphasize skill set, skating, and have larger rinks. The North American game has smaller rinks, and is focused more on a tight checking/hard hitting game. In all honesty, Seguin really hasn't been that bad. In fact he has been pretty solid through the first six games with 1 goal, 2 assists, and a plus 4. My biggest criticism of Seguin so far is his failure to take control of the powerplay and make it his own. This is something the Bruins maligned extra-man unit has desperately needed. It is clear that Seguin is still transitioning to the smaller NHL rinks after being able to put on a skating exhibition in the Euro leagues. Fortunately the B's haven't needed him to become the offensive superstar he is expected to be, but they will eventually and when that time comes, Tyler Seguin will need to be better. First Line Excellence: Which line is the Bruins' first line? Is it the Lucic-Krejci-Horton line? Or is it the Marchand-Bergeron-Seguin line? This question has probably divided many people who watch the B's on a regular basis. I myself consider Bergeron's line to be the first line, but the Bruins as a team have so much balance that it is really detrimental to the big picture to label these units as such. So far this season the line that has really grabbed the top billing in both my eyes and surely those around me, is the Krejci line. This line was questioned more so than any other heading into the season. Is Horton going to be good to go? Is Lucic out of shape? Is Krejci going to be a Bruin by season's end? These questions were rampant leading up to the season opener. Bruins forward #18 Nathan Horton has returned to the NHL in full force this season after suffering two concussions the season prior Now that the first six games of the season have been played, it is pretty clear that these questions are all but a memory. The Krejci line has been absolutely excellent so far and they don't show any signs of slowing down. Krejci is performing at a point per game pace with 1 goal, 5 assists, and a plus 5. Lucic has all but shut up anyone who has questioned his fitness with 2 goals, 2 assists, and a plus 5. Perhaps the best part of this line is Nathan Horton's performance so far after suffering multiple concussions in the last year. Horton has 3 goals, 2 assists, and a plus 4 so far. Two of his goals have been of his usual clutch variety, helping the Bruins get a point in New York, and against New Jersey late in the game. This line has been just what the Bruins needed so far. If they can keep it up, the Bruins are more than capable of making another cup run. Third Line Struggling: The Bruins third line was arguably the best in the NHL last season. Chris Kelly had a career year last season with 20 goals, 19 assists, and a plus 33. Rich Peverley was on pace for a career year too, had it not been for an injury sustained towards the end of the season. Pevs had 11 goals, 31 assists, and a plus 20 in 57 games. He was on pace for 60 points. The departure of Benoit Pouliot to Tampa Bay left a hole on the line's wing. This left the Bruins with an opening on the third line wing and a question as to who was going to fill it. The B's weren't without their options. They could have brought back Brian Rolston who played like he was ten years younger after being acquired by Boston at the deadline last season. Another option was Jordan Caron who has had his fair share on stints with the big club. The Bruins eventually traded former first round pick Zach Hamill to the Washington Capitals in exchange for Chris Bourque, son of former Bruins legend Ray Bourque, and he won the third line wing spot out of training camp. The name Bourque comes with expectations in Boston, as it should. Unfortunately Bourque has failed to make an impact in the NHL so far. He has headlined a third line's mediocrity with no points through 6 games and a negative 4. Bourque has had a difficult time in his stints in the NHL and it looks as if that may continue with the Bruins. I am not giving up on him by any means, but he needs to be better if he wants to belong. Kelly and Peverley have been equally underwhelming so far as both have combined for only two assists and a negative 7. The line itself is a negative 11 through 6 games. The Bruins rely on balance throughout the lineup to succeed. The third line has failed to do so far and could see some changes if it doesn't pick it up. Penalty Kill Great, Powerplay Not So Much: The Bruins penalty kill is the very best in the NHL so far this season. They are operating at a 96.4% success rate, having only allowed one powerplay goal in the first 6 games. The unit itself is being more aggressive against opposing powerplay units and the results are good. To be honest though, I only planned on talking about the penalty kill for a moment. The real problem here, as it was last season and the season before that, is the powerplay unit. Remember when the B's powerplay was one of the best in the NHL? Marc Savard turned our unit into one of the most feared special teams units in the game. Now that Savard's career is all but over, the powerplay is still struggling to find its identity. Bruins defenseman #27 Dougie Hamilton has delivered so far this season and is meeting his high expectations As I mentioned above, Seguin really needs to take control of this unit. Too often do you see the Bruins standing around and barely moving around when on the powerplay. For a team that spent their short training camp working on the PP, it has looked like the time spent was somewhat unsuccessful. The Bruins have scored 3 powerplay goals out of 24 opportunities, one of which was a Tyler Seguin empty netter. Maybe as Seguin continues to feel more comfortable in his transition from Europe, the powerplay will benefit. Right now the Bruins are winning without it. They won a Stanley Cup without one. I just like to sit back and think about how incredible they could be if they played the way they do and had an above average powerplay. Hamilton Has Arrived: The much anticipated arrival of Dougie Hamilton in Boston has been talked about since the Bruins got knocked out of the playoffs by the Washington Capitals last year. Dougie was drafted by the Boston Bruins in 2011 as the final piece of the Phil Kessel trade and was a major steal for them at the #9 spot. The young defense brings it all to the table with a high end hockey IQ, great vision, excellent positioning and stick position, strong offensive talents, and a booming shot. The OHL's top defenseman in 2011/12, Hamilton was considered by many to be the best defenseman not playing in the NHL. It is very rare for Bruins coach Claude Julien to have such high praise for rookies, but he has nothing but good things to say about Hamilton. He even used the word "outstanding" to describe Dougie, which is pretty huge considering Julien's usual level headed demeanor in coaching rookies. Hamilton has 4 assists in the Bruins' first six games and looks like he has the potential to eclipse Tyler Seguin's rookie season point totals in a lockout shortened season. Some are even throwing his name around for the Calder Trophy as league's top rookie, though I admittedly have St. Louis' Tarasenko winning it myself. Maybe we are seeing the rookie season of the next great Bruins' defenseman. Whatever the case, the Bruins have the real deal in the young defenseman and they sky is the limit for him. You can follow me on twitter here for all Bruins news and notes: Mattjacob64
Original Story:
http://boston.sportsthenandnow.com/20...
THE BACKYARD
BEST OF MAXIM
RELATED ARTICLES
With the (at least temporary) departure of Tim Thomas, Tuukka Rask is making the most of his opportunity to prove he's a true No. 1 goaltender. The netminder has started five of the Bruins' first six games this season and has yet to lose, compiling a 4-0-1 record and a very impressive .932 save percentage in the process. Of course, given the Bruins' tight defensive system,...
BOSTON — The Bruins are a defensive team with a defensive-minded coach who has instituted a system rooted in playing defensive hockey. If you watched the Bruins play the Sabres on Thursday night, though, you would think those statements are nothing more than bold-faced lies. The B's had by far their worst showing of the year Thursday in a 7-4 loss to Buffalo. It was an uncharacteristically...
Tyler Seguin scored two shootout goals in Boston's 2-1 victory over New Jersey. Unfortunately for Seguin, only one actually counted as the first was waved off after a fan tossed a piece of debris on the ice as he was shooting. While the trash didn't appear to interfere with the play, Seguin had to take his shot over again. He buried it - again - much to the delight of the...
    A.B. As a dog lover I truly believe they are man's best friend. Dogs are loyal and loving and are happy to see you every time you come home. That being said, dogs can also be bastards. Sometimes they rip apart your couch, sometimes they eat their own poop and sometimes they just won't leave you alone. But Tyler Seguin's brown lab has taken being a "bad dog' to...
BOSTON — The anticipation and the build-up leading into Thursday night's Bruins-Sabres game was undeniable. Much of that surrounded the possibility of some hand-to-hand combat between two increasingly bitter rivals. However, not much came of that, aside from one quick first-period scrap that might leave the Bruins without one of their toughest players moving forward. Shawn Thornton...
Tyler Seguin turned 21 on Thursday, and he celebrated by playing against the Buffalo Sabres. He also celebrated with 200,000 or so of his closest friends on Twitter, with hundreds and hundreds of fans sending along well-wishes and the occasional marriage proposal. NESN Nation's Dan Duquette dove into the Bruins forward's mentions to find some of the best. Check it out in the...
  It's been a while since Ace Reporter and DOY GM has made a public appearance. He took an extended vacation during the NHL Lockout and barely gave us the keys to DOY HQ for work. But he's back in town and just in time. Last night some asshat threw debris on the ice during Tyler Seguin's shootout attempt. The reffs ruled that Seguin had to do it again. Luckily...
It seems as if each time the Boston Bruins face the Buffalo Sabres the rivalry between the two teams intensifies. In case you've forgotten what brought the rivalry to a boil back in 2011, here's a video reminder of the Milan Lucic hit on Ryan Miller. The two clubs still have plenty of anger brewing in 2013. When they squared off on the final day of January, the Sabres...
The Boston Bruins knew they weren't going to earn a point in all 48 games this season, though the fashion in which their streak ended was a bit discouraging. That's quite the opposite feeling they had after each meeting with the Toronto Maple Leafs last season. Boston heads to Toronto looking to get back to its winning ways with a seventh consecutive victory in this series...
Awful. Just awful. We didn't expect the Bruins to go undefeated obviously but damn that was awful. If the Maple Leafs scouts only saw that game, not even they would trade for any of the Bruins defense. That game was the worst thing I've watched since Pearl Harbor. By comparison, Pearl Harbor is one of the greatest films of our time. I am too mad at the Bruins defense to even...
"Yeah, [Lindy Ruff] wants to be a big shot, and that's not the best play to do.  That's pretty disrespectful.  If he wants to be like that, that's fine. We just have to move on." - Brad Marchand, after Ruff called a timeout with 14 seconds left in last night's 7-4 Buffalo win over Boston. I don't know about you, but I'm certainly relieved.  It's good...
Despite never leading and playing the second of back-to-back games against a rested opponent, the Bruins squeaked out a shootout win over the Devils behind 25 saves by Tuukka Rask.  The Bruins appeared to be on the verge of being shutout until Nathan Horton tied the game with 4:05 left in the third period. The Devils got on the board in the second period on a David Clarkson power...
NHL News

Delivered to your inbox

You'll also receive Yardbarker's daily Top 10, featuring the best sports stories from around the web. Customize your newsletter to get articles on your favorite sports and teams. And the best part? It's free!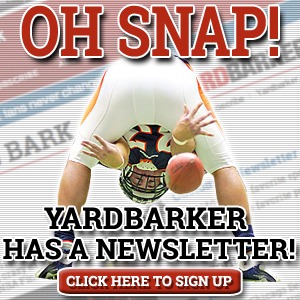 Latest Rumors
The Backyard

Today's Best Stuff

For Bloggers

Join the Yardbarker Network for more promotion, traffic, and money.

Company Info

Help

What is Yardbarker?

Yardbarker is the largest network of sports blogs and pro athlete blogs on the web. This site is the hub of the Yardbarker Network, where our editors and algorithms curate the best sports content from our network and beyond.