Found November 15, 2012 on NorthWest Sports Beat:
The Headline Reads From Brian Burke "There is no deal in place for Roberto Luongo to become a Maple Leaf" Straight from the horses' mouth, or from the bottom of a bottle of fine scotch, Leafs GM and hater of fancy stats, Brian Burke has refuted claims that there is a deal in place that would see current Canucks goalie Roberto Luongo head to the Toronto Maple Leafs once the lockout ends. Burke joined Hockey Central to discuss the Toronto Marlies season and was asked about a potential trade between the Canucks and the Leafs. Burke said of the rumors: "Mike Gillis and I may disagree from time to time, but we definitely agree on this thing." So there you have it. Luongo isn't going to Toronto…yet. Of course with the lockout the Leafs' GM can't come out and say "Yeah, we've been talking all summer, well into the fall and now approaching the winter months, we had a fantastic time at Mike's cottage and it was there we wrote a 22 song double album and agreed to a deal in principle once this lockout ends." By this point everyone knows that Roberto Luongo will be traded once the lockout ends and things return to normal. By this point everyone knows that Roberto Luongo will be traded However, what isn't known is where he will call home for the shortened 2012-13 season, should there be one. Throughout the summer speculation has been that Luongo would be traded back to Florida and his own words "it would be an ideal situation". However, Luongo also acknowledged that being traded back to Florida might not happen be a possibility. Toronto, being the center of the hockey universe was also amongst the teams speculated to be involved in acquiring the services of the Canucks all-time leader in everything goalie related. At one point there was an offer of Luke Schenn straight across for Luongo. The Canucks didn't bite and Schenn was traded to the Flyers for James van Riemsdyk. As the summer ended and we were thrown head first into this lockout the talks died down somewhat. That was until John Shannon of Sportsnet blurted out on Hockey Central that the next time Roberto Luongo played in the NHL it would be for the Toronto Maple Leafs. Shannon is quoted as saying:  "I do not know who or what he will be traded for, and believe it or not, I don't think general managers Mike Gillis and Brian Burke know either. The rules of any new collective bargaining agreement will dictate the actual transaction." So, if Gillis doesn't know and Burke doesn't know…how does John Shannon? Maybe he has a time machine, which in case he does and he's reading this; hey John, why don't you go forward in time and google "how the third NHL lockout ended". Either way, it made for an interesting few days of Twitter speculation. Right now I'm of the mind that Luongo will probably be traded to Toronto. It makes a lot of sense, however I don't know what the deal would be for. I know who'd I'd like to see come back, but we'll see what happens. It's lockouts and slow news days like this that take one simple quote and turn it into a 541 word piece. CLICK HERE TO CHECK OUT THE CANUCKS CLUBHOUSE TODAY AT NWSPORTSBEAT!
Original Story:
http://www.nwsportsbeat.com/canucks/v...
THE BACKYARD
BEST OF MAXIM
RELATED ARTICLES
The Best In another cold week without NHL hockey fans were able to celebrate something special as four legends of the game were inducted into the Hockey Hall of Fame. Adam Oates, Mats Sundin, Joe Sakic and Pavel Bure were all immortalized in the hall this past week, recognizing the careers of four special players who dazzled fans with their sublime skill sets. It was a reminder of...
By Tony Ambrogio (@SNTonyAmbrogio) As Mats Sundin wrapped up his Hall of Fame induction speech, he looked up into the crowd and said to Maple Leafs fans everywhere, "I will never forget what you have given me." It was typical Sundin. In his first year of eligibility, Mats Sundin joined Pavel Bure, Adam Oates and Joe Sakic into the NHL Hall of Fame. "I dedicate my induction...
NHL HOF 2012 Inductees: Mats Sundin, Joe Sakic, Adam Oates and Pavel Bure The Hockey Hall of Fame Induction ceremony went off swimmingly, except for the time maybe when Mats Sundin pronounced Elmer Lach's name "Latch," and Patrick Roy took a swipe at the Canadiens, saying they decided to trade him, which only sort of happened after Roy told Ronald Corey he'd never play another...
It's been a while since I've written about the NHL lockout. Almost two months in fact. But in case our loyal readership is wondering, yes, I'm keeping a close eye on the proceedings. And I'm feeling positive. Lets skip the whole outrage thing. Everyone's mad that there's no hockey and so am I. Lets just get down to the nuts and bolts as to where we stand. Here's a quick...
NHL News

Delivered to your inbox

You'll also receive Yardbarker's daily Top 10, featuring the best sports stories from around the web. Customize your newsletter to get articles on your favorite sports and teams. And the best part? It's free!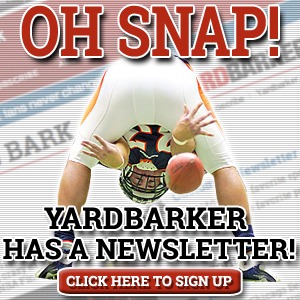 Latest Rumors
Best of Yardbarker

Today's Best Stuff

For Bloggers

Join the Yardbarker Network for more promotion, traffic, and money.

Company Info

Help

What is Yardbarker?

Yardbarker is the largest network of sports blogs and pro athlete blogs on the web. This site is the hub of the Yardbarker Network, where our editors and algorithms curate the best sports content from our network and beyond.