Found March 01, 2012 on Fox Sports:
PLAYERS:
Bryan Allen
,
Jaroslav Spacek
,
Jim Rutherford
,
Jeff Skinner
,
Eric Staal
,
Dale Tallon
,
Jerred Smithson
,
Wojtek Wolski
,
Steve Downie
,
Kyle Quincey
,
Dominic Moore
,
Pavel Kubina
,
Mike Commodore
,
Matt Gilroy
,
Brian Lee
,
Keith Aulie
,
Carter Ashton
,
Steve Yzerman
,
Brett Connolly
,
George Mcphee
,
Evander Kane
,
Andrew Ladd
,
Grant Clitsome
TEAMS:
Carolina Hurricanes
,
Florida Panthers
,
Nashville Predators
,
New York Rangers
,
Colorado Avalanche
,
Detroit Red Wings
,
Tampa Bay Lightning
,
Philadelphia Flyers
,
Toronto Maple Leafs
,
Washington Capitals
,
Winnipeg Jets
,
New York Jets
,
Columbus Blue Jackets
Carolina Hurricanes: Push The majority of the Southeast teams stood pat on trade deadline day, and the Hurricanes were no exception. Carolina has all but been eliminated from the postseason, and so many expected the Hurricanes to be sellers, with Bryan Allen and Jaroslav Spacek named as possible trade targets. But both Allen and Spacek remain Hurricanes -- for now. The 'Canes are 5-1-4 in their past 10 games, and GM Jim Rutherford is happy with the way his team is progressing under new head coach Kirk Muller. Though Rutherford might have liked to add a top-six forward, he indicated asking prices were too high, and he was not willing to part with someone like Jeff Skinner (and rightly so). But Rutherford hinted that the Hurricanes may be signing that top-six forward as soon as free agency opens this summer. "We need another top-flight forward to play with Eric Staal," Rutherford said. "If we can maintain what we have now and add that player, then we're getting real close to being a real good team again." Florida Panthers: Push The Panthers were buyers Monday, but ended up coming home with nothing after no deals panned out for general manager Dale Tallon. "We made a lot of phone calls," Tallon said. "We had identified what we wanted to add to our lineup and we were unable to get exactly what we wanted to get without mortgaging our future." Like the Hurricanes, the Panthers also were in the hunt for a top-six forward, but the limited market meant that no deal could be reached. Last week the Panthers added a tough center in Jerred Smithson from Nashville and also dealt with the New York Rangers for winger Wojtek Wolski, and Tallon was just glad those deals were done early. "Those moves probably would have cost us a lot more today to do," Tallon said. "Overall, I'm satisfied with the team we have. We have tremendous depth now. We improved our team a few days ago and we're going to get healthier as we move on the next couple of weeks." Tampa Bay Lightning: Winners Of all the teams in the Southeast, the Lightning did the most Monday, not including the handful of big moves they made in the few weeks prior to the deadline, accumulating a few picks and prospects for Steve Downie, Kyle Quincey, Dominic Moore and Pavel Kubina. With those moves made for the future, the Lightning's trade deadline deals were made with the present in mind. To solve their thin depth at defenseman, particularly with their injuries, the Bolts first acquired veteran Mike Commodore from Detroit for a conditional seventh-round pick. Then they swapped defensemen with Ottawa, sending 27-year-old Matt Gilroy to the Senators for 24-year-old Brian Lee. Arguably the biggest deal for the Bolts was one that brought defenseman Keith Aulie to Tampa, but for a big price -- Carter Ashton, arguably the Bolts' highest-ranked prospect, was sent to Toronto. Ashton has been having a very good year in the AHL in his first pro season. General manager Steve Yzerman was not happy to give up Ashton, but felt confident that his young forwards would be able to fill the void. "With some of the forwards that we have and with players like Brett Connolly playing well, (we felt) that we could afford to trade one forward for a defenseman," Yzerman said. Washington Capitals: Push Though the Capitals were expected to make a move for a desperately-needed second-line center on deadline day, by the time the clock ran down Monday, the Caps stood pat. As many other teams indicated, prices may just have been way too high for any available players, and general manager George McPhee didn't want to make a trade just for the sake of making a deal. McPhee said he spoke with many clubs leading up to the deadline, but ultimately, didn't want to sacrifice players for a deal. "We weren't interested in moving anyone out of here, and we didn't. And we would have added something to the team if we thought it would make us better," McPhee said. "But it had to make us better. And what transpired today, really there wasn't anything there that would have been the right thing for our club." McPhee said that any teams interested in trading wanted to give the Caps picks or prospects for the Capitals' roster players, and with the Caps looking for that second-line center and other pieces to give them a playoff push, picks and prospects weren't what they needed. "We weren't going to make a mistake. We weren't going to make a bad deal," McPhee said. He was probably smart to refrain from any trades -- no deal is better than a bad deal. Winnipeg Jets: Losers The Jets are definitely in on the playoff hunt -- they held first place in the division for a few days last week, and the thing they needed most on trade deadline day to help them towards a playoff appearance was scoring. The Jets have just two players with more than 20 goals: Evander Kane and Andrew Ladd. However, what the Jets acquired at the deadline was two 2013 draft picks from Chicago for defenseman Johnny Oduya. The Jets did claim Grant Clitsome off waivers from Columbus, but as a defenseman, Clitsome doesn't address the need for scoring that Winnipeg has. But general manager Kevin Cheveldayoff would disagree that scoring was the most immediate need for Winnipeg, mentioning that building for the future and keeping what they have now were the primary targets at the deadline. "These guys here, they've played very, very well and very, very hard down the stretch," Cheveldayoff said. "I'd be lying if I said there wasn't more opportunity to maybe make some deals, but at the end of the day ... we certainly felt comfortable moving forward with the group of guys that we have." Regarding Clitsome, Cheveldayoff said, "We added a piece to our puzzle that we hope is going to help us now and in the future."
Original Story:
http://msn.foxsports.com/nhl/story/So...
THE BACKYARD
BEST OF MAXIM
RELATED ARTICLES
RALEIGH, N.C. --- The Carolina Hurricanes have some star power, and that's one of many reasons the franchise's brass is optimistic about the team's future. But they aren't the New York Rangers, which was painfully obvious Thursday night. The Rangers, the top team in the Eastern Conference, played big-time big-boy hockey in beating the Hurricanes 3-2 at the RBC...
"Progress" is a word that you will hear pundits say when referring to the Hurricanes for the rest of the year. A horrible start buried them from playoff contention and ever since Kirk Muller took over, the main thing we are looking for is effort and progress when it comes to the team's future. The effort has been there on most nights but progress was coming at a slow...
The Hurricanes losing streak to the Rangers continued tonight as they dropped their third game of the year to them tonight 3-2. Despite the shot count indicating that the Hurricanes were grossly outplayed, this game was actually pretty close for most of its duration. Still, the Rangers were unquestionably the stronger team tonight as the Hurricanes struggled to create a lot of good...
Carolina Hurricanes 4, Nashville Predators 3 RBC Center; Raleigh, North Carolina February 28, 2012 *** LEFTOVER THOUGHTS: * Newly acquired center Paul Gaustad was a healthy scratch due to a lingering injury. With three days off after Tuesday's game, he should be good to go Saturday against the Florida Panthers. * Part of the reason Gaustad was acquired was to take important face...
John Tortorella discusses his confidence in the current roster and how newly acquired John Scott can fit in with the team... For the players thoughts on playing the Carolina Hurricanes tonight, click the "Read More" tab below. Michael Del Zotto, Brandon Prust, Marc Staal, Brian Boyle and Mike Rupp are happy that the team's identity is back as Marc anticipates...
Game Preview ---> Tonight's Game AT The Rangers will face-off against the Carolina Hurricanes tonight at RBC Center (7:00 p.m.), to begin a back-to-back road set again...
New York Rangers (40-15-6) at Carolina Hurricanes (24-26-13)TV: MSGRBC Center 7 p.m. February is behind us and the Hurricanes certainly enjoyed themselves during that month going 6-1-4 and actually posting some respectable underlying numbers. Like I said in the scoring chance recap, the rebuilding process is going to be slow and steady and that's pretty much how it's been...
TONIGHT'S GAME: The Rangers will face-off against the Carolina Hurricanes tonight at RBC Center (7:00 p.m.; TV: MSG Network; Radio: 1050 ESPN Radio), to begin a back-to-back road set against Southeast Division opponents. The Blueshirts currently sit atop the Eastern Conference standings, and rank third in the league overall, with a record of 40-15-6 (86 [...]
The New York Rangers (40-15-6) visit the Carolina Hurricanes (24-26-14) at the RBC Center starting at 7:00 p.m. For a preview go to Yahoo! Sports. Rangers Game Notes TV: MSG; Radio: ESPN Radio 1050AM, XM 214Live Stream (Don't click on ads in stream, may download virus):http://www.firstrowsports...
Marc Staal's last meeting with the Carolina Hurricanes ended early thanks to a hit from brother Eric Staal, but the defenseman is only concerned with helping the New York Rangers pad their lead atop the Eastern Conference in the teams' Thursday night matchup. Marc Staal will face his older brother for the first time since suffering a concussion on the hit, though the Rangers...
Rangers captain Ryan Callahan is scratched from Thursday night's lineup against the Carolina Hurricanes with a bruised foot.
NHL News

Delivered to your inbox

You'll also receive Yardbarker's daily Top 10, featuring the best sports stories from around the web. Customize your newsletter to get articles on your favorite sports and teams. And the best part? It's free!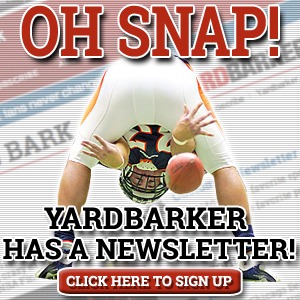 Latest Rumors
The Backyard

Today's Best Stuff

For Bloggers

Join the Yardbarker Network for more promotion, traffic, and money.

Company Info

Help

What is Yardbarker?

Yardbarker is the largest network of sports blogs and pro athlete blogs on the web. This site is the hub of the Yardbarker Network, where our editors and algorithms curate the best sports content from our network and beyond.