Found January 18, 2013 on Shutdown Line:
PLAYERS:
Filip Kuba
,
Peter Mueller
,
George Parros
,
Alexei Kovalev
,
Jason Garrison
,
John Madden
,
Wojtek Wolski
,
Marco Sturm
,
Krys Barch
,
Tim Kennedy
,
Matt Bradley
,
Dale Tallon
,
Marek Svatos
,
Erik Karlsson
,
Brian Campbell
,
Kevin Dineen
,
Sean Bergenheim
,
Mikael Samuelsson
,
Stephen Weiss
,
Jonathan Huberdeau
,
Quinton Howden
,
Drew Shore
,
Jacob Markstrom
,
Jose Theodore
,
Scott Clemmensen
,
Mike Weaver
,
Dmitry Kulikov
,
Ed Jovanovski
,
Erik Gudbranson
,
Keaton Ellerby
,
Scottie Upshall
TEAMS:
Florida Panthers
,
Arizona Coyotes
,
Ottawa Senators
,
Washington Capitals
,
New Jersey Devils
,
Detroit Red Wings
Florida Panthers Season Preview Record Last Year: 38-26-18 Goal Differential: -24 Team 5v5 Fenwick: 50.35% (13th in NHL) 5v5 Sh%: 7.2% 5v5 Sv%:  .925 PP SF/60: 48.8 (13th in NHL) PK SA/60: 54.3 (26th in NHL) Aside from the Phoenix Coyotes and maybe the Ottawa Senators, no team exceeded their expectations more than the Florida Panthers did last season. Pegged by most to be a bottom-feeder in the Eastern Conference, the Panthers ended up winning the Southeast Division and making the playoffs for the first time in over a decade. They went onto give the New Jersey Devils a hard run for their money in the first round before being eliminated in seven games, ending what was one of the best seasons this franchise has ever had. Despite this, there haven't been many people picking Florida to repeat their title and there are many reasons for that. For starters, they still had a terrible goal differential of -24 and had the same amount or fewer wins than non-playoff clubs such as Tampa Bay, Dallas, Colorado and Buffalo. One of the reasons why they got into the playoffs was due to their 18 points gained from shootout and overtime losses. It should also be mentioned that Florida was involved in 40 one goal games and they gained points in all but five of them. When your place in the standings is decided that much by one-goal gains, it's usually a sign that good fortune played a role in it.  In addition to Florida's own flaws, the rest of the teams in the Southeast each made their own improvements and appear to be more dangerous than they were a year ago. Florida isn't as bad of a team as some would lead you to believe, but they are going to need a few things to go right if they want to have a chance at repeating.   Off-Season Moves Who's In? Filip Kuba (D), JF Jacques (LW), Peter Mueller (RW), George Parros (RW), Alexei Kovalev (F), Mark Svatos (F) Who's Out? Jason Garrison (D), John Madden (C), Wojtek Wolski (RW), Marco Sturm (LW), Krys Barch (RW), Tim Kennedy (F), Matt Bradley (RW) If you thought Dale Tallon was going to have another ridiculous summer spending spree, then you thought wrong. The only big signing he made was defenseman Filip Kuba for two years at $4 mil. per season. Aside from that, most of the signings he made were all low-risk, decent-reward moves aside from getting Jacques and Parros, who have little to no value as enforcers. The Mueller signing, however, could end up paying dividends for the Panthers if he is able to stay healthy. Mueller's concussion history is easily his biggest red flag but it's also worth pointing out that he has done most of his work against soft minutes. Florida shouldn't have much of a problem giving those to him if he plays outside of the Goc line, though. Tallon also added veterans Marek Svatos and Alexei Kovalev as training camp invites who could make the team. As for Kuba, he was brought into replace Garrison and he is a downgrade in more than a few ways. Kuba is basically an older version of Garrison in the sense that he is a below-average skater and not that great of a puck-mover, but he is serviceable enough to play top-four minutes if he's given a good defense partner (He got to play with Erik Karlsson in Ottawa.). If Kuba plays with  Brian Campbell in Florida, then he might turn out okay as he is good enough to carry his partner to an extent and handle most of the puck-moving duties. Kuba still appears to be a downgrade from Garrison in a few areas, though. He barely came out in the black territorially despite having a stellar defense partner in Karlsson and had an absurd PDO of 1028, which was due to high on-ice shooting and save percentages. Kuba will likely be asked to take on the same role he had  with the Senators only he is going to be playing with a worse (but still pretty good) defense partner in Campbell. Then you have to take into account that Kuba is 36 and will be trusted with playing 23-26 minutes a night if he is going to replace Garrison. How this will turn out is anyone's guess. Reasons to be Optimistic Better Than You Think Even strength play is one area where Florida has been pretty good in. They controlled over 50% of the 5v5 shot attempts last season and were a middle-of-the-road team in that category compared to the rest of the NHL. That's mediocre overall but pretty solid compared to the rest of the Southeast. A large reason for Florida's solid territorial play relates to how Kevin Dineen rolls his lines. He used Goc's line with Sean Bergenheim and Mikael Samuelsson in a shutdown role last season and they were able to win their battles at even strength. This allowed him to give the Stephen Weiss line a zone start push and they took full advantage of that. Those three could have done a better job at controlling possession but they got the job done when it came to scoring. Florida has a few forwards who are very good possession drivers like Goc, Bergenheim, Versteeg and Upshall and it makes their contracts somewhat defensible. Brian Campbell also played a big role in driving the play at even strength but that could deteriorate a bit depending on how Kuba plays alongside of him. Being able to win the possession battle goes a long way into winning games and this is something that Florida did a better job at than most of their Southeast Division peers last season. Help Is On The Way Florida has one of the deepest forward prospect pools in the league and there is a good chance that a couple of them will make the team out of camp this year. One of them is 2011 first rounder Jonathan Huberdeau who had 45 points in 30 games in the QMJHL and has impressed a lot of people in camp from the sound of things. They also have a few players on their AHL club such as Quinton Howden and Drew Shore who can be called up if needed and we could see them relatively soon given Florida's bottom-six. They can also count on goaltender Jacob Markstrom if Jose Theodore or Scott Clemmensen have terrible seasons. Weaver Wagon The reason why Campbell and Kuba aren't going to be asked to carry all of the load for the defense is because of the presence of Mike Weaver, who might be the best shutdown defenseman in the league who you have never heard of. For most of his career, Weaver has been trusted with playing against opposing team's top lines and  starting a truck load of shifts in his own zone and he's done a pretty good job at shutting them down given the circumstances. He also plays a major role in the Panthers' PK and helps keep the top-four of their defense somewhat respectable. The best part about it is that he is signed for a very cheap contract for the next couple of years, which is a huge bargain considering all of the things Weaver does on the ice. Reasons for Concern Missing Pieces The season starts in two days and the Panthers still have not signed restricted free agent Dmitry Kulikov to a new contract. He plays a pretty big role alongside Weaver and while his body of work thus far isn't stellar, the Panthers defensive depth after the top four leaves a lot to be desired. Ed Jovanovski is only a third-pairing defenseman at this point of his career, Erik Gudbranson is still very young and Keaton Ellerby is more of a depth fill-in. This may open the door for Gudbranson to play a bigger role, although he wasn't exactly impressive in his rookie season but he is going to have to step up sometime in the near future. The Panthers issues don't end there, though as Weaver sustained an injury during a scrimmage in training camp and his status for the season opener is unknown. Sean Bergenheim is also going to be out for a little bit due to an injury he sustained overseas, which creates a big hole on Florida's second line. I mentioned earlier that Florida can call-up some of their players from San Antonio if needed, but their depth on their NHL club isn't exactly the best right now, especially on the blue line so these injuries and absences could end up hitting them pretty hard. Porous Penalty Kill Only four other teams gave up more shots per 60 minutes on the penalty kill than the Panthers did last season and not much was done to improve it either. Kuba was signed but he's essentially taking over for Garrison and I'm not sure how much of an improvement he will be. Ottawa's PK was only slightly better than Florida's last season and he played more minutes on that unit than anyone else. I can't see him being anymore effective than Garrison. Kovalev, Mueller, Parros, Jacques and Svatos probably won't see much time on the PK since none of them have done it in years. Top-Line Production Sustainable? Fleischmann, Versteeg and Weiss contributed to 35% of Florida's total goals last year, which is pretty standard for most top-lines. The reason why this is a concern for Florida is because all three players converted on over 12% of their shots and only Versteeg was able to drive the play forward a decent amount. Remember, these three received a zone start push so their inability to drive play is a pretty big worry if Florida is expecting them to repeat what they did last year. This wouldn't be as big of a concern if they had more depth scoring, which could come in the form of Mueller, Huberdeau and possibly one of Kovalev or Svatos but that's placing hope in a lot of guys who aren't guaranteed to produce. They'll also need Scottie Upshall to stay healthy for a full year and rebound from a terrible season to help take some pressure of this top line which is prone to regress. Outlook Florida's chances of repeating look pretty slim if you compare what they have on their roster to others in the division but they should be decent enough to stay in the mix for a good part of the year. The suspension to Bergenheim, weaver injury and Kulikov holdout really hurt their chances right off the bat, though since those are three pretty big pieces that could be missing from the lineup on opening night and beyond. The Panthers aren't going to return to being pushovers but they could find themselves on the outside of the playoff race again. Of course, this is what most were saying last year, so maye we'll end up being wrong again.  
Original Story:
http://www.shutdownline.com/hurricane...
THE BACKYARD
BEST OF MAXIM
RELATED ARTICLES
Having already agreed to terms with veteran winger Alex Kovalev, the Florida Panthers announced Friday they had bolstered their defense by resigning a young player. The team reached a two-year deal with 22-year-old defenseman Dmitry Kulikov, who has played his entire NHL career with the Panthers. Dmitry is a young, talented and hardworking defenseman who continues to develop, general...
The Florida Panthers and right-winger Alex Kovalev agreed to a one year deal, the team announced Friday. The 18-year NHL veteran turns 40 next month and has scored 428 career goals to go with 596 career assists. Alex is a veteran player with great skill and vision who we are pleased to have signed, Panthers general manager Dale Tallon said in a release. He is a talented forward...
CORAL SPRINGS, Fla. The NHL may be running behind schedule, but the Florida Panthers are ahead of the game. Entering the season, the Panthers are not talking about rebuilding or ending a lengthy playoff drought. They are instead discussing advancing deeper into the postseason and winning a championship. Florida exceeded expectations last season. The Panthers recorded a 22-point...
The Florida Panthers signed veteran right winger Alexei Kovalev to a one-year deal worth $1 million. The contract also includes the opportunity earn additional bonuses, TSN reported. Kovalev, 39, has been out of the NHL since the 2010-11 season when he appeared in 20 games for Pittsburgh and had two goals and five assists. Last season, he played 22 games in his native Russia...
There's one last order of business to complete before the Florida Panthers can finally get this season started. It comes Saturday night, not long before the first dropped puck of this new and condensed season, and it's a moment 12 years in the making. The Panthers will pay homage to last season one more time, with the hoisting of the banner to commemorate their first Southeast...
The Florida Panthers signed right wing Alex Kovalev to a one-year contract on Friday, and he is available for the reigning Southeast Division champions when they open the season against Carolina on Saturday night. The 39-year-old Kovalev has played in 1,302 NHL games with the New York Rangers, Pittsburgh, Montreal and Ottawa, with 428 goals and 1,024 points. He was with the Panthers...
Restricted free agent defenseman Dmitry Kulikov has signed a two-year deal with the Florida Panthers worth $5 million, TSN reported. Kulikov, 22, had four goals and 24 assists in 58 games last season for Florda.
About 30 minutes ago...   Panthers justs signed D Dmitry Kulikov to 2 yr deal, confirmed by agent and Kuli.#flapanthers — Harvey Fialkov (@hfialkov) January 17, 2013
As the NHL teams scramble to shore up their rosters with big free agent acquisitions, trades, and releases of bad contracts, all to compete in a sprint to the playoffs, Alexei Kovalev doesn't figure to make or break a team for the Stanley Cup, but is a great story nevertheless.  Kovalev appears near to signing a 1-year deal with the Florida Panthers to compete in his 19th season...
Game time: Saturday at 7:30 p.m. TV: FOX Sports Florida There's one last order of business to complete before the Florida Panthers can finally get this season started. It comes Saturday night, not long before the puck drops against the Carolina Hurricanes, and it's a moment 12 years in the making. The Panthers will pay homage to last season one more time, with the hoisting...
There's one last order of business to complete before the Florida Panthers can finally get this season started. It comes Saturday night, not long before the puck drops against the Carolina Hurricanes, and it's a moment 12 years in the making. The Panthers will pay homage to last season one more time, with the hoisting of the banner to commemorate their first Southeast Division...
Carolina Hurricanes vs. Florida Panthers BankAtlantic Center, 7:30 p.m. TV: FS-Carolinas, FS-Florida The long wait is finally over and the much anticipated 2013 season will begin tonight for the Carolina Hurricanes. Carolina comes into this season with a new-look offense and greater expectations than they've had in a few years. It's definitely an exciting time to...
NHL News

Delivered to your inbox

You'll also receive Yardbarker's daily Top 10, featuring the best sports stories from around the web. Customize your newsletter to get articles on your favorite sports and teams. And the best part? It's free!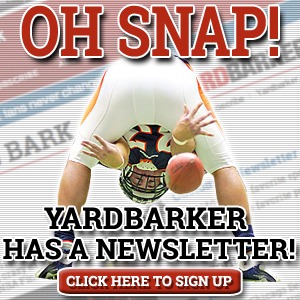 Latest Rumors
Best of Yardbarker

Today's Best Stuff

For Bloggers

Join the Yardbarker Network for more promotion, traffic, and money.

Company Info

Help

What is Yardbarker?

Yardbarker is the largest network of sports blogs and pro athlete blogs on the web. This site is the hub of the Yardbarker Network, where our editors and algorithms curate the best sports content from our network and beyond.