Found November 13, 2012 on NY Rangers Blog:
In an interview with Finnish media, it's pretty obvious Derek Stepan, who's never been to Finland before, knows nothing about his new team KalPa or how he was setup up with the club... "I don't really know how it got hooked up. But someone through my agent, contacted him and we took off from there. Once they were interested, I was interested knowing what kind of league this is." On what he knew about KalPa before signing with them... "I didn't know anything about the team. I didn't know any players either. Trying to fit in the best I can." ...got to say, this is a bit of a leap of faith by Stepan. Playing for a team he knows nothing about in a country he's never been too. Guess when you've been sitting around for the last few months, you'll go anywhere to play hockey. On how long his new contact is... "I think it's for the remainder of the year." ...let's hope Stepan's agent read th...
Original Story:
http://www.nyrangersblog.com/2012-art...
THE BACKYARD
BEST OF MAXIM
RELATED ARTICLES
Brad Richards and several teammates will be hosting two one hour skating clinics at the Staten Island Skate Pavilion on Friday, with all proceeds going to the Hurricane Sandy relief effort. Registration the event ends tomorrow, and since space is limited, Richards and St. Joseph by the Sea Vikings Hockey are asking for each participant to donate $75 to the relief effort. The website...
(AP Photo/Julie Jacobson) Every time the Rangers flash Henrik Lundqvist's stats on the TV during a game, especially the stat that shows that he's won 30 games in each season so far, it makes me wonder how long it will be until Lundqvist holds the Rangers record for goaltender wins. Currently, Hank has 252 wins, good for third place all time among Rangers goalies. Next on the...
Will the Rangers be celebrating this summer? Recently, Ryan Lambert suggested that the Edmonton Oilers would be looking to shake things up in the near future and suggested the Rangers as a trading partner. This prompted Dave to look at some possibilities between the two clubs and correctly noted there would need to be a lot of work done to get a deal done. Basically a deal between...
KalPa confirmed @derekstepan21 signing. Arrives tomorrow. Turns out they ended up upgrading from Craig "1 PPG" Smith. bit.ly/SV7qkP — Matias Strozyk (@MaStrozyk) November 11, 2012 I'll let my partner at TheNYRBlog take this one... In a sign that the NHL lockout is ending soon, Derek Stepan signs with Kalpa of Finland. Oh wait, that signals the complete...
Another Ranger is heading overseas. This time around, it's Derek Stepan, who will be heading to Finland to play with Kalpa Kuopio of SM-Liga. Off to play in Finland! #kalpa Notable NHLers on Kalpa are Sami Kapanen and Craig Smith (Nashville).   Tweet
Alex Nunn at Pro Hockey News reports that Carl Hagelin returned to New York to recab his injured shoulder and is likely to miss the entire month of November for Södertälje. Larry Brooks at the New York Post adds that Hagelin does not need surgery on the shoulder. Per rules of the NHL lockout is is not allowed to rehab with Rangers trainers. ...really enjoy blogging about...
This pic of his new mask says yes... From DaveArt, the creator of the mask (via Facebook)... "We have the pleasure to present a very special creation… Henrik Lundqvist gave me a call a while ago, he wanted a new mask in case he would start playing for Frölunda during the lockout..." ...you've got to figure it's only a matter of time before Hank...
Samuel Noreau (Baie-Comeau Drakkar) Sunday hockey for the New York Ranger and New York Islander prospects was about streaks; mostly losing streaks but the one with a winning streak is really making noise. Samuel Noreau (NYR 2011 5th) is a prospect that I have to admit that I am still surprised to improvements that he has made to his game. On Sunday, Noreau and his Drakkar teammates...
By Bob Crawford Although the Connecticut Whale haven't exactly torn the AHL up in the first month of the season, the club has posted some quality wins, and has given some key development time to several very young, but very important, New York Ranger organizational assets. In addition to first-round picks Chris Kreider (2009) and J.T. Miller (2011), the Whale are also breaking...
New York Rangers radio play-by-play announcer Kenny Albert joined Jonathan Ragus and Mike McShane of Fan Junkies Radio on Wednesday, Nov 14th to talk about the Rangers roster and the NHL Lockout. Kenny also talks about the NFL, New York Giants, MLB and more! To listen to the whole interview click here. To listen to [...]
Like most NHL fans I am growing more frustrated by the day as this lockout nears the two month mark in duration. At this point the Rangers have missed 13 regular season contests while another nine have been cancelled officially. That's already more than a quarter of the regular season. Sure, if they suddenly were [...]
Rangers News

Delivered to your inbox

You'll also receive Yardbarker's daily Top 10, featuring the best sports stories from around the web. Customize your newsletter to get articles on your favorite sports and teams. And the best part? It's free!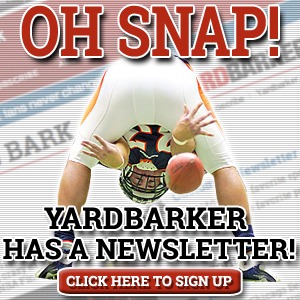 Latest Rumors
The Backyard

Today's Best Stuff

For Bloggers

Join the Yardbarker Network for more promotion, traffic, and money.

Company Info

Help

What is Yardbarker?

Yardbarker is the largest network of sports blogs and pro athlete blogs on the web. This site is the hub of the Yardbarker Network, where our editors and algorithms curate the best sports content from our network and beyond.