Found August 14, 2012 on NY Rangers Blog:
Still a chance Red Wings host annual Sept. prospect tourney in TC. Conference call this week w/participating teams to determine fate.— Craig Custance (@CraigCustance) August 14, 2012 With the impending lockout, the Traverse City tournament was said to be in jeopardy....absolutely loved being able to watch this tournament last year. Obviously most of the knowledge we get regarding Rangers prospects is through what we read so actually getting to watch them is a huge bonus....plus playing in a tournament against other team's top prospects is always good for the development of the organization.Remember to follow me on Twitter & Facebook or e-mail me at nyrfan94@yahoo.com.
Original Story:
http://www.nyrangersblog.com/2012-art...
THE BACKYARD
BEST OF MAXIM
RELATED ARTICLES
If you missed it in the overnight report, former Red Wings captain Nicklas Lidstrom took part in a Swedish TV show called "Patrik möter," or "Patrick Meets," and he kinda got a little smash-y on a Volvo with a baseball bat, per Patrik Sjoberg's request: Continue reading "Red Wings mid-day news: on 'Lidstrom smash,' trade rumors and booing Fedorov"
This afternoon's crop of Red Wings news begins with an article from DetroitRedWings.com's Bill Roose that makes this Vladimir Konstantinov fan smile: Upset by a late surge late from Kris Draper in Round 1 of Operation Bobblehead: Alumni Edition, former Red Wings' defenseman Vladimir Konstantinov stormed back to runaway with the Round 2 vote, thus becoming the second bobblehead...
Via RedWingsFeed, MLive's Brendan Savage provides a superb follow-up for those of you who may have wondered aloud whether the Wings really need to re-sign Justin Abdelkader, who the Free Press's Helene St. James stated the Wings are working toward inking a new contract with, in the overnight report's comment section. Savage spoke to Ken Holland about Abdelkader's importance...
Red Wings GM Ken Holland believes it's only a matter of time until the Wings and restricted free agent Justin Abdelkader come to terms on a new deal. "Negotiations are ongoing," Red Wings GM Ken Holland told MLive.com. "We're going to get it done. We're going to find something both sides feel good about." "We're exchanging offers," Holland added. "(It's) two...
Despite many TMR readers' protests to the contrary, the Red Wings front office really has only two (and maybe three) pressing issues to address before the start of the regular season: the Wings need to re-sign restricted free agent Justin Abdelkader to a new contract, they need to add some sort of free agent defenseman to serve as a band-aid until the team chooses to make a trade...
NHL.com's "30 in 30" series discusses the Red Wings' outlook going into the 2012-2013 season today, and given that it's the middle of August, it's probably a good time to get an outside perspective on the "state of the team" given that we know the team is likely to re-sign Justin Abdelkader, ink one more defenseman via free agency and then, well…wait and see what...
Boy howdy, is this ever important and pertinent for Red Wings fans, from ESPN's Craig Custance: Still a chance Red Wings host annual Sept. prospect tourney in TC. Conference call this week w/participating teams to determine fate.— Craig Custance (@CraigCustance) August 14, 2012 Cross your fingers, folks. I want to see the prospects play and compete just as much as you do.
After the last couple of days' worth of heavy discussion about a potential lockout and the media's perception of and/or pandering to fans, I'm going to keep the rhetoric short and try to keep the focus of this morning's report on the content thereof…After the first tidbit, anyway: • According to Dagbladet and Allehanda's Andreas Haggstrom, Peter Forsberg's Icebreakers...
FYI, Red Wings fans: ALUMNI SHOWDOWN TICKET UPDATE: Fans can now register for a chance to win the opportunity to purchase two tickets HERE: redwings.nhl.com/club/page.htm?…— Detroit Red Wings (@DetroitRedWings) August 15, 2012
The Red Wings appear to be in the market for a defenseman, and a two-time All-Star is reportedly catching their eyes. The Wings have inquired about Coyotes defenseman Keith Yandle, according to The Detroit News. This comes on the heels of last week's report from Brendan Savage of MLive.com that said Detroit was in talks with Calgary about making a trade for veteran D-man Jay...
This is just bizarre, as already noted by Paul: According to the Detroit News's Charles E. Ramirez, the plaintiff in a civil suit against Anaheim Ducks GM Bob Murray began to make her case on Tuesday… A Plymouth woman says she "aches all of the time" after being hit with a chair by the general manager of the Anaheim Ducks after the team's loss to the Red Wings in the 2009...
from David Ashenfelter of the Detroit Free Press, Rachel Paris says the general manager of the Anaheim Ducks threw a chair at her and injured her in a fit of anger over his team's loss to the Red Wings in the Stanley Cup playoffs in 2009. But Bob Murray and two of his top assistants say they have no idea what Paris is talking about. Lawyers on both sides of the dispute will select...
Red Wings News

Delivered to your inbox

You'll also receive Yardbarker's daily Top 10, featuring the best sports stories from around the web. Customize your newsletter to get articles on your favorite sports and teams. And the best part? It's free!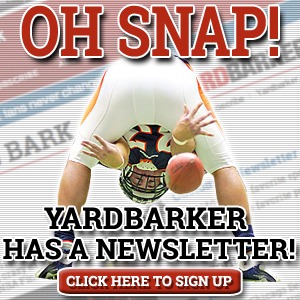 Latest Rumors
The Backyard

Today's Best Stuff

For Bloggers

Join the Yardbarker Network for more promotion, traffic, and money.

Company Info

Help

What is Yardbarker?

Yardbarker is the largest network of sports blogs and pro athlete blogs on the web. This site is the hub of the Yardbarker Network, where our editors and algorithms curate the best sports content from our network and beyond.