Found March 24, 2012 on The Sports Jags:
If there's one guy on the Penguins' roster that the Jags like to abuse on our site it's Pascal Dupuis. You were probably thinking Tyler Kennedy, but we don't make fun of him – we just point out that he's terrible. Dupuis, is a different story; he's not awful, he just makes some really ugly looking plays here and there…and there. He's an easy target…and we love anythin that's easy.
Duper is not overpaid and he's not overrated, he's usually just there on Sidney Crosby's wing and we could never figure out why. Well, apparently some of our loyal readers don't share the same "Pooper Duper" label that we've given Dupuis.
And this year, now that Duper is 32, we're finally starting to see why some people don't hate on him the way we do. At 32, most guys have long been type-cast as a sniper, playmaker or grinder, but after 10 years in the league, Dupuis still doesn't fit any of those roles. That's what makes him Super Duper.
Let's be real, the main reason Dupuis caught our attention is because he's posting career highs nine years after he set them. We have no idea what he did in the offseason but whatever it was it sure as hell worked because we're making fun of him less now than we did when the Pens got him as baggage in the Marian Hossa deal.
Back when Duper was a 25-year-old for hte Wild it took him 80 games to net 20 goals and he didn't get his last one until Game 79. So far this year, he already has a new high of 22 and there's still nine games to go – and that's with zippie power play time. He only needs three more assits and one more point to notch new career highs in those categories too, and unless he's the next victim of ConcussionGate there's no reason to think he won't get both. Hell, he should have the highest point total of his career by the end of the weekend.
But it's not just the fact that he's scoring goals, it's the fact that he's converting on the chances he has to score goals. Ever since he came to the Burgh, Duper's been notorious for fanning on wide open nets that Sid's set him up for, and the only upside to his offense is the cannon he used to unleash on the rush just inside the blueline.
In his first three full seasons with the Pens, Duper averaged 157 shots on goal and he was hitting the back of the net on just 10% of those shots. Shooting percentage doesn't mean a whole lot in hockey but when you look at the chances he converted to the chances he missed, it was kind of sad. But this year, not only has he shattered his old career high of 183 shots with 192 so far, he's shooting at a career high 11.5%, which has also helped him set a new career best with 7 game winners (his old high was 5). And seriously, when's the last time we saw him crank a long-distance slapper?
Some of Dupuis' success comes from Dan Bylsma being an awesome coach and knowing how to use his talent but at some point we just have to give Duper some credit. Last year, you could say Duper scored 17 goals because the Pens were missing Sid, Geno and Staal pretty much all year, so someone had to score besides TK. And prior to 2011, Dupuis won the lottery and got to be Sid's wing, and who couldn't score 18 when 87 is setting you up?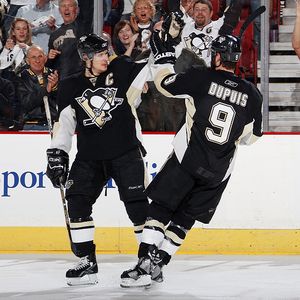 But this year, with Geno and James Neal rolling harder than Limp Bizkit, there almost shouldn't be enough goals to go around but Dupuis still third on the team. Geno and Neal have had each others' backs all year but Duper has been mixed in everywhere from Line 1 to 3 and he's seen just about every other Pen on the ice with him at some point…but he's still contributing.
That's why Bylsma has so much trust in Duper. Bylsma has always seemed to have favored him – why else would he stick him on Sid's wing when he's was a third-line guy in Atlanta – but this year Duper is getting more ice time (17:08 minutes per game) than he has since before he could grow a terrorist beard.
And if Bylsma and the Pens can trust Dupuis, I think we can too. But that doesn't mean we're still not going to roast him every time he misses a gaping net.
Original Story:
http://thesportsjags.com/?p=4774
THE BACKYARD
BEST OF MAXIM
AROUND THE WEB
RELATED ARTICLES
It was just another night of beautiful hockey for Penguins fans.  Another 5 goal night.  Another 2 goals for who better be MVP Evgeni Malkin.  Not to mention Fleury recorded his 40th win of the season, the first goaltender to hit that mark so far this year.  Oh and James Neal had 4 assists.  This all coming in a game that the announcers talked about beforehand could very possibly...
Alexander Radulov bailed on the Nashville Predators four years ago to become the best player in his native Russia. In Radulov's return to the NHL, countryman Evgeni Malkin left little doubt who's the best player in the world. Malkin scored twice to push his league-leading point total to 95 and the Pittsburgh Penguins clinched a playoff berth with a 5-1 victory over the...
 Only one entry per person/per game Running Twitter contest for the rest of the season.  We will be raising the pot every game.   Huge thanks to GetToOurGame.com for this new PaulMartinPowerball song:   How to play: 1. Get yourself a Twitter account and guess the time and period Paul Martin will score a goal. Using this...
 Only one entry per person/per game Running Twitter contest for the rest of the season.  We will be raising the pot every game.   Huge thanks to GetToOurGame.com for this new PaulMartinPowerball song:   How to play: 1. Get yourself a Twitter account and guess the time and period Paul Martin will score a goal. Using this...
Pittsburgh Penguin Sidney Crosby's ridiculous spin-a-rama pass to Matt Cooke from last night. Alas, Pitt lost to the Senators, 8-4 Every time you check your email, think -- gotta check Bob's... Full story at Bob's Blitz ~ http://www.bobsblitz.com
After a devastating shootout loss at home to Toronto, the New Jersey Devils looked to start fresh and create a late-season win streak, starting in Pittsburgh against a tough Penguins team. The return of center Travis Zajac boosted some motivation (as his presence was dearly missed). Unfortunately though, once again, the Devils did not find an answer to the Penguins offense and...
from Ken Warren of Senators Extra, (Eugene) Melnyk understands that the Senators, who went into Saturday's game against the Pittsburgh Penguins with only one win and two extra time losses in their past six games, need to re-discover their groove soon to qualify for the post-season. He says the situation is akin to a playoff series, with the Senators needing to win four of its remaining...
Who: Pittsburgh Penguins (46-22-6) vs. New Jersey Devils (42-27-6) Where: Consol Energy Center When: 7:00 PM EST Channels: RDSI, ROOT Sports With the Penguins pathetic loss last night coupled with Rangers and Flyers victories this becomes a basically must win.  Oddly enough the Penguins still control their own destiny.  They are three points behind the [...]
Sixty minutes and twelve goals later, it appears both Paul MacLean and Dan Bylsma had the same gameplan heading into tonight's tilt: Offense, and more offense. Advantage to the Ottawa Senators, who doubled up the Pittsburgh Penguins by a final score of 8-4 in one of the wildest offensive games of the season. For Pittsburgh, the beating handed out by Ottawa on Saturday night...
Who: Pittsburgh Penguins (46-21-6) vs. Ottawa Senators (37-28-10) Where: Scotiabank Place When:  7:00 PM EST Channels:  CBC, ROOT Sports It's very hard to expect a team that is 14-0-1 to just keep on winning, but that's what the Penguins have to do.  They control their own destiny, all they have to do is win out. [...]
Latest Rumors
The Backyard

Today's Best Stuff

For Bloggers

Join the Yardbarker Network for more promotion, traffic, and money.

Company Info

Help

What is Yardbarker?

Yardbarker is the largest network of sports blogs and pro athlete blogs on the web. This site is the hub of the Yardbarker Network, where our editors and algorithms curate the best sports content from our network and beyond.