Found February 14, 2012 on NorthWest Sports Beat:
PLAYERS:
Roberto Luongo
,
Cory Schneider
,
Carrie Underwood
,
Kevin Bieksa
,
T.J. Galiardi
,
Dan Hamhuis
,
Sami Salo
,
Keith Ballard
,
Andrew Alberts
,
Elton John
,
Aaron Rome
,
Henrik Sedin
,
Ryan Kesler
,
David Booth
,
Chris Higgins
,
Britney Spears
,
Mason Raymond
,
Paul Mccartney
,
Cody Hodgson
,
The 123 Kid
,
Jannik Hansen
,
Whitney Houston
,
Pamela Anderson
,
Manny Malhotra
,
Dale Weise
,
Maxim Lapierre
,
Daniel Sedin
TEAMS:
Vancouver Canucks
,
Colorado Avalanche
,
Calgary Flames
,
Minnesota Twins
Are You That Canucks DJ? When attending a Canucks home game, one of the smaller pleasures, in addition to abusing the supporters of other team especially Leafs fans, is in hearing the choice of music played by the in-house DJ (Dave) at different points in the game. In-House DJ Dave Levinson has some competition, or some new songs to play. As with most things in this world, the public have their differing opinions on what works and what is awful in an "I could do so much better than that" line of thinking. For example, this season the song played after a Canucks goal has been switched from "Holiday" by Green Day to Clutch's "Electric Worry" and its 'Bang! Bang! Bang! Bang! Vamanos! Vamanos!' refrain. Canucks fan response has been decidedly mixed, as any change is apt to warrant, but many people seem to be coming around to it. How cool would it be though to see each player get a song of their own after a goal or great play? Roberto Luongo "Rebirth of Slick (Cool Like Dat)" by Digable Planets. In a dual nod to his favourite hair style and his recently cool, calm and collected play, this jazzy, funky tune fits the newly humble Luongo.   Cory Schneider "Jesus Take the Wheel" by Carrie Underwood. The Canucks fan favourite has been christened a saviour frequently the last two seasons so this title seems tailor made for the ginger genius.   Kevin Bieksa "Holy Diver" by Ronnie James Dio. In salute to Juice's superlative efforts dropping to block shots, and particularly his flat out flight across the face of goal to prevent an empty goal by TJ Galiardi of the Colorado Avalanche. I'm quite sure he could pull off a mean devil horn sign too.   Dan Hamhuis "Like a Rock" by Bob Seger. This tune is an apt tribute to the solid all-round play of the dependable blue liner.   Sami Salo "Ball Breaker" by AC/DC. For his blistering shot, and the other reason…Sami deserves a hard rocking song and what better band to provide it.   Alex Edler "He's So Shy" by the Pointer Sisters. After watching his barely audible interviews where it is completely obvious that he would rather do an hour of bag skates than answer any more questions make this old school R & B jam the perfect match.   Keith Ballard "Tighten Up" by the Black Keys. This song choice is a signature reference for Coach AV when it comes to his opinions of Hips' defensive play.   Andrew Alberts Elton John's "Saturday Night's Alright for Fighting". Following his tumultuous evening last Saturday against the Calgary Flames, where he answered the bell a couple of times amassing 13 penalty minutes, Alberts should have had this classic playing in his honour.   Aaron Rome "Once in a Lifetime" by Talking Heads. Whenever Rome manages a rare point, as in any time outside of his ridiculous, miraculous early season spurt, this old chestnut can be trotted out, seeing as it is rarely heard from these days too.   Daniel & Henrik Sedin "Save the World" by Swedish House Mafia. 'Who's gonna save the world toniiiight…?' How about your very own twin hit men?!   Alex Burrows "(Bite) The Hand That Feeds" by Nine Inch Nails. This alternative rocker should be stashed away until the next Bruins visit, hopefully in the Stanley Cup Finals once again.   Ryan Kesler "Grenade" by Bruno Mars. 'Catch a grenade for ya!' This song signifies the sacrifices that the gritty soul of the Canucks makes for his teammates.   David Booth "New Kid in Town" by the Eagles. The Canucks acquisition has been a force over the past couple of months since returning from injury and is starting to showcase his speed and power while also rediscovering the hands that put up a 30 goal season in the past. http://www.youtube.com/watch?v=IFOnDOH73oQ Chris Higgins "Infectious" by Britney Spears. In a nod to his recurrent staph issues, Higgy can share the song with the artist who is probably no stranger to her own viral mysteries.   Mason Raymond "Jet" by Paul McCartney and Wings. Watching the fleet footed winger race up ice syncs well with this upbeat classic.   Cody Hodgson "The Kid is Hot Tonight" by Loverboy. This 80's cheesefest from the local Vancouver stalwarts brings the energy and excitement to match the thrilling rushes of the fast maturing CoHo.   Jannik Hansen "I Will Always Love You" by the late Whitney Houston. As a bonus, the song could be played simultaneously with side by side profile pictures of 'Beaker' on the big screen as he croons it to recent locker room visitor Pamela Anderson.   Manny Malhotra "Mo Money, Mo Problems" by Mase. It has been an uneven season for Manny, but some recent strong performances in games indicate that he could be emerging from an error ridden year. Playing this hip hop thumper would always boost the mood in Rogers Arena.   Dale Weise "Does Your Mother Know?" by ABBA. Self-styled ladies' man Weise has brought his smooth talking New York ways to Van City and our local lovelies had better be on their guard, especially when they hear this disco nugget.   Maxim Lapierre "Skunk Funk" by Looney Tunes' Pepe le Pew. He may be considered rotten and hated around the league, but he's all ours Canucks fans, and this obscure tune sets the mood for the Canucks' French charmer.   CLICK HERE TO CHECK OUT THE VANCOUVER CANUCKS CLUBHOUSE TODAY ON NWSB! © C-Mac for North West Sports Beat, 2012. | Permalink | No comment | Follow NWSB on Twitter or join US on Facebook for real-time updates OR... | Share This on Twitter | Share NWSportsBeat.com on Facebook Post tags: ABBA, AC/DC, Alex Burrows, Bob Seger, Britney Spears, Bruno Mars, Canucks, Canucks DJ, Canucks music, Carrie Underwood, Cory Schneider, Daniel Sedin, Dave Levinson, David Booth, Digable Planets, DJ Dave, Elton John, Henrik Sedin, Kevin Bieksa, Loverboy, Manny Malhotra, Mase, Nine Inch Nails, Paul McCartney, Pepe le Pew, Pointer Sisters, Roberto Luongo, Rogers Arena DJ, Rogers Arena Music, Ronnie James Dio, Ryan Kesler, Sami Salo, Swedish House Mafia, Talking Heads, The Eagles, The Sedins, The Twins, Vancouver Canucks, Vancouver Canucks Blog, Vancouver DJ, Whitney Houston  
Original Story:
http://www.nwsportsbeat.com/canucks/v...
THE BACKYARD
BEST OF MAXIM
RELATED ARTICLES
Mats Sundin's #13 banner was raised to the rafters of the Air Canada Centre in Toronto on Saturday night, and it made me think back to his time in Vancouver. Sundin, as you might remember, spent half a season in blue and green during the 2008-09 season. The Mats Sundin that Canucks fans got to see, at age 38, wasn't of hall of fame caliber but he wasn't a bust either. Sundin...
The Nucks Need to Shape Up If you're like me, you believe there is a higher being in the form of "Hockey Gods." The Hockey Gods can strike at any time or shine upon your falling hopes when you have stopped believing. One bad hand, We're goners! They can be cruel, daunting, antagonizing and tease the hell out of you all at the same time. What the Canucks and their fans have...
#1stPlaceProblems As I pointed out last week, here is the conundrum Vancouver Canucks fans find themselves in: the team has been winning in 2012, but my god has the entertainment factor diminished. Still, the team has been winning and for the first 30 years of this franchise, they weren't doing that. But in the past ten years or so, the team has made winning with style their...
Coyotes vs Canucks Game Recap Did you miss the Phoenix Coyotes vs. Vancouver Canucks Monday night on Sportsnet Pacific? Boxscore | My Post Game Recap We've got the highlights for you. Coyotes vs. Canucks highlights courtesy NHL.com. CLICK HERE TO CHECK OUT THE CANUCKS CLUBHOUSE TODAY AT NWSPORTSBEAT! © NWSports "Q" for North West Sports Beat, 2012. | Permalink...
Oh-Oh…First Game After A Road Trip The Vancouver Canucks return home after a productive road trip to take on the suddenly streaking Phoenix Coyotes on Monday night. CLICK HERE TO CHECK OUT THE VANCOUVER CANUCKS CLUBHOUSE TODAY! Phoenix Coyotes (27-21-8) at Vancouver Canucks (34-15-6) When: 10:00 PM ET, Monday, February 13, 2012 Where: Rogers Arena, Vancouver, British Columbia...
Shane The Roxy Is Open! The Vancouver Canucks will try to maintain their utter dominance over their Northwest Division foe Colorado on Wednesday night when they play the second game of a three game home stand. CLICK HERE TO CHECK OUT THE VANCOUVER CANUCKS CLUBHOUSE TODAY! Colorado Avalanche (28-25-4) at Vancouver Canucks (35-15-6) When: 10:00 PM ET, Wednesday, February 15, 2012...
VANCOUVER, British Columbia (AP) Ryan Kesler scored the winner in the sixth round of the shootout, leading the Vancouver Canucks to a 2-1 win over the Phoenix Coyotes on Monday night.
Shootouts have been very kind to the Colorado Avalanche all season, except earlier this month when they hosted Vancouver. The Canucks are getting plenty of practice in tiebreakers, but they hope they won't need one Wednesday night as they look to take at least one point from the Avalanche for the 15th consecutive meeting. Colorado (28-25-4) had won all seven of its shootouts...
Ryan Kesler scored the winner in the sixth round of the shootout, leading the Vancouver Canucks to a 2-1 win over the Phoenix Coyotes on Monday night.
The Vancouver Canucks will try to continue their recent dominance of Colorado when they welcome the Avalanche for tonight's Northwest Division clash at Rogers Arena.
Ryan Kessler scored the game-winning goal in the sixth round of the shootout as the Vancouver Canucks edged the Phoenix Coyotes, 2-1, at Rogers Arena.
NHL News

Delivered to your inbox

You'll also receive Yardbarker's daily Top 10, featuring the best sports stories from around the web. Customize your newsletter to get articles on your favorite sports and teams. And the best part? It's free!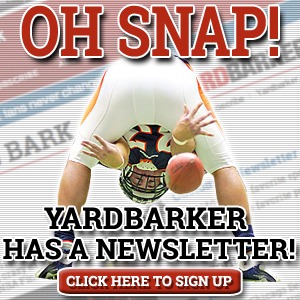 Latest Rumors
Best of Yardbarker

Today's Best Stuff

For Bloggers

Join the Yardbarker Network for more promotion, traffic, and money.

Company Info

Help

What is Yardbarker?

Yardbarker is the largest network of sports blogs and pro athlete blogs on the web. This site is the hub of the Yardbarker Network, where our editors and algorithms curate the best sports content from our network and beyond.