MONTREAL- SEPTEMBER 24: Tim Thomas #30 of the Boston Bruins makes a glove save on the puck without his stick during their NHL Preseason game on September 24, 2009 at the Bell Centre in Montreal, Quebec, Canada. (Photo by Richard Wolowicz/Getty Images)
Is it crazy to think that Tim Thomas might wish to retire? The biggest question facing the Boston Bruins this off-season is their goalie situation. In the starting spot, the Boston Bruins currently possess Tim Thomas, a hero and god to the people of the Hub. After a spectacular post-season where he won the Conn Smythe trophy as the post-season's most valuable player and led the Boston Bruins to their first Stanley Cup since 1972, there really was nothing that Tim Thomas could have done wrong. Sure, he may have dissed meeting the President Barrack Obama due to his political beliefs and he may or may not have let in a few softies against the Washington Capitals in the first round of this year's playoffs, but his performance in 2011 really secured his place in the Pantheon of Boston Sports athletes. Then there is Tuukka Rask. "Two U's, Two K's, One W" came of age during the 2010 season when he took over for a hurting Tim Thomas about half-way through the season. Out of the playoff picture one year after being the Eastern Conference's one seed, Tuukka Rask had an amazing regular season and led the Bruins back to the playoff's. Then with a "Snowball's Chance in Hell" to win a Stanley Cup, Rask led the Bruins past the Buffalo Sabers in the first round and to a three games to none lead against the Philadelphia Flyers in the second round. Then, he struggled in the final four games of the series, struggled in the beginning of the 2010-11 season, and promptly relinquished the title of starting goalie back to Tim Thomas. 2011-2012 was different. Both Tim Thomas and Tuukka Rask put up spectacular numbers in the regular season. Thomas started 55 games and posted 2.36 GAA and a .920 save percentage. Tuukka Rask started 22 games before his injury and finished with a 2.05 GAA and a .929 save percentage. Arguably, both of their numbers could have been better if not for Rask's injury. Rask would have started more games and likely would have continued his spectacular effort and Tim Thomas would have started less games down the stretch, would have been better rested, and likely wouldn't have some of his poor performances. The fact is this. The Boston Bruins have a goalie controversy in 2012-2013, or they would if Tim Thomas was still around. Isn't there a chance that Tim Thomas could retire? There is without a doubt that Tim Thomas is still good. One just has to look at his statistics from the past two seasons even though he just turned 38 years old. He has simply been fascinating to watch. Small goalies are required to be athletic and quick in order to make the saves and Tim Thomas has kept himself in such fantastic shape to keep making those saves. Hip surgery in 2010 didn't hurt him either and may have even extended his career. But the Boston Bruins may be starting to think about moving on, and with good reason. A goalie can only be the "goalie of the future" for so long until he becomes the "The goalie now". Tuukka Rask has proven that he has the ability to be the goalie of the current Boston Bruins, or any other team for that matter. Tuukka Rask is a restricted free-agent this off-season and does not seem like the type of player that will sign his restricted tender. I would not be surprised if team's come calling the Boston Bruins to tender an offer for the young goal-tender despite the draft picks that would have to be dumped to accomplish the signing. Essentially, the Bruins are going to have to sign Tuukka to a multi-year deal outside of the restricted free-agent tender. Now that the Boston Bruins have money locked up in Tuukka, it's time to look at the Tim Thomas. Thomas loses his no-trade clause at the start of this free-agent period and has one year left on his deal. The simple plan would be to let the contract play out for the last year and allow Tim Thomas to make his own decision on his career. The problem with this plan is that the Bruins need cap-space to go after a legitimate first-line wing such as Zack Parise this off-season. With a lot of money sunk into goal-tenders, there is little left for other players. This puts the Bruins in a situation where they may have to trade Thomas. It would (most likely) have to be the Western Conference and the return would be less than they like. What if Thomas simply said no more? What if he was done with hockey? This isn't as crazy a thought as you might think. Thomas may only be entering his eighth season in the NHL, but he has played hockey for a long time now. This will be his 15th season playing professional hockey and Thomas has accomplished everything that someone would want to do. He is a two time Veznia trophy winner, he has a Stanley Cup, he has reached the top of his profession and has become beloved in the city of Boston. He really has nothing left to accomplish in the sport of hockey. Thomas also has other interests as well, mostly politically. He has very strong views about politics, donates a ton of money to the Freedom Works Organization and seems like a person that wants to get involved in things other than hockey. In a way, his hockey career has given him a boost into his other interests. The only thing I could think of that would make me think that Thomas wouldn't retire is that he isn't going out on top. Losing in Game 7 in overtime is tough, especially for a goal-tender who let in the winning goal. It doesn't seem to be in Thomas' nature to go out like that. It's just that Thomas doesn't seem like a guy who would do the expected thing. He's expected to want to come back and lead the Bruins' (or whoever) back in a deep run in the post-season. If he retired, I wouldn't think anything less of him. He will still go down as one of the best players in Bruins' history, he still deserves "Tim Thomas Day" at the Garden and maybe even he will hear his name called in Toronto. I think the only thing we can know for certain is that we have no idea what Tim Thomas will do next. He has made a career out of proving people wrong. I wouldn't expect him to start now.
Original Story:
http://www.bostonsbettah.com/?p=4337
MORE FROM YARDBARKER
NHL News

Delivered to your inbox

You'll also receive Yardbarker's daily Top 10, featuring the best sports stories from around the web. Customize your newsletter to get articles on your favorite sports and teams. And the best part? It's free!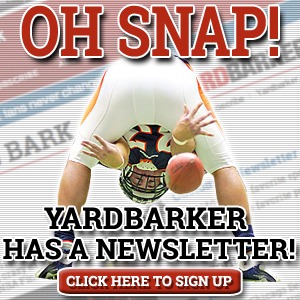 Latest Rumors
Best of Yardbarker

Today's Best Stuff

For Bloggers

Join the Yardbarker Network for more promotion, traffic, and money.

Company Info

Help

What is Yardbarker?

Yardbarker is the largest network of sports blogs and pro athlete blogs on the web. This site is the hub of the Yardbarker Network, where our editors and algorithms curate the best sports content from our network and beyond.