The biggest snubs and surprises from the NHL 100 Greatest Players list
Evgeni Malkin of the Pittsburgh Penguins was a surprising snub when the NHL named the 100 greatest players ever. 
Christian Petersen/Getty Images
As part of their centennial celebration, the NHL did something rather expected and released a list of the 100 Greatest Players to ever play in the league.

What was unexpected was that they didn't rank these players, instead opting to list a 100 players organized by what decade they played in.

So many outlets saw this and thought "Okay, enough of your participation trophy style list, NHL" and created their own countdowns to the greatest. (Something we did several months ago.) But the interesting thing is – even though the NHL's "blue ribbon panel" selected the players for this non-ranked list, the surprises and omissions still caught everyone's attention when the bulk of the list was announced on Friday night ahead of All-Star weekend down in Los Angeles.

It didn't matter that the Wayne Gretzky, Bobby Orr and Mario Lemieux held court and waxed nostalgic about who they think the top players are, the NHL is still going to be taking some heat for the list that was rolled out for their big centennial celebration.

There were plenty of shockers on the list, and all are up for debate. But here are the biggest surprises and snubs from the NHL's 100 Greatest Players list.

Snubs: Joe Thornton and Evgeni Malkin from the "Active Players" List
Add Jarome Iginla, Zdena Chara and a good handful of other players who weren't including in the listicle of active players. Only six took those honors: Sidney Crosby, Alex Ovechkin, Jaromir Jagr, Jonathan Toews, Patrick Kane and Duncan Keith. The number of active players, from forwards all the way back to netminders, that aren't on the list is uncanny.

Heck with the way NHL talking heads fall over Carey Price, it's amazing he wasn't on the list either.

Sharks Thornton and Patrick Marleau are both chasing league records at the moment, making their omission is a shock, not just from fans of Team Teal. One might argue they were snubbed because San Jose has yet to win a Cup – except that line of thinking makes Malkin an even more curious snub. Geno is a highly decorated forward with one of the niftiest spin-o-rama moves in the game.

The list of active players understandably could have spilled over into an over-100 slot bulletin. But the omissions make the list questionable. Speaking of selections that are problematic...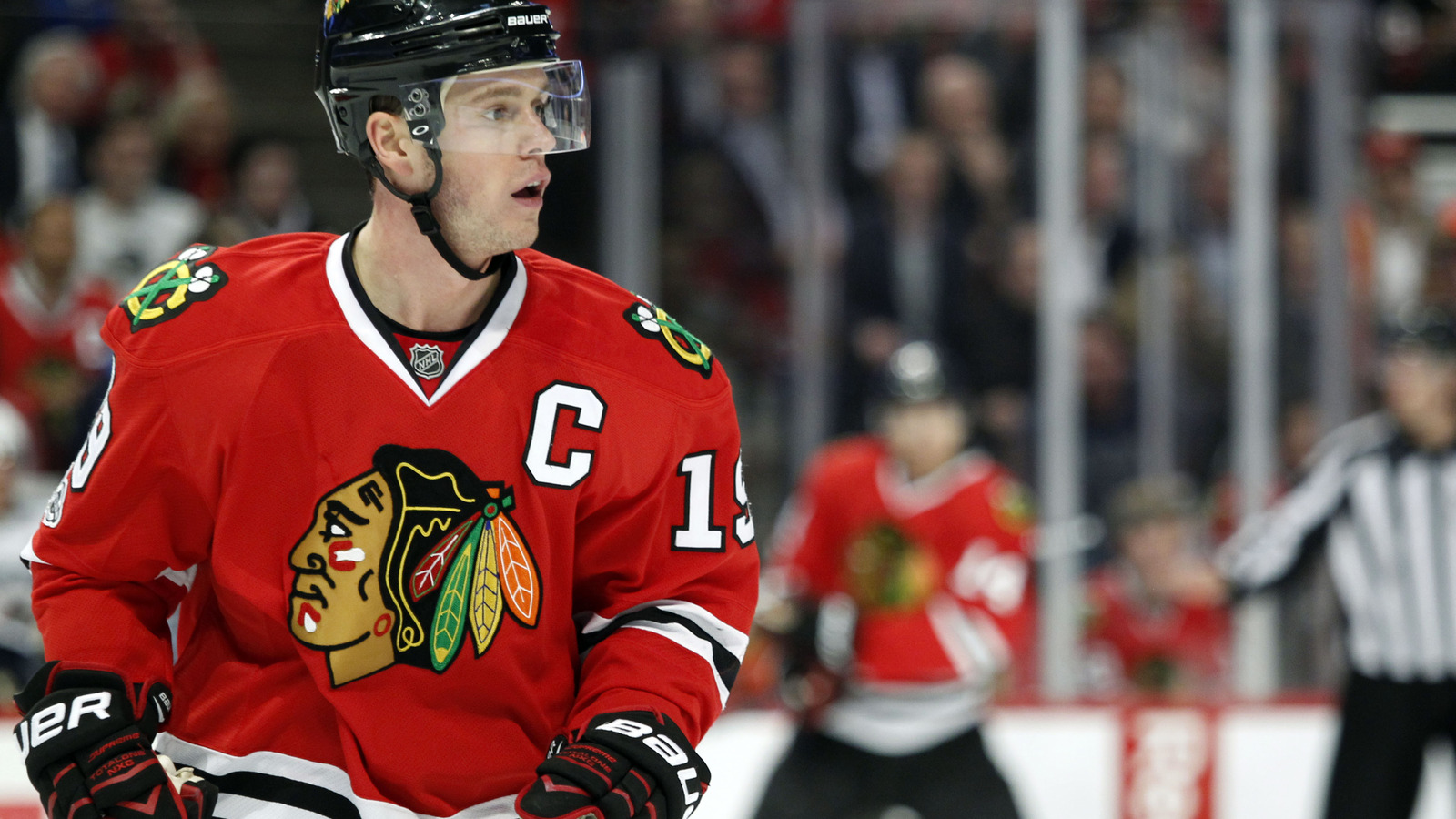 Jan 26, 2017; Chicago, IL, USA; Chicago Blackhawks center Jonathan Toews looks on during the first period of the game against the Winnipeg Jets at United Center.
Credit: Caylor Arnold-USA TODAY Sports
Surprise: Jonathan Toews on the "Active Players" List instead of many others
Again, the active players selections were the most surprising of the night. (Well, not Crosby or Ovechkin. Or Jagr.) What struck many people was how Chicago Blackhawks' captain Toews, who already garnered flack for being selected to the All-Star team, was on the 100 best players list over the many names already mentioned.
Again, winning Stanley Cups does raise your stock, and Toews captained a few championship teams in a very short span of time. But with the number of top tier players that weren't snubbed in his favor, the pick seems a bit odd.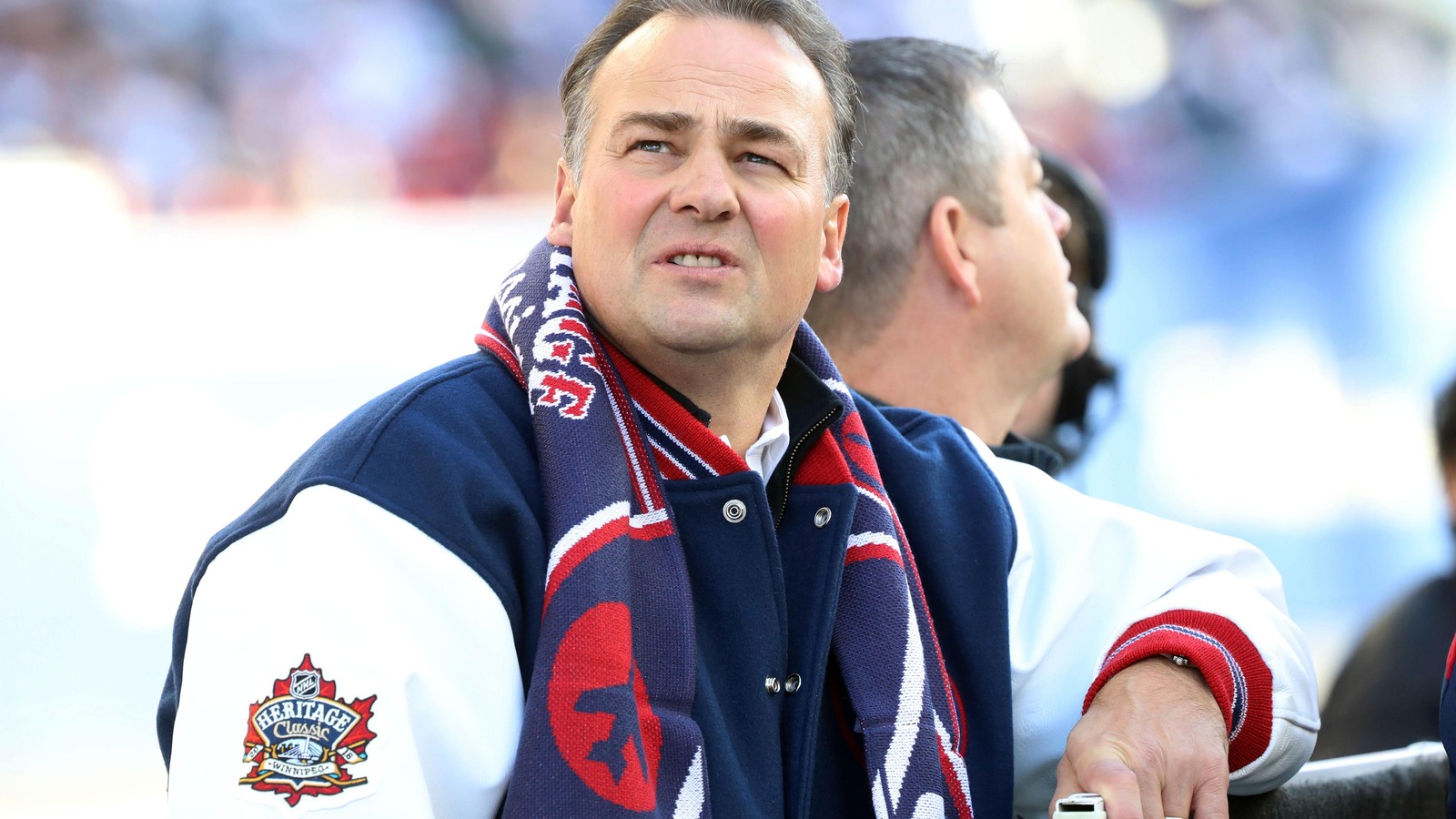 Oct 23, 2016; Winnipeg, Manitoba, CAN; Winnipeg Jets former captain Dale Hawerchuk prior to the first period at the 2016 Heritage Classic ice hockey game at Investors Group Field. 
Bruce Fedyck-USA TODAY Sports
Snub: Dale Hawerchuk
This was about the time in the evening where fans and pundits went from "meh, I guess that pick was okay" to "oh my god, how could you not include so-and-so?!"
That's because Hawerchuk, a Hall-of-Famer who makes every top hockey countdown known to mankind, is a serious oversight. How does someone who registered 1409 points in 1188 games not make a top 100 list? There's really no way of defending that he didn't make the cut.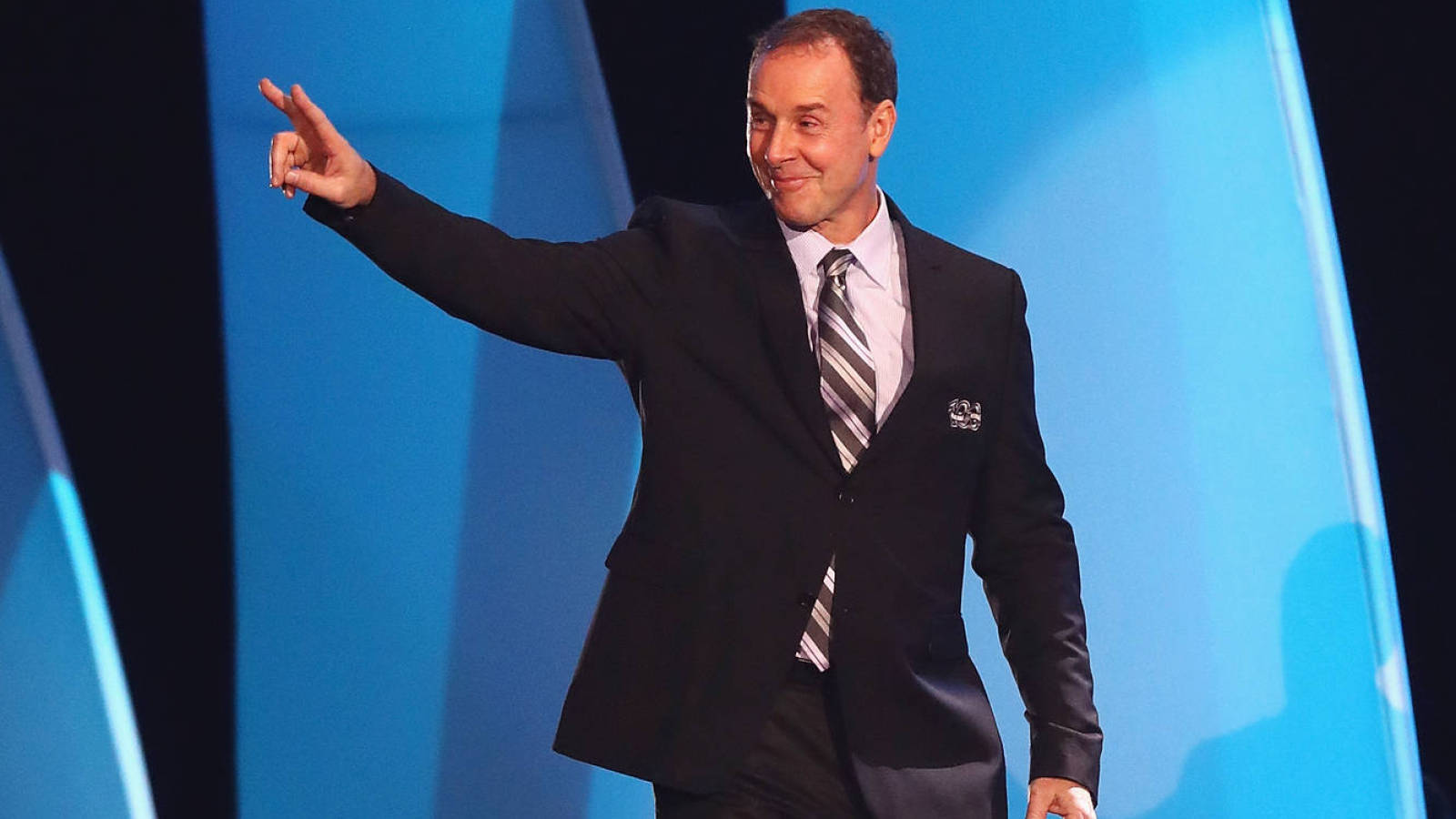 Former NHL player Joe Nieuwendyk is introduced during the NHL 100 presented by GEICO Show as part of the 2017 NHL All-Star Weekend at the Microsoft Theater on January 27, 2017 in Los Angeles, California. 
Bruce Bennett/Getty Images
Surprise: Joe Nieuwendyk
It's not that Nieuwendyk is a bad selections, just kind of a shocking one considering some of the players who didn't make the cut for the 1990s. He is considered by some as "underrated" and did have that one game a couple decades ago when he tallied five goals against the Jets. But with as stacked as that 90s listicle should have been, the former Calgary Flame appears to be taking someone else's spot.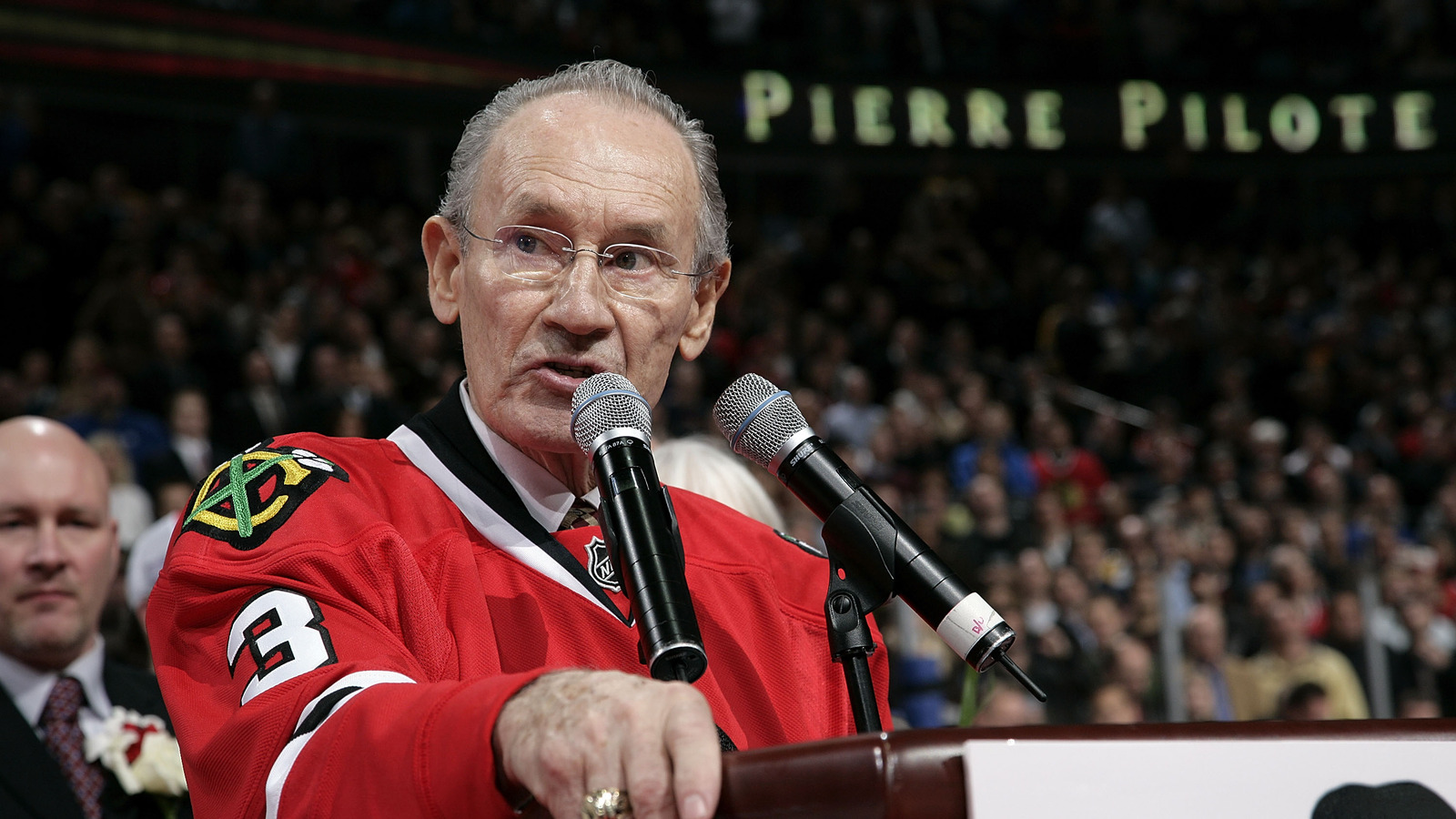 Pierre Pilote speaking about his life as a Chicago Blackhawks player during the Chicago Blackhawks Keith Magnuson/Pierre Pilote Retirement Ceremony on November 12, 2008 at the United Center in Chicago, Illinois. 
Bill Smith/NHLI via Getty Images
Snub: Pierre Pilote
The Chicago Blackhawks were well-represented in the big 100-player chronicle, yet legendary d-man Pilote wasn't added to the list. How an eight-time All-Star and three-time Norris Trophy winner doesn't make the list is a real head-scratcher. He was hands down on of the toughest defensemen of the 1960s.
Surprise: Twitter's Diverse Reactions to Adam Oates' Selection
Oates is, how do we put this… an acquired taste. His selection on the NHL 100 list really brought out the wide variety of feelings that media and fans have for him on social media – probably the most widely diverse reaction.
Well, and the most severe reaction up until the active players list was announced and hockey nerds everywhere had a completely and utter meltdown.
Snub: Ed Belfour
This could just be my opinion, but there weren't as many goaltenders on this top 100 archive as their could have been. And for as many Blackhawks and Maple Leafs as the non-numbered countdown consisted of, it is even more shocking that Belfour didn't make the cut since he played for both of those franchises. He is one of only a couple players to have one a college hockey championship, Stanley Cup and an Olympic gold medal. And that is on top of being inducted into the Hall of Fame the first year he was eligible. It is only a wonder how a whole panel of voters didn't include him.
The Surprise/Snub Hybrid:That there wasn't a bigger ceremony for Gordie Howe
This goes back to the list of greatest players being a non-ranked jumble. Fellow legend Bobby Orr reportedly said ahead of the list unveiling:
Orr: "Gordie is, in my mind, the best that ever played the game. I'm not sure if we'll ever see another one."

— Eric Stephens (@icemancometh) January 28, 2017
Having Orr at the podium with Lemiuex and Gretzky to say they think Mr. Hockey was the best of all time isn't enough. Those three greats got excellent standing ovations, and easily deserved more than that. The late Howe should have had something on top of being part of the non-numbered list. You can't have an NHL celebration, especially one of this magnitude, without giving Howe a bit more of a pedestal. It's just that simple.
PLAYERS:
Wayne Gretzky
,
Bobby Orr
,
Joe Thornton
,
Evgeni Malkin
,
Jarome Iginla
,
Sidney Crosby
,
Alexander Ovechkin
,
Jaromir Jagr
,
Jonathan Toews
,
Patrick Kane
,
Duncan Keith
,
Carey Price
,
Patrick Marleau
,
Joe Nieuwendyk
,
Adam Oates
,
Ed Belfour
TEAMS:
San Jose Sharks
,
Pittsburgh Penguins
,
Colorado Avalanche
,
Washington Capitals
,
Florida Panthers
,
Chicago Blackhawks
,
Montreal Canadiens
,
Toronto Maple Leafs
MORE FROM YARDBARKER:
MORE FROM YARDBARKER
NHL News

Delivered to your inbox

You'll also receive Yardbarker's daily Top 10, featuring the best sports stories from around the web. Customize your newsletter to get articles on your favorite sports and teams. And the best part? It's free!