Found February 18, 2012 on Blue Seat Blogs:
PLAYERS:
Glen Sather
,
Jarkko Immonen
,
Maxim Kondratiev
,
Petr Sykora
,
Steve Rucchin
,
Lauri Korpikoski
,
Adam Pineault
,
Jonathan Paiement
,
Enver Lisin
TEAMS:
New York Rangers
,
Anaheim Ducks
,
New Jersey Devils
,
Arizona Coyotes
,
Chicago Blackhawks
,
Winnipeg Jets
On March 2, 2004, Ranger fans had their hearts ripped out. In the midst of another losing season, General Manager Glen Sather decided it was time to start over, and began with a fire sale that eventually led to the Rangers we see before us today. The prized piece of the fire sale was Brian Leetch, and Slats shipped him, along with the hearts of millions of Ranger fans, to Toronto for Jarkko Immonen, Maxim Kondratiev, a first round pick in 2004, and a second round pick in 2005.
The trade felt like a punch to the stomach for every single fan. For management, they got what they wanted: two legitimate prospects, and two top-60 draft picks. At the time of the trade, the Rangers got fair value for Leetch. It's been eight years since that trade, so let's look at what they got.
Maxim Kondratiev: The Russian defenseman's time with the Rangers was very brief. After just 46 games with the organization, 29 with the Rangers, the Rangers shipped Kondratiev to the Anaheim Ducks in 2006 for Petr Sykora and a 2007 4th round pick. Sykora helped the Rangers reach the playoffs for the first time in eight years (seven seasons). Kondratiev now plays in the KHL.
The 4th round pick was used on Brett Bruneteau, who is no longer in hockey. Interesting note about this pick: the Rangers had acquired this pick (#108) as a conditional pick in 2005 in the Steve Rucchin trade. Essentially, the Rangers traded for this pick twice.
Jarkko Immonen: The Finnish center draws most of the attention from this deal. Not as a positive, but from a "what could have been." Immonen dominated his first full season in the AHL (2005-2006), finishing with 70 points in 74 games. His play earned him a six game stint with the Rangers, where he scored two goals in his first two games.
Immonen's second AHL season was again stellar, finishing with 46 points in 54 games. He played well in the NHL, finishing with six points in 14 games, bringing his totals to 3-5-8 in 22 games. However, it didn't appear that he was a fit for the Rangers, or maybe he just didn't want to play in the US anymore. After the 2006-2007 season, Immonen returned to Finland. Immonen is now in the KHL.
2004 1st Round Pick (Lauri Korpikoski): The Rangers wound up with the #24 pick in the draft as a result of the trade. They used this pick and a second round pick (#46 – Adam Pineault) to move up to #19, where they drafted Lauri Korpikoski. The Rangers also acquired an eighth round pick in the transaction (#247), which they used on Jonathan Paiement.
Korpikoski played fairly poor for the Rangers, and it was safe to say he did not meet expectations. He did not provide the offensive flair that made him a first round pick, and he struggled defensively as well. The Rangers gave up on him, and dealt him to Phoenix for Enver Lisin in the 2009 offseason. In Phoenix, Korpikoski has found himself a nice role as a third line player, and has started to finally chip in offensively.
Lisin played one year for the Rangers, and then left for the KHL.
2005 2nd Round Pick (Mike Sauer): The Rangers appeared to have hit the jackpot with Sauer. Sauer battled many shoulder injuries early in his career, but finally broke through and made the Rangers roster out of camp in 2010. Initially used as a rotating defenseman on the bottom pairing, injuries forced him into a full time role, where he exceeded all expectations.
Sauer now plays top-four minutes for the club –when he's healthy– and is the real gem of this trade.
Trades for prospects and picks are generally gambles. Neither picks nor prospects are guarantees, and the general rule of thumb is to be happy if one pans out to be a solid player. The Rangers got just that in Sauer. It's tough to call this trade a success, especially when it came from dealing Brian Leetch, but the deal was just that: A success.
Original Story:
http://www.blueseatblogs.com/2012/02/...
THE BACKYARD
BEST OF MAXIM
RELATED ARTICLES
Brandon Dubinsky has been involved in a majority of the trade rumors that have surrounded the New York Rangers this season, which makes sense since his six goals and 25 points have not lived up to the $4.2 million he is now being paid per year. If the Blueshirts where to go after a Rick Nash or someone who brings along a hefty cap hit, there's a slim chance Dubi is sticking...
While I'm not 100% convinced that the Rangers NEED to make a trade, I'm trying to keep an open mind as the trade deadline approaches.  Now, I'm sure many of you have seen you Twitter and Facebook timelines explode with ridiculous trade rumours, suggestions and speculations. We've also seen some that make sense. I've put [...]
Pat Leonard at the Daily News was able to sit down with Henrik Lundqvist to find out how he became the best goaltender in the NHL this season including more rest with Martin Biron being used more often this season..."I honestly have more energy to play," Lundqvist said. "A lot of times when you make mistakes, it's that you can't keep your focus. It's not...
When the Blackhawks put their third goal in the first four minutes past backup goalie Martin Biron last night, the chants for Henrik Lundqvist came raining down from the Garden faithful. But Rangers coach John Tortorella stuck with Biron, even after he gave up a fourth goal 9:38 into...
Contrary to popular belief last night, the world has not ended. While losses are sometimes hard to stomach, I'd much rather have this kind of loss now than in the playoffs. Last night, the Rangers got outplayed. Plain and simple.  The 'Hawks had the Rangers number from the get go.  On the power plays, it [...]
John Tortorella talks trade deadline and bouncing back from loss to Blackhawks after practice yesterday... For the players thoughts on the trade deadline and facing the Blue Jackets, click the "Read More" tab below.Brandon Dubinsky, Michael Del Zotto, and Brad Richards discussed a variety of topics with reporters including the Blue Jackets... ...got to give Dubi credit...
New York Rangers forward Brandon Dubinsky has heard his name involved in recent trade rumors but knows there is nothing he can do leading up to Monday's trade deadline besides focus on his play.
According to Aaron Portzline of the Columbus Dispatch, the Rangers are on a list of five teams that Blue Jackets forward Rick Nash would accept a trade to at this year's trade deadline. The Rangers have been linked to Nash over the last few weeks, and now it seems as though him coming to New [...]
It's risky business, breaking up a league-leading team to chase the Stanley Cup. The general manager who did it with the Rangers nearly 18 years ago says dealing Brandon Dubinsky and other regulars for Rick Nash would be even more of a gamble than the roulette he played in...
With the New York Rangers having missed a chance to extend their winning streak to five games with a loss to the Chicago Blackhawks on Thursday night, the team will look to start a new one from the Columbus Blue Jackets tonight (8:00 p.m.) at Madison Square Garden. The Blue Jackets, the worst team in the National Hockey League, is coming off a 6-1 loss to the Chicago Blackhawks...
The New York Rangers (37-14-5) lost to the Chicago Blackhawks (30-21-7) by the score of 4-2, tonight. For a boxscore and recap go to Yahoo! Sports....the saddest part of tonight's game was despite a horrific start the Rangers could have easily won. Not going to get too crazy over it, they can't win every game and Chicago was due....tonight's game further proves Lundqvist...
NHL News

Delivered to your inbox

You'll also receive Yardbarker's daily Top 10, featuring the best sports stories from around the web. Customize your newsletter to get articles on your favorite sports and teams. And the best part? It's free!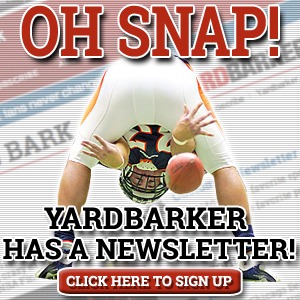 Latest Rumors
Best of Yardbarker

Today's Best Stuff

For Bloggers

Join the Yardbarker Network for more promotion, traffic, and money.

Company Info

Help

What is Yardbarker?

Yardbarker is the largest network of sports blogs and pro athlete blogs on the web. This site is the hub of the Yardbarker Network, where our editors and algorithms curate the best sports content from our network and beyond.