Found August 18, 2012 on Diehardsport:
The Los Angeles Kings Twitter account gained serious notoriety during the NHL Playoffs where they went around and ruthlessly made fun of different franchises, players and their Twitter accounts and nobody fired back any good chirps. That changed today when they took a shot at the Detroit Red Wings:
The reason for the initial stab at the Wings was the Kings were having their writers go through and make predictions for next year's playoffs; something that seems completely futile due to the guaranteed lockout. I tend to think that the LA Kings account is run by a group of unemployed comedic writers, and I certainly hope that more NHL Twitter accounts join the smack talking; it keeps things interesting and they're usually pretty funny.
The Kings did do what they do best though, and fired a shot back at Detroit.
@detroitredwings No thanks. They've made serious strides in the banner hanging industry since you last won.

— LA Kings (@LAKings) August 18, 2012
I have to give the nod to the Red Wings on this one, chirping a team for not winning a cup for ten years, when you've only won one in 45 years is a bit of a stretch. That being said, they have had some amazing chirps, and here are some of the best from the playoffs:
David Clarkson believed he caught a high stick there… maybe a gnat in the eye?

— LA Kings (@LAKings) June 3, 2012
Devils fans booing their power play or the vastly-superior #LAKings penalty kill. Hard to say.

— LA Kings (@LAKings) June 3, 2012
After they upset Vanouver in the first round:
To everyone in Canada outside of BC, you're welcome.

— LA Kings (@LAKings) April 12, 2012
Original Story:
http://www.diehardsport.com/2012/08/1...
THE BACKYARD
BEST OF MAXIM
RELATED ARTICLES
If Darren Helm reads his press clippings, he's got to feel pretty good about himself right now. With a 4-year, $8.5 million contract in his back pocket, Helm was basically described as the straw that stirs the team's drink by Mike Babcock during NHL.com's "30 in 30" profile of the Red Wings, and this morning, the Free Press's Helene St. James looks at the expectations...
The Hockey News has slowly but surely revealed its predictions for each and every team's regular season finish/record, and today, they suggest that the Nicklas Lidstrom-less Red Wings will finish seventh in the Western Conference—just good enough to make the playoff cut, but not good enough, in the Hockey News's eyes, anyway, to make anything more than a one or two-round playoff...
(Photo by John Russell/NHLI via Getty Images) By Rhys Richards (@RREsq) The Detroit Red Wings will look dramatically different on defense this season. While the team has been rumored to have made inquiries regarding Jay Bouwmeester and Keith Yandle, neither can replace the void left by the retired Nicklas Lidstrom if a deal is made. The off-season trade of stalwart stay-at-home...
Here are the details regarding the Red Wings' request for fans to show up at Joe Louis Arena on Tuesday to shoot a commercial at 3 PM, per the team's Facebook page: So, HERE is the deal with the commercial… It is for Pure Michigan and it is being filmed at The Joe. The commercial aims to promote Michigan and bring people to the city of Detroit, in part by highlighting the...
The Detroit Red Wings' decision to cancel their prospect tournament amidst fears of a lockout from both Detroit and the seven other teams taking part (Buffalo, Columbus, Dallas, Minnesota, the New York Rangers and Carolina) is incredibly disappointing all the way around, for fans, for Centre Ice Arena, and from the perspective of someone who's sent up to Traverse City by his...
This CBA business seems to be taking a toll on everyone's nerves. I deliberately chose not to post a slate of afternoon quips because I knew I couldn't do so without losing my temper, and this morning's crop of stories of both Red Wings and CBA-related note offer what I can only describe as a less than fuzzy entry's worth of gravel, sandpaper and grime. • First, if you...
An unnamed staffer from the CBC's Newfoundland and Labrador bureau spoke to Red Wings forward Danny Cleary regarding his thoughts about the labor mess players and fans find themselves in, and Cleary's very concerned about what might happen come September 15th—and as many NHLPA members have stated, Cleary understands that the people who will get screwed most severely are those...
The Detroit Red Wings and Stanley Cup Champion Los Angeles Kings engaged in a minor war of words on Twitter this past week. The exchange was a result of Kings writers making their playoff predictions for next season where they believed the Wings would be one of the teams that would miss this season's postseason after making it last year. 2. One team in each the East and West that...
Adam Proteau at The Hockey News tells us why Henrik Lundqvist won the Vezina Trophy over Jonathan Quick..."There's no doubt Quick was incredible for the Kings during L.A.'s Stanley Cup-winning run, but it took Quick a couple months (along with the rest of his teammates) to consistently perform at that level.Lundqvist, on the other hand, was tremendous for the Blueshirts...
From the Griffins' PR department: The Grand Rapids Griffins on Friday released their schedule for the 2012-13 season, their 17th overall and 12th as members of the American Hockey League. The primary affiliate of the Detroit Red Wings will begin its 76-game slate with back-to-back home games at Van Andel Arena for the first time since the 2002-03 season. The team will host the...
NHL News

Delivered to your inbox

You'll also receive Yardbarker's daily Top 10, featuring the best sports stories from around the web. Customize your newsletter to get articles on your favorite sports and teams. And the best part? It's free!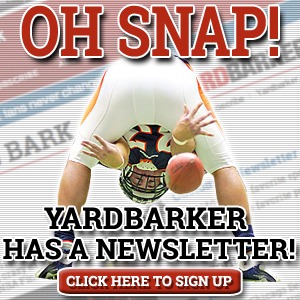 Latest Rumors
Best of Yardbarker

Today's Best Stuff

For Bloggers

Join the Yardbarker Network for more promotion, traffic, and money.

Company Info

Help

What is Yardbarker?

Yardbarker is the largest network of sports blogs and pro athlete blogs on the web. This site is the hub of the Yardbarker Network, where our editors and algorithms curate the best sports content from our network and beyond.